Newly released photos revealed a look inside the Crystal Lake, Illinois, home where 5-year-old A.J. Freund died. Police found the young boy deceased last month, and his parents have been charged with his death.
FOX 32 reports that the pictures, obtained via the Freedom of Information Act (FIOA), were taken by Crystal Lake officers who visited the home of Andrew Freund Sr. 60, and JoAnn Cunningham, 35, in both 2012 and 2013.
The last days of A.J.'s young life were filled with neglect and torture. Police said the boy was forced to stand in cold showers for extended periods of time, then beaten to death to urinating on himself. Both Freund Sr. and Cunningham have been charged in connection with the boy's death.
Support our partner! Go to THIRDLOVE.COM/NANCY now to find your perfect-fitting bra and get 15% off your first purchase!
Freund Sr. reported A.J. missing on April 18. A week later, authorities found him inside a trash bag, buried in a shallow grave in the neighboring town of Woodstock, Illinois.
McHenry County Interim Coroner David Devane, who released the boy's official cause of death results last week, noted that A.J. had "craniocerebral trauma as a consequence of multiple blunt force injuries." According to Mayo Clinic, craniocerebral trauma means a traumatic brain injury, typically caused by violent blows to the head.
Numerous trash bags were scattered outside of the home, while disarrayed rooms filled with unfolded clothes and toys were stacked on top of tables, couches, and overturned furniture. Police found several insect traps in the house, with dog feces and mouse droppings on one of the floors.
As CrimeOnline previously reported, the Illinois Department of Family and Children Services (DCFS) became involved in 2013, after A.J. was born with opioids in his system. The state took the baby into custody shortly after his birth.
During the same year, A.J.'s mother, JoAnn Cunningham, was in a legal battle over her eldest son after her mother, Lorelei Hughes, filed for custody of the boy.
Hughes told the state that she had concerns about Cunningham failing to properly care for her eldest son, according to DCFS court documents.
" [The boy] was not provided food on a regular basis, eating a meal on approximately four of the seven days of the week and a remainder of the time there was no food in the house," the court document read in part.
"The child was sent to school daily with no food and no money to purchase a lunch…there was no food in the residence and the child had only marshmallows and water to eat."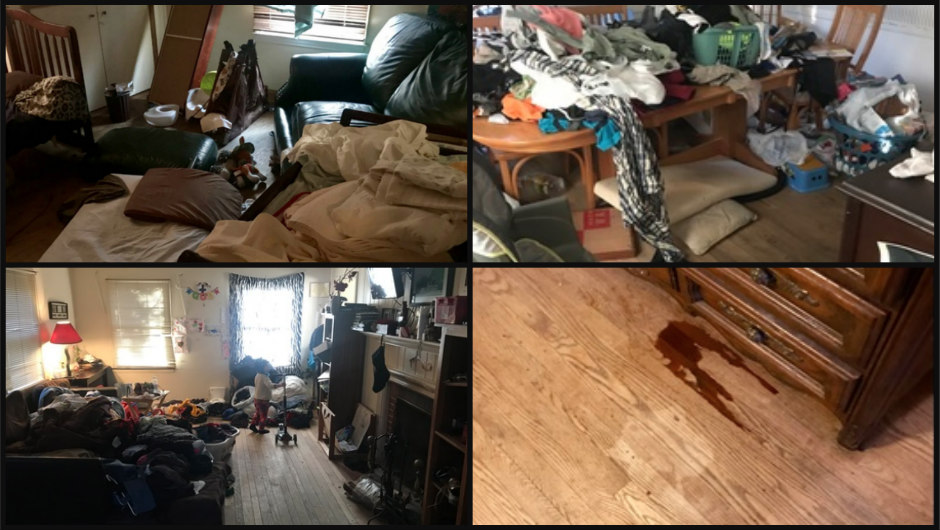 In 2015, DCFS returned A.J. to the family, but continued to visit the home after calls of neglect and abuse. The agency reported that the accusations were unfounded and allowed the boy to remain with his parents in their Crystal Lake home off of Dole Avenue.
In the last report, made in December 2018, officers arrived to the home for a welfare check and noted the house was in in disrepair and filth, with hazards that could have injured the children in the home, including A.J. and his 3-year-old brother.
"Upstairs in the room where the boys slept the window was open and the smell of feces was overwhelming," the report read. 'The boys were running around the residence playing and I noticed [redacted] was only wearing a pullup and had a large bruise on his right hip."
Andrew A.J. Freund Police R… by on Scribd
Officers also noted dog feces and urine throughout the home, especially near the bedroom where the children slept. They also noted broken and open windows, a leaking pipe in the kitchen,"jagged or broken off" parts in the kitchen subflooring, and a "brown substance" on the kitchen door.
The entire house was said to be "cluttered, dirty and in disrepair."
Three months prior, in September, authorities arrived at the residence for a welfare check after a tipster reported the family had no power in their house for several weeks. Cunningham wouldn't allow officers to enter the home, according to court documents.Cunningham had no explanation about the power being out and claimed she had been staying at other places regularly, including a Best Western hotel in Woodstock.
The responding officers wrote in a police report that they informed DCFS of the situation, but the agency did nothing and explained it "would not do a check for utility issues as a residence without power alone does not warrant a DCFS investigation."
DCFS Under Fire
This isn't the first time Illinois DCFS has been under scrutiny. In March, the Cook County's Public Guardian said the agency had "major failures" after the death of Ja'hir Gibbons, a 2-year-old found beaten to death in his family's Chicago home.
READ MORE: Boyfriend beats girlfriend's toddler son to death 2 DAYS after DCF visits home and finds the boy 'safe': Report
McHenry County Board Chairman Jack Franks told NBC 5 that he wants more protection for children and hopes A.J.'s will spark a change.
"Obviously there were some mistakes made," Franks told the outlet . "I don't want to point fingers. I'm not sure what happened. We have to do some soul searching."
"In this state, if you have opioids in your system, they take away your driver's license. Right? You can't drive. But here, they give you your kid back."
Meanwhile, Cunningham and Freund remain behind bars on bond amounts of $5 million each. Should they make bond, they'll be required to wear electronic monitoring.
Cunningham has been charged with five counts of murder, four counts of aggravated battery, two counts of aggravated domestic battery and one count of failure to report a missing or child death.
Freund Sr. has been charged with five counts of murder, two counts of aggravated battery, one count of aggravated domestic battery and one count of failure to report a missing or child death. He's also charged with two counts of concealment of homicidal death, as authorities said he was the one that buried the boy in a neighboring town.
Support our partner! Go to THIRDLOVE.COM/NANCY now to find your perfect-fitting bra and get 15% off your first purchase!
[Feature Photo: A.J. Freund/Handout]