At an upcoming CrimeCon event in October, armchair detectives will have a chance to put their sleuthing skills to the test — and perhaps help bring justice to the victims of unsolved crimes.
CrowdSolve, beginning on October 17 in Seattle, is the first of its kind interactive event that will allow true crime fans to work directly with investigators and forensic experts, putting them right in the center of the action.
"CrowdSolve is our attempt to develop a true crime experience that is active and immersive while also being responsible," says CrimeCon executive producer Kevin Balfe.
"Attendees will first deep-dive into topics relevant to our cases (like victimology, DNA, profiling, deception detection, and crime scene reconstruction) to get educated, and then they'll all break up into working group rotations to apply that knowledge to the case files."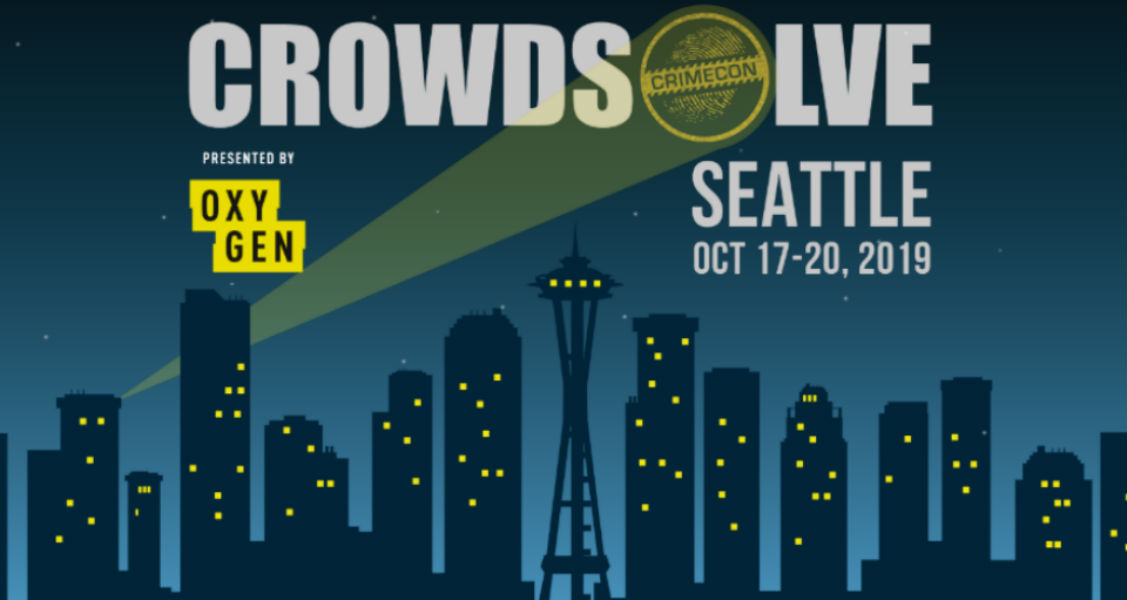 CrowdSolve, which is sponsored by Oxygen, announced on Wednesday the two cases that will be the focus of the Seattle event: The unsolved murder of Karen Bodine, and the disappearance and presumed murder of Nancy Moyer.
Karen Bodine, of Thurston County, Washington, was found dead on January 22, 2007 in Rochester; her naked body had been left in a gravel pit. Though authorities have never made an arrest in the case, they determined that the 37-year-old mother of two died of homicidal violence. Before her death, Bodine had fallen in with a group of people known for criminal activity and drug use, and investigators believe that someone associated with those people knows something about Bodine's death.
Nancy Moyer, a 36-year-old mother of two from Tenino, Washington, vanished without a trace on March 6, 2009. She was last seen after leaving her longtime job at the Washington State Department of Ecology, when she drove a co-worker home and stopped at a store before, presumably, returning home herself. But it was three days before she was reported missing, as her daughters were with Moyer's estranged husband at the time, and he did not discover she was missing until he dropped the girls at her house. There was no sign of Nancy, but her car, purse, and wallet were all there; and the television had been left on.
Despite a thorough investigation by the Thurston County Sheriff's Office, there were no arrests and no solid leads until just this summer, after the "Hide and Seek" podcast brought renewed attention to the case and CrowdSolve announced the upcoming event. On July 9, Eric Lee Roberts, Moyer's former neighbor and co-worker, called 911 and confessed to the murder, saying that he had killed Moyer 10 years ago when he strangled her during "rough sex." But once investigators began searching his home, Roberts recanted his confession, claiming he had nothing to do with Moyer's disappearance and didn't know why he admitted to killing her. Charges have since been dropped, but investigators reportedly obtained possible evidence during a search of Roberts' home.
Balfe told us that the Thurston County Sheriff's office will provide CrowdSolve attendees full access to both Bodine's and Moyer's case files.
"We were fortunate to find a great partner in the Thurston County Sheriff's Office," Balfe says.
"They have completely embraced what we are doing and they've put the cases and the families first. They will be providing us with full, uncensored case files. Most of this stuff has never been seen by the public before (and our attendees will need to sign confidentiality agreements). In fact, officers are pulling things out of storage right now, scanning in documents and photos that have never been digitized before."
"Nancy's case has received a decent amount of media attention over the years; Karen's not so much," Balfe says. "Nancy is considered a 'no-body' homicide, while Karen was clearly strangled and her body was discovered the next day.
"Those differences aside, we see a lot of overlap in our approach to these cases. The victimology and criminology components are both going to be important—as are the timelines. In addition, just opening up the full case files for the first time and having hundreds of fresh eyes on the evidence can only help. We'll be challenging the theories and ideas brought up by our attendees and then ultimately shaping our work over the weekend into a final, 'Official Report' that we'll hand back to Thurston County for follow-up. Our attendees will be able to follow the progress via a closed Facebook group."
CrowdSolve attendees will also get to meet and hear from both Bodine and Moyer's relatives, who will share more about the women's lives and talk about the investigation.
Tickets are now available for CrowdSolve Seattle, and you can register here. 
"We encourage anyone who's passionate about true crime and who wants to really help make a difference to come to Seattle," Balfe says.
"This will be a revolutionary kind of event, one that we hope we can spread to many more locations around the country as there are, unfortunately, no shortage of cold cases worthy of our attention."