A new Atlanta podcast is taking on unsolved Georgia cold cases, including one particular case that CrimeOnline's Nancy Grace holds dear to her heart.  
Karyn Greer (pictured right), a six-time Emmy Award winner and former president of the Atlanta Press Club, is well-known as a popular morning and noon anchor on Atlanta's CBS46. What some may not know, however, is that Greer not only reports news, but she immerses herself in it. She walks grisly crime scenes in an attempt to solve cold cases, as part of her new podcast, "CSI Atlanta."
"CSI Atlanta" features Georgia cases that haven't had much-needed exposure, the ones that desperately need a voice that Greer effectively provides.
In an exclusive interview with CrimeOnline, Greer said she felt the way to truly have an impact was to understand the crimes inside and out, even it means visiting crime-ridden areas and spending as long as it takes talking to possible witnesses.
"We can talk about it and pull up old files," Greer explained. "But we need to go out there and feel the case, walk the trail see where it happened and get a feel for that community where things took place."
Most of the cases have become personal to Greer. She's gotten to know the victims' families. She's learned intimate details about the victims. And now, she vows to do anything within her power to help them find justice. 
One such case is the 1995 brutal rape and murder of 14-year-old Nacole Smith.
Nacole was headed to school on an early Wednesday morning on June 5, when she turned around to pick up a forgotten school project at home. As she took a shortcut through a trail back to her mother's Atlanta apartment, a man grabbed her, sexually assaulted her, then beat her to death. 
Greer visited the crime scene, spoke with witnesses, and spoke with law enforcement officials who provided a composite sketch of the suspect. While showing the sketch to people who lived in the same area Nacole was from, a neighbor said he knew someone who looked identical to the sketch. 
"We had someone who worked in that apartment building who said he knew who that was [the suspect] in the picture," Greer explained. "We immediately contacted the police and said 'Look, we got this tip from our story. Did you ever look at this guy? This man swears that's him. He fits his description."
Although police eventually ruled the man out as a suspect, Greer's personal involvement in the case sparked an outpour of public interest in a case that has been long-since been forgotten by most of the media. She's hoping someone somewhere will look at the sketch and help crack the case.
Greer is so determined to help grieving families that she brought in a renowned crime scene investigator to the CSI Atlanta teams. CBS46 is currently the only news station in the country that has its own CSI. 
Sheryl McCollum (pictured left), the director of the Cold Case Investigative Research Institute in Atlanta and a CSI for a metro Atlanta Police Department, joins Greer each week on the podcast. They also walk crime scenes together.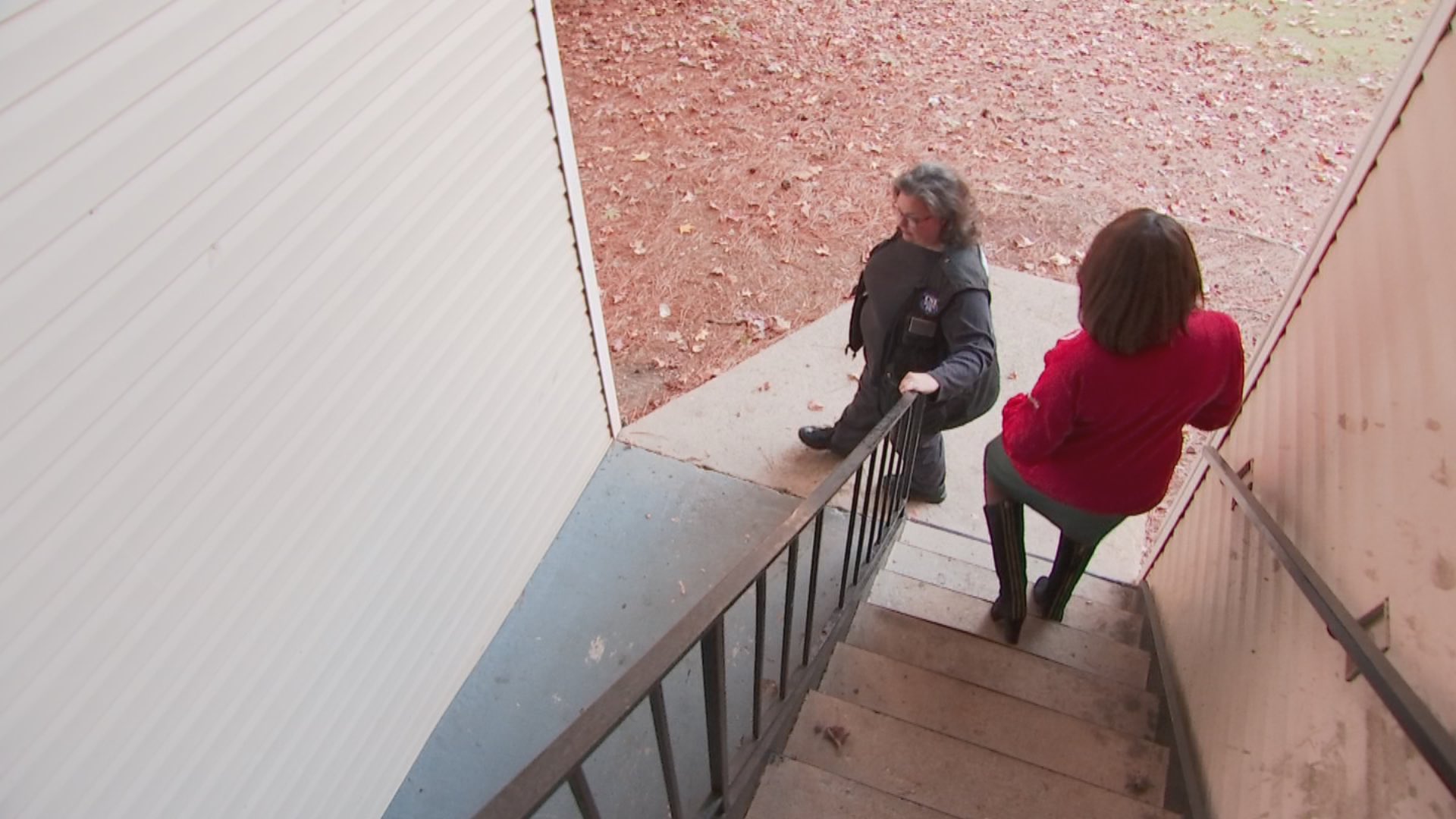 "Sheryl has done stories in our newsroom for a while now, and we really started to see she is a bigger-than-life personality. And her skills with digging into some of these stories has been amazing," Greer said. 
Together, the pair shine. Not only are they both highly qualified in their fields, but they share the same passion in helping the families of crime victims. 
"She's [McCollum] teaching me to become a real crime scene investigator and see what the scenes look like. It's a lot more real. I've got to change my clothes a lot of times because I come out this because it's acute to get out of my comfort zone."
The latest case CSI Atlanta is taking on is the disappearance of Rhonda Smith, a case that CrimeOnline's Nancy Grace has been investigating for nearly a year. Rhonda was just 21 years old in 1984 when she vanished without a trace. She's never been found and there are no suspects. 
To make matters more difficult, Rhonda had no known enemies and had no reason to leave by her own volition. She was in the process of opening up a dog grooming business in Newnan, lived with her fiance, and was in the prime of her life.
Listen below as Greer, McCollum, and Nancy Grace take on the mysterious disappearance of Smith.
Be sure to subscribe to the CSI Atlanta podcast for additional unsolved cases. It's available on iTunes, Google Play, Spotify, Soundcloud and more. Click here for additional information.