Family members said they were told she would never be released from prison, but a Georgia murderer convicted of killing one child and suspected of killing three others will be released on parole.
Martha Ann Johnson was convicted in 1982 for the death of her 11-year-old daughter, Jennyann Wright. She's suspected of killing her three other children but was never tried for their deaths. According to WSB-TV, two half-siblings are hoping the parole board will change its decision.
"I want her to sit in prison and die," Shane Wright said. "That's what I want. I don't ever want her to step foot back on Earth."
How do you protect your children from predators? Join Nancy Grace and a team of world-class experts for the online course 'Justice Nation: Crime Stops Here.'
Johnson was married to Wright's father, according to the outlet. The man recently died, but Wright said he'll continue to voice the concerns.
"I would get down on my hands and knees and I would tell them just to keep that psycho lady behind bars," Shane Wright said.
Another family member, Susan Coker, agreed with Wright.
"I mean, she murdered not just our sister, but four of her children…….I mean, I understand everyone has the right to parole, but I can't believe they are even considering letting her out."
The family members are hoping Johnson will be charged and convicted for the deaths of the other children. Police said that Johnson, who weighed around 250 pounds at the time, sat on and suffocated the children in an attempt to keep men in her life.
By the time Johnson was 22, she was married for the third time. Between the three marriages, Johnson gave birth to numerous children.
In 1977 and 1980, two of her children, James "J.W" Taylor and Tabitha Jenelle Bowen passed away, according to court documents. Their causes of death were listed as Sudden Infant Death Syndrome (SIDS). In 1981, a third child, Earl Jr., died. His death was reportedly listed as a seizure disorder.
It wasn't until the death of Jennyann's in 1982 that Johnson faced charges. First responders found the girl face-down on a bed, foaming at the mouth. Her cause of death was listed as asphyxia. Johnson was ultimately charged and convicted of the girl's murder.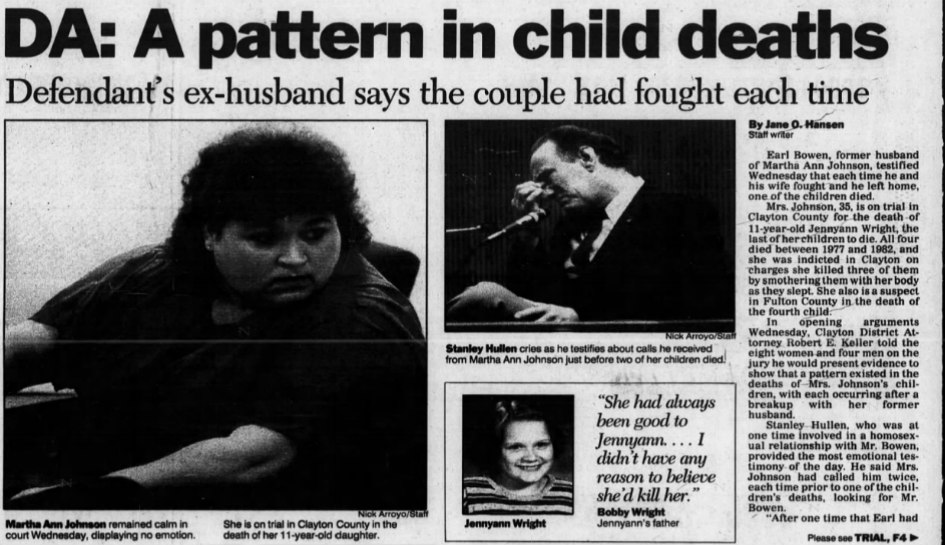 As investigators started digging into the timeline of each child's death, they determined each child died around the time Johnson had started having marital problems with her husband.
In 1989, Johnson confessed to killing two of the children. She admitted she rolled over on 2-year-old James while he slept, in an attempt to reunite with husband, Earl Bowen, who had left her. The first time he left, J.W. passed away. The second time he left, 3-month-old Tabitha died. During a third and final separation, 2-year-old Earl Jr. died.
"I touched the baby on the foot and he was cold. I knew he was dead….we got back together,"  Earl Bowen said during Johnson's 1990 trial. "It seemed to smooth things out. We started getting along better and stuff."
Johnson later recanted her confession.
"She admitted to laying on top of (one of her sons) and suffocating him, and nothing has been done about that," Coker added.
The parole board reportedly called Johnson's release date "tentative." When she's released, the parole board indicated it will send out a 72-hour notification.
For the latest true crime and justice news, subscribe to the 'Crime Stories with Nancy Grace' podcast. Here is a related episode.
Join Nancy Grace for her new online video series designed to help you protect what you love most – your children.
[Feature Photo: Martha Johnson/Georgia Department of Corrections]