California authorities issued search four search warrants on Wednesday and detained the primary suspect in the disappearance California Polytechnic student Kristin Smart, who vanished in 1996.
According to FOX News, the search warrants span across two different states, including one location in Los Angeles, two locations in San Luis Obispo County, and a location in Washington.
The FBI and a team with the San Luis Obispo County Sheriff's Office arrived Wednesday to the home Paul Flores' mother home in Arroyo Grande, California. They emerged from the home carrying numerous items of evidence.
Paul Flores, who attended school with Smart, remains the primary suspect in her disappearance.
How do you protect your children from predators? Join Nancy Grace and a team of world-class experts for the online course 'Justice Nation: Crime Stops Here'.
Someone watching from outside the home shouted, "dig her up," according to the SLO Tribune.
Authorities also searched Flores' home, off of the 900 block of West Upland Avenue in San Pedro, California. Along with searching inside the home, authorities searched two vintage cars at the residence.
Sheriff's Office spokesman Tony Cipolla confirmed that Flores was detained while authorities searched the home. At this time, he has not been charged in connection with the case.
"We will now analyze those and see how they relate to this case," Cipolla explained, according to The New York Times. "We would like nothing more than to bring closure to the Smart family in this case."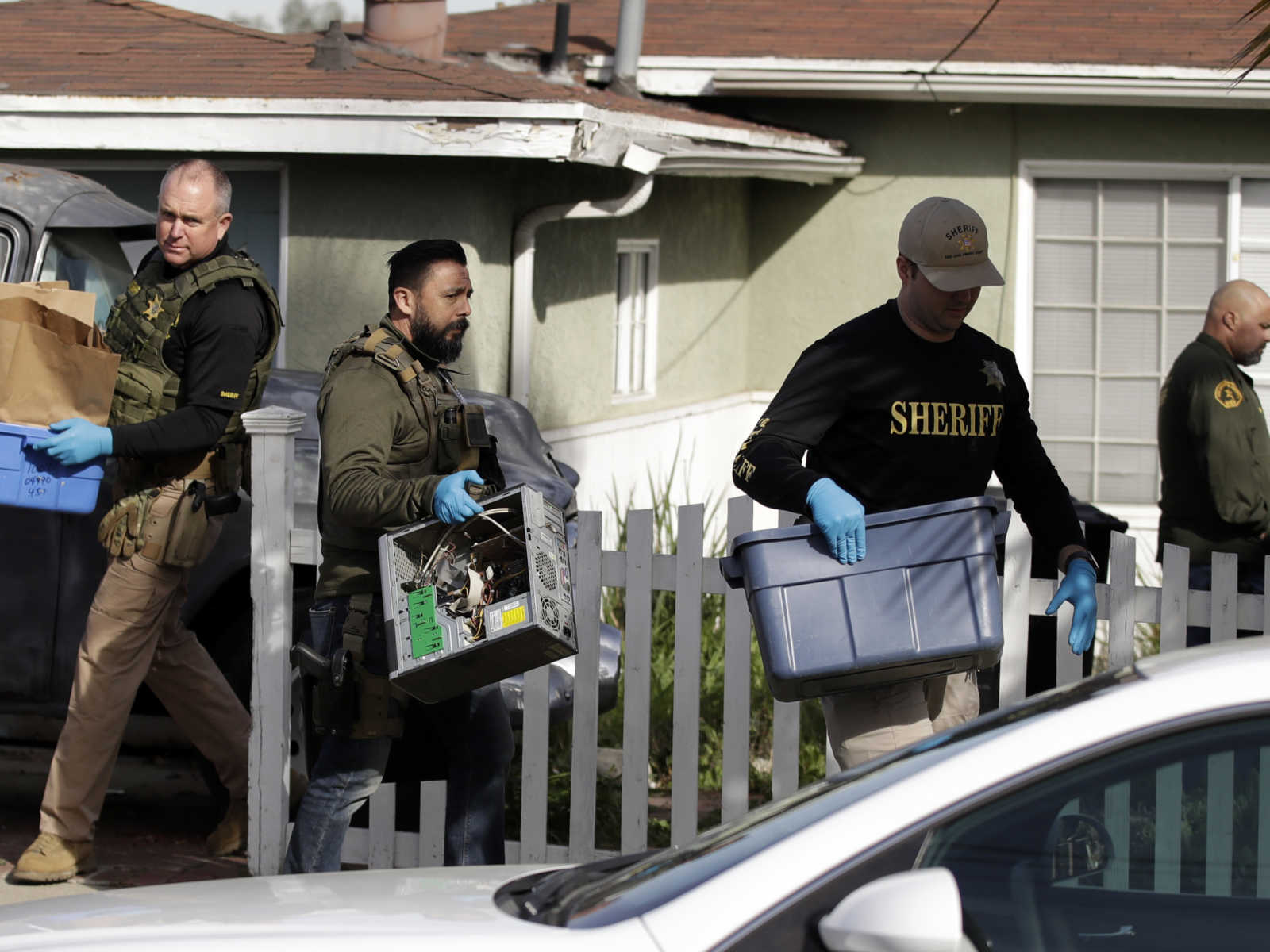 Although it's unclear where in Washington the search took place, Flores reportedly has relatives who live in the state.
The Sheriff's Office said no further information is available at this time.
"As a result, we are precluded by law from disclosing any further details about them. This is an active and on-going investigation. The Sheriff's Office will not be commenting any further and no additional information will be released at this time, nor do we anticipate any additional news releases regarding this investigation."
Where is Kristin Smart?
As CrimeOnline previously reported, Smart disappeared on May 24, 1996, after attending an off-campus party near  Cal Poly. She called her parents that night at around 8:00 p.m. and left a voicemail. It was the last time they heard from her.
Fellow student Flores told authorities that he accompanied Smart back to the Muir Hall dorm after the party, where she lived. He claimed he then left and walked to his own dorm room at Santa Lucia Hall.
Flores had a black eye while speaking to investigators at the time. He explained it happened after playing basketball, but authorities were skeptical of his story. Flores later claimed he got the black eye while working on a truck. Eventually, he stopped talking to the investigators and obtained an attorney.
Kristin Smart: FBI Warrant… by Leigh Egan on Scribd
When authorities brought cadaver dogs to the campus, the dogs reportedly made their way to room #128 at the Santa Lucia Dorm, where Flores lived. Two dogs showed interest in a mattress on the left-hand side of the room, according to court documents, which was Flores' side of the room.
According to CARDA dog handler, Adela Morris, there "a strong possibility that a deceased body had been in that room."
The Daily Beast reported in 2016 that the authorities once had the chance to arrest Flores on rape charges prior to Smart's disappearance. Additional women reportedly came forward afterward and said Flores also sexually assaulted them.
One of the women said she contacted the San Luis Obispo Sheriff's Office and reported the incident, but Flores has never been convicted of any of the alleged assaults.
Frustrated and desperate for answers, Smart's parents filed eventually filed a civil suit against Flores for "taking the body of Kristin Smart and secreting and/or destroying the body… in a hidden place in the County of San Luis Obispo."
Flores' family countersued the Smart family for emotional distress. A judge later ruled that the Smarts' lawsuit could not proceed, due to the ongoing investigation, according to The Tribune.
In 2016, authorities found items of interest while excavating sites around the "P" hill, near the campus. Smart's mother, however, said she knew that they wouldn't find her daughter there.
"When they did the big dig, I had no anxiety," Denise Smart said at the time. "I said she's not there."
The excavation didn't provide any items of evidence that led to an arrest in the case and as Denise Smart predicted, searchers didn't find her daughter.
The story continues to develop. Check back for updates.
Join Nancy Grace for her new online video series designed to help you protect what you love most – your children.
[Feature Photo: Kristin Smart/Handout]