UPDATE: 8:55 p.m.
The Wilkes County Sheriff's Department released a statement late Wednesday saying the search of a North Carolina pond in connection with a missing Tennessee tot was "inconclusive.
According to ABC 13, Sullivan County (Tennessee) Sheriff Jeff Cassidy confirmed that the pond search was in connection to the AMBER Alert for 1-year-old Evelyn Boswell.
WJHL in Johnson City, Tennessee, reported the Wilkes County statement:
"The search was conducted by Sherrills Ford – Terrell Fire & Rescue team using a Remote Operated Vehicle device as the search was conducted in a body of water, at a pond, located in the Shepherds Crossroads Community in Wilkes County. The search was inconclusive to any facts to the investigation and all information has been reported back to the Sullivan County Sheriff's Office and the Tennessee Bureau of Investigations as they continue their efforts in this investigation."
According to ABC 13, Sullivan County Sheriff Jeff Cassidy confirmed that the pond search is in connection to the AMBER Alert for Evelyn.
Timeline of Evelyn's Disappearance
February 18
Sullivan County authorities opened up an investigation in Evelyn's disappearance after her grandfather, Tommy Boswell Sr., reportedly called the Tennessee Department of Children's Services to report the child missing.
Authorities initially said the case did not meet the criteria for an AMBER Alert. Later that evening, they confirmed the criteria had been met and issued the alert.
February 19
The Tennessee Bureau of Investigation (TBI) announced that "certain family members" claimed they hadn't seen Evelyn since around Christmas, 2019.
Authorities said that Evelyn's parents, Maggie Boswell and Ethan Perry, are involved in the investigation. Neither parent has been named a suspect.
February 20 
Maggie's former boyfriend, Hunter Wood, told News 5 that he has never seen or met Evelyn. He said he had only dated Boswell for a few weeks in December 2019.
Wood claimed that Maggie Boswell told him that the baby was in Louisiana with her father for Christmas. Law enforcement has not confirmed the accuracy of the statement.
February 21
Sheriff Cassidy said during a press conference that the child was actually last seen on December 10 and 11, by a babysitter. He added that Maggie Boswell gave numerous conflicting statements.
Cassidy announced that authorities were looking for people in a 2007 grey BMW; he said police wanted to talk to individuals in connection with Evelyn.
Cassidy, along with several businesses, donated money to a reward fund to help find Evelyn.
Cassidy added that he thinks Evelyn is alive but could be in imminent danger.
Hours after the news conference, Maggie Boswell told News 5 that she knew who had her baby but couldn't reveal any names, due to an ongoing investigation.
Authorities arrested Maggie Boswell's mother, Angela Boswell, and a man identified as William McCloud in North Carolina. Both were found inside a stolen grey BMW and charged with theft.
Tommy Boswell Sr. told News Channel 11 that he donated $10,000 to Evelyn's reward fund; he confirmed that he called DCS and reported Evelyn missing.
Boswell Sr. said he last saw Evelyn during Thanksgiving, 2019.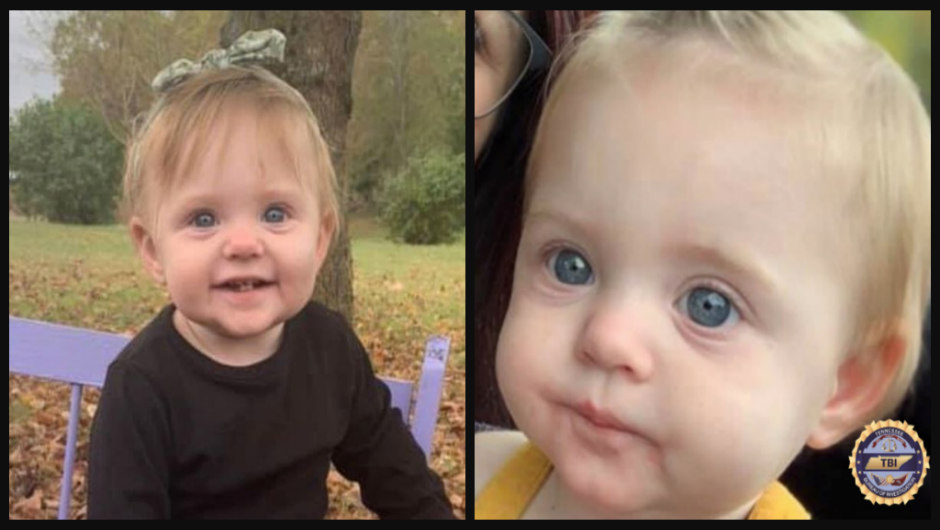 February 24
Angela Boswell and William McCloud appear in a North Carolina courtroom and agreed to extradition back to Tennessee.
Both Angela Boswell and McCloud told a judge they had no idea the BMW had been reported stolen. Angela Boswell said she thought the car was a gift from her daughter.
Online court records indicate that the BMW belongs to Wood's mother.
Both Angela Boswell and William McCloud said they had no idea where Evelyn was. They denied having the child with them.
Angela Boswell said she is ready to return to Tennessee and "resolve this issue."
Maggie Boswell told News Channel 11 that her mother took Evelyn to a silver camper, at a campground in Mendota, Virginia; she claimed authorities were not taking her seriously.
Sullivan County authorities reportedly confirmed to News Channel 11 that investigators searched several different campgrounds in Mendota and could not find Evelyn.
"I was trying to protect my mom, maybe in hopes, 'Oh well, she just tell them were Evelyn was,' but obviously she's not going to," Maggie Boswell said, explaining why she didn't report her daughter missing.
February 25 
Maggie Boswell revealed to News Channel 11 that authorities would not let her take a polygraph test because she's pregnant.
The Sullivan County Sheriff's Office stated that they "do not use polygraph," according to News Channel 3 in Memphis.
Police arrest Maggie Boswell for making false statements.
Evelyn is described as a white female with blue eyes and blonde hair. She weighs around 28 pounds and stands 2-feet tall.  She was last seen wearing pink shoes, a pink tracksuit, and a pink bow.
The reward for Evelyn's safe return has amassed to $56,000, according to the Sullivan County Sheriff's Office.
Anyone with information on Evelyn is urged to contact the Sullivan County Sheriff's Office at 423-279-7330 or the TBI at 1-800-TBI-FIND.
For the latest true crime and justice news, subscribe to the 'Crime Stories with Nancy Grace' podcast. Listen to the latest episode. 
Join Nancy Grace for her new online video series designed to help you protect what you love most – your children.
[Feature Photo: Evelyn Boswell/TBI]