*EDITOR'S NOTE*: The story has been corrected to reflect that Gannon's stepmother said he did not walk out of a basement door on January 27. He walked down to the basement area after he arrived home in the afternoon, but did not exit through a basement door.
Original Story
It's been one month since 11-year-old Gannon Stauch vanished from his Colorado home. As part of CrimeOnline's investigation into the disappearance, we spoke exclusively with Tecia Stauch, the stepmother of Gannon and the last person to see him alive.
Stauch last saw Gannon on January 27 at some point between 3 p.m. and 4 p.m. at their Lorson Ranch home off of Mandan Drive, near Colorado Springs.
Stauch said Gannon left to go to a friend's house and never returned home. She isn't sure which friend Gannon wanted to see. And none of the boy's friends saw him that day, according to Gannon's father, Al Stauch, in an interview with NBC 5 in January.
How do you protect your children from predators? Join Nancy Grace and a team of world-class experts for the online course 'Justice Nation: Crime Stops Here'.
Although Gannon was initially listed as a "runaway" by the El Paso County Sheriff's Office, spokesperson Sgt. Deborah Mynatt said his status quickly changed to "endangered and missing"  due to his age, the weather conditions, and his medical needs.
Authorities cannot confirm that Gannon left home by himself. But Mynatt said that if they thought Gannon had been abducted, they would have already released that information to the public.
No one in the neighborhood spotted Gannon leaving his home on the afternoon of January 27, at least no one that has publicly reported it. Gannon missed school that day; none of his classmates saw him.
Stauch is aware that she is the centerpiece of speculation and rumors since Gannon's trail appears to end with her. However, she maintains that she is worried about Gannon and has no idea where he could be. She stressed to CrimeOnline that she has never harmed Gannon and would never put him in harm's way.
"Something is not right. I'm so mad. They have spent all this time and haven't found him. Why? Because they are chasing me."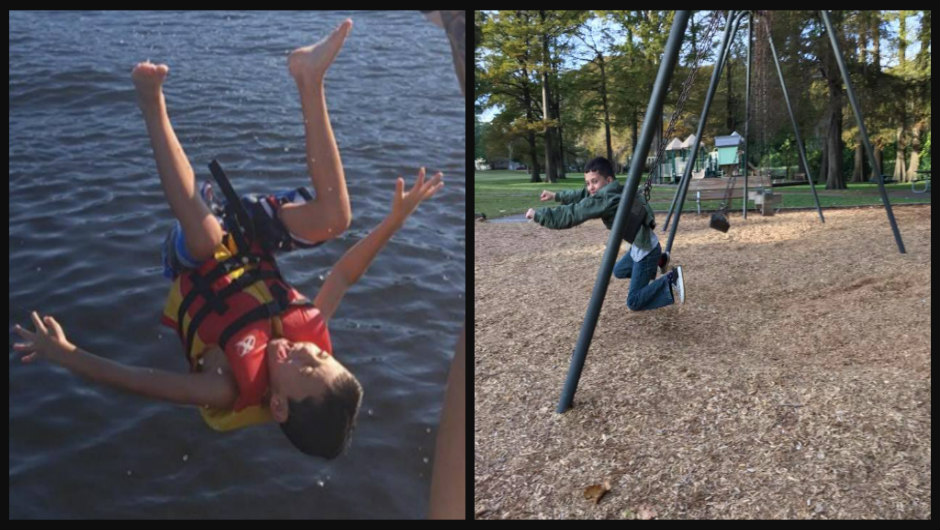 Neighbor's Security Footage
Neighbor Roderick Drayton provided home security footage to FOX31 Denver that showed Gannon leaving home with his stepmother in a red Nissan Frontier truck at around 10:20 a.m. Drayton reportedly said the security footage was from January 27.
Tecia Stauch returned home in the truck the same day at around 2:20 p.m, Drayton said. He added that Tecia Stauch returned home alone, without Gannon.
Stauch denied the allegation.
Stauch told CrimeOnline that Gannon was with her when she arrived back home and that as he exited the truck, he was holding a white bag in his hand.
Stach theorized that Drayton may have provided the incorrect date of the surveillance footage, since her teen daughter arrived home on January 27 at around 4:38 p.m., and parked in the same spot her truck was spotted in on security footage.
"We both couldn't have parked there," Stauch said. "Something is not right. I even helped [my stepdaughter] get the bike out of the garage, and then her and [my teen daughter] went to Dollar Tree. Truck was on the road then."
Stauch added that she clearly remembered giving Gannon a white bag to hold on January 27, "in case he puked." She said the little boy had "pooped in his pants" the day prior and had been having issues with his stomach.
Another security footage clip aired on FOX31 Denver showed the red truck parked on the curb in front of the Stauch house. A boy who appeared to be Gannon exited the truck wearing a backpack.
It's unclear what day that particular footage was captured, but Stauch said it showed her arriving home with Gannon on January 27.
"This is definitely Monday when we got back," Stauch said, referring to the clip. "Same clothes and he had a bag in his hand…Something's not right. I have said from day one that I never backed in [the driveway] when he and I returned."
See the video footage below.
CrimeOnline reached out to Drayton for comment, but he was not immediately available.
Stauch admitted the footage that captured her leaving on the morning of January 27 was likely correct. She said she did back the truck in the driveway that morning while she let  it "warm-up." She added that Gannon dropped one of his electronics as he was getting into the truck, and she picked it up for him.
Authorities have not confirmed or denied the accuracy of the surveillance footage. There was no date listed on the footage that Drayton provided to local media.
Drayton told FOX 31 that something was "not right" with Gannon, adding that the boy looked "drugged" and sluggish as he walked to the truck on January 27.
"I saw him come out of the house, get into the truck. Something's not right," Drayton said. "She came back, locked her truck; nobody got out of the truck."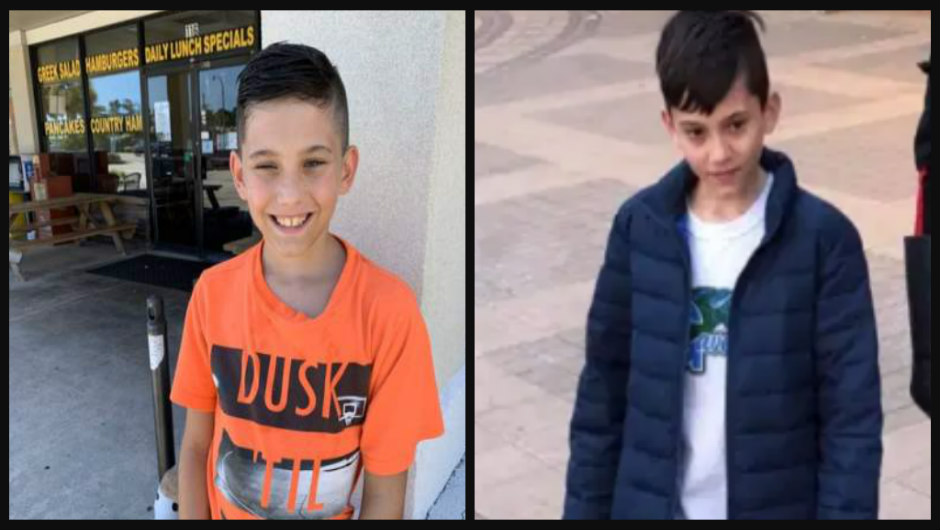 The Nissan Frontier and Paths Taken
Tecia Stauch said she drove her husband's truck on January 27 as a way to cut down on mileage on her own vehicle. She explained that her car was leased and she would have to pay a fee or have to buy the car outright if she went over certain miles each month.
She also said she needed the room in the back of the truck to bring used sports equipment to "Play it Again Sports," a sporting goods store that buys and sells new and used sporting goods. Stauch said she planned to shop for hockey equipment for Gannon since it was the only sport he had shown interest in.
They later went to Castle Rock to find a new bicycle for Al Stauch, who was out of town working at the time, Stauch said.
Stauch admitted that she left her phone at home on January 27, but said she had an Apple smartwatch on the entire time, which can easily track her whereabouts.
Tecia explained her whereabouts may seem confusing because she "took the back roads" that morning, "because there had been a wreck." She said at one point, she got lost and had to turn around. She also said she took exit 163, off of Highway 105, but did not remember the exact time.
When asked why Gannon missed school yet went out shopping on the same day, Stauch said he stayed out school mostly because he was embarrassed that he might have an accident in class, since he was dealing with bouts of both constipation and diarrhea.
Stauch added that Gannon's medication caused him to have stomach issues and bowel problems.
The Security System
Tecia Stauch said after they returned home on January 27, Gannon seemed to be feeling OK before he left for a friend's house. He went down to his room in the basement area afterward, according to Stauch.
CrimeOnline obtained a copy of Stauch's ADT home alarm report that showed activity in the basement and living at the same time at around 3 p.m.
Stauch said she and Gannon were the only ones home at the time, aside from their dogs, who were outside in the backyard. She added that her 9-year-old stepdaughter arrived home from school at around 3:15 p.m. and did not see Gannon.
Stauch's 17-year-old daughter reportedly arrived home from work at around 4:38 p.m. and minutes later, left with the 9-year-old to go to a Dollar General store. She, too, did not see Gannon, according to Stauch.
The Search Continues for Gannon 
Over 700 tips and leads have poured in while investigators continue to search for Gannon. Mynatt told CrimeOnline that authorities are working diligently and following up on every lead that comes in.
Some of the tips and leads resulted in a search near the southern portion of Douglas County, at Palmer Lake. For days, search crews with the FBI, El Paso County Sheriff's Office, and the Douglas County Sheriff's Office were seen shoulder-to-shoulder, sifting through the snow and mud with shovels and long poles.
It's unclear at this time, what, if any evidence was found during the search.
Meanwhile, Gannon's name has been added to the FBI's National Crime Information Center database. Mynatt said that no one is considered a suspect at this time.
Gannon is described as a white male who stands 4-feet-9-inches tall and weighs around 90 pounds. He has brown eyes and brown hair. He was last seen wearing a blue hooded jacket, jeans, and athletic shoes.
Anyone with any information on Gannon's whereabouts is urged to contact the El Paso SO's "Investigations Tip Line" at 719-520-6666. or the El Paso County SO 719-390-5555.
For the latest true crime and justice news, subscribe to the 'Crime Stories with Nancy Grace' podcast. 
Join Nancy Grace for her new online video series designed to help you protect what you love most – your children.
[Feature Photo: Gannon Stauch/Handout]