It's been over a month since 11-year-old Gannon Stauch vanished from his Colorado home, and CrimeOnline spoke exclusively with his stepmother Tecia Stauch, the last known person to see him.
Read Part 1 of our interview here. 
Gannon's stepmother, Tecia Stauch, admits the boy was under her care when he disappeared. She said she last saw Gannon on January 27 at some point between 3 p.m. and 4 p.m. at their Lorcan Ranch home off of Mandan Drive, near Colorado Springs.
Stauch said Gannon left to go to a friend's house and never returned home.
As our investigation into Gannon's disappearance continues, Tecia Stauch requested to address some rumors she wanted to clear up, surrounding the details of her stepson's mysterious disappearance.
How do you protect your children from predators? Join Nancy Grace and a team of world-class experts for the online course 'Justice Nation: Crime Stops Here'.
The Nissan Frontier 
On Monday, January 27, the day Gannon vanished, Tecia Stauch said she drove her husband Al Stauch's Nissan pickup truck. She said she took Gannon with her so that they could shop at "Play it Again Sports" and look at a bicycle for Al Stauch in Castle Rock.
As CrimeOnline previously reported, Stauch said she decided to drive her husband's truck as a way to cut down on mileage on her own vehicle. She explained that her car was leased and she would have to pay a fee or have to buy the car outright if she went over certain miles each month.
Stauch said that her husband's truck was never at the airport, apparently disputing an online rumor. She explained that Stauch left for work with a family member to the airport and never drove or parked his truck there.
"He left Saturday night to fly out of the Denver Airport with a family member who had a red eye fly and he had an early morning flight."
Rental Car 
There has been some online speculation that Stauch rented a car on the day Gannon disappeared. Stauch claimed the majority of the accusations have come from people who "do not have the facts" of the case.
While she is not disputing that she rented a car, Stauch said she didn't rent the car until Tuesday, January 28, the day after Gannon mysteriously disappeared.
That morning, Stauch said she picked up her husband at the Colorado Springs airport; both left the airport in the rental car, she claimed.
Stauch said, "the plan was to look for Gannon in a car he would not recognize." Stauch added that they didn't know if Gannon would hide from his family's cars, thinking he was in trouble.
"Hey, if my son is scared of getting in trouble he may hide if he sees us. Not to mention it was economical and an easy way to pull in and out because we were going door to door."
CrimeOnline viewed a Budget Rental receipt and confirmation number that indicated a white Kia Rio sedan was rented from the Colorado Springs airport at 8:50 a.m. on January 28, 2020, under Tecia Stauch's name. The car was returned the following day at 1:20 p.m.
According to El Paso County Sheriff's Office spokesperson Jacqueline Kirby, Gannon was initially listed as a runaway.
"At the time the call was made, the reporting party stated that he was a runaway, he did not return from a friend's home, and so it was call typed as a runaway case," Kirby told NBC 5.
Earlier this month, El Paso County Sheriff's Office spokesperson Deborah Mynatt told CrimeOnline that Gannon's status was changed from runaway to "missing and endangered" given his age, the weather conditions when he disappeared, and his medication needs.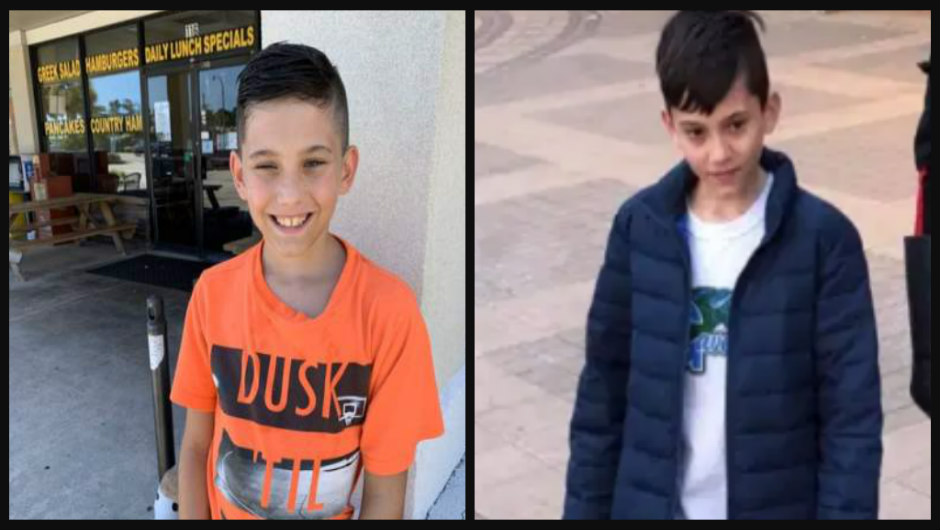 Lie Detector Test
Due to the speculation surrounding her alleged involvement, Stauch claims to have voluntarily taken a lie detector test and passed. However, CrimeOnline is still working to verify the test and its results.
Sgt. Mynatt told CrimeOnline that she was unaware of any lie detector tests being administered by El Paso County law enforcement. She added, however, that even if so, she would not be able to provide us any information about it, due to the ongoing investigation in the case.
Stauch said that she took the test through an independent agency and is willing to share the results in person.
Where is Gannon?
Meanwhile, the search for Gannon continues.
Tecia Stauch added that she has wanted to help search for Gannon since the beginning. However, she feels that the searches have been ineffective because instead of focusing on the boy, she said the focus has been on following her GPS.
"From my interview, I told them where I went. I'm sure they verified it with my watch. On top of that, my own Volskwagen car has Car-Net in it. I think what they did what looked at anywhere where I might have went from the day before and after I went to the airport."
Stauch added that although she desperately wants to find Gannon, she has no idea where he is, but hopes that returns home soon.
"I wish I had the answers."
Gannon is described as a white male who stands 4-feet-9-inches tall and weighs around 90 pounds. He has brown eyes and brown hair. He was last seen wearing a blue hooded jacket, jeans, and athletic shoes.
Anyone with any information on Gannon's whereabouts is urged to contact the El Paso SO's "Investigations Tip Line" at 719-520-6666. or the El Paso County SO 719-390-5555.
For the latest true crime and justice news, subscribe to the 'Crime Stories with Nancy Grace' podcast. 
Join Nancy Grace for her new online video series designed to help you protect what you love most – your children.
[Feature Photo: Gannon Stauch/Handout]