A Tennessee woman who has known Megan "Maggie" Boswell, the mother of deceased toddler, Evelyn Boswell, for years, claims Boswell displayed disturbing behavior as police desperately searched for the child.
Christy Broome said that her daughter, Maddie, grew up with Boswell. The girls were inseparable best friends. Broome's daughter passed away in 2018 at age 17, but Broome said she still kept in contact with Boswell afterward and always treated her as her own child.
Boswell's 1-year-old daughter, Evelyn, disappeared in December. No one reported the child missing until February, according to the Sullivan County Sheriff's Department. Shortly after Evelyn was reported missing, reportedly by Megan Boswell's father (Tommy Boswell Sr.), authorities issued an AMBER Alert.
Broom said after the AMBER Alert was issued, Boswell had nowhere to live. Broome allowed Boswell to stay with her because she "felt bad for her" and didn't see any previous signs that showed she was capable of hurting her baby.
During the time Boswell stayed at Broome's home, she didn't act like she was interested in finding her child, Broome told CrimeOnline.
It's True Justice Month on Fox Nation, and "Crimes Stories with Nancy Grace" is available now! Sign up today and get your first month for only 99cents!
Broome said Boswell never admitted that she had anything to do with Evelyn's disappearance and always maintained her innocence. However, Boswell repeatedly expressed fear that she would be arrested, which baffled Broome.
"There was about three days she was with me…..I thought that her and I would go downstairs and Megan would just explain what's going on, tell me who had Evelyn and everything would be OK. That never happened. That did not happen.
She kept saying that day, 'I just feel like I am going to get arrested.' She said it about five times because she knew they [investigators] were searching on Tommy Sr., her dad's property. I said, 'Why would you say that, Megan?' She said, 'I just feel like my mom would hurt Evelyn and put her on my dad's property.'"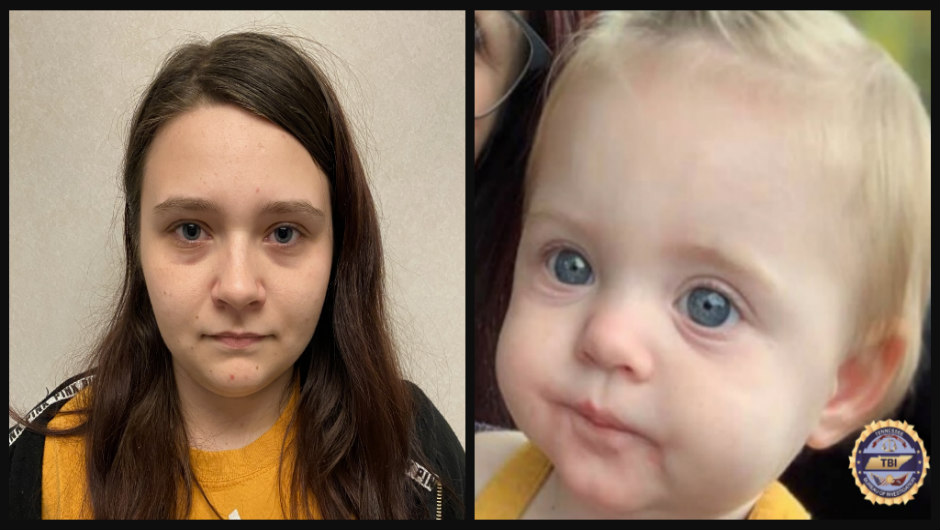 Broome said Megan had "no tears, no emotion, nothing."
"You [Megan] just said that you thought your mother could have killed your baby and hid it on your dad's property," Broome continued. "And you've got no emotion whatsoever?"
Broom was referring the first search conducted by investigators on Boswell Sr.'s property within days after issuing the AMBER Alert. After the initial search concluded, investigators did not find Evelyn's body, but they reportedly found evidence that they sent to Quantico, Virginia, for testing.
When law enforcement officials asked Megan to come to the station and view the evidence, she stalled, according to Broome, and told them she was "tired" and would come in the following day.
"What the f*** is wrong with you, Megan? Your baby is out there and you want to go to sleep?" Broome said.
Broome said at night, Boswell wet the bed, something she had never done before. Boswell didn't talk about it or offer an explanation, but Broome said it happened during the time investigators searched her father's property.
"When she found the search was over, only then she started to assert herself because I told her, 'You have a missing baby! You're sitting here telling me you don't want to bother them. Get on the phone and find out what's going on!'" Broome continued.
During a second search of the property in March, authorities found Evelyn's deceased body of the property of Boswell Sr., hidden inside a shed. By that time, Megan Boswell was behind bars for allegedly giving numerous false statements to investigators that hindered the investigation.
As CrimeOnline previously reported, Boswell told News Channel 11 that her mother, Angela Boswell, took the child. Maggie Boswell claimed that her mother was babysitting Evelyn, then later took the baby to "a person" at a silver camper in Mendota, Virginia.
"I told TBI where to find her in Mendota. My mom took her to a campground in a silver camper and if they don't go tonight, I'm going to go find her myself, because I've told them and they're not really like taking it seriously and if they don't go tonight, I will go myself and go get her," Maggie Boswell said.
Sullivan County Sheriff's Office Capt. Andy Seabolt responded to Boswell's claim. According to the Tennessean, Seabolt said Boswell's camper claim was "investigated completely." Authorities did not find Evelyn.
"The claim that Megan made stating that Evelyn was in a camper in Mendota was investigated completely," Seabolt said.
"The Washington County Virginia Sheriff's Office along with the United States Marshals checked every campground in Mendota and nothing was found. Megan's story has changed multiple times throughout this investigation."
Maggie Boswell later told News 5 that she didn't want to report Evelyn missing because she was afraid the babysitters would run away with her. At the time, Boswell declined to name the babysitters. She later said she was referring to her mother.
Every time we talk to her, her story changes," Sheriff Jeff Cassidy of the Sullivan County Sheriff's Department said. "I'm serious when I say every single time."
No one currently is charged in connection with Evelyn's death. The autopsy has been sealed to protect the integrity of the investigation.
Megan Boswell remains behind bars on a $150,000 bond. She's being represented by court-appointed attorney, C. Brad Sproles.
Check back for updates.
Join Nancy Grace for her new online video series designed to help you protect what you love most – your children.
[Feature Photo: Evelyn Boswell/TBI]