Where is Vanessa Guillen? Her sister says she would never leave without telling family, but it's been a week since anyone has heard from her.
Guillen, 20 was reportedly last seen on April 22 at around 1 p.m. at the parking lot of the Regimental Engineer Squadron Headquarters, 3rd Cavalry Regiment, in Fort Hood, Texas. She was wearing a black t-shirt and purple fitness pants.
Guillen left behind her car keys, barracks room key, identification card, and wallet in the Arms room, where she works.
It's True Justice Month on Fox Nation, and "Crimes Stories with Nancy Grace" is available now! Sign up today and get your first month for only 99cents!
On Thursday's "Crime Stories" Nancy Grace speaks with Guillen's sister, Mayra, as the desperate search continues.
"The last time we spoke was on Tuesday afternoon," Guillen's sister, Mayra Guillen, told Nancy Grace. "Her boyfriend was the last one to speak to her on Wednesday before going into work. She was happier than ever…Everything was completely fine."
Guillen's boyfriend contacted Mayra at around noon on Wednesday and said that Guillen's iPhone messages were not being read.
Grace: "The boyfriend sends her a text, I'm assuming, at around lunchtime the day she disappears and it was, quote, 'not delivered'?  Was that a problem with his phone? Because when I get that I think it's my phone…You're saying there was a problem on her iPhone?
Mayra: "Yes…Immediately I called (my sister) and immediately it goes straight to voicemail."
Grace: "What time was that?"
Mayra: "Between 12 and 1."
Grace: "Did you try to text her, Mayra?"
Mayra: "Yes, the messages wouldn't deliver."
It's unclear whether Guillen left the base, but medicolegal death investigator Joseph Scott Morgan said had she left, it should have been captured by security footage.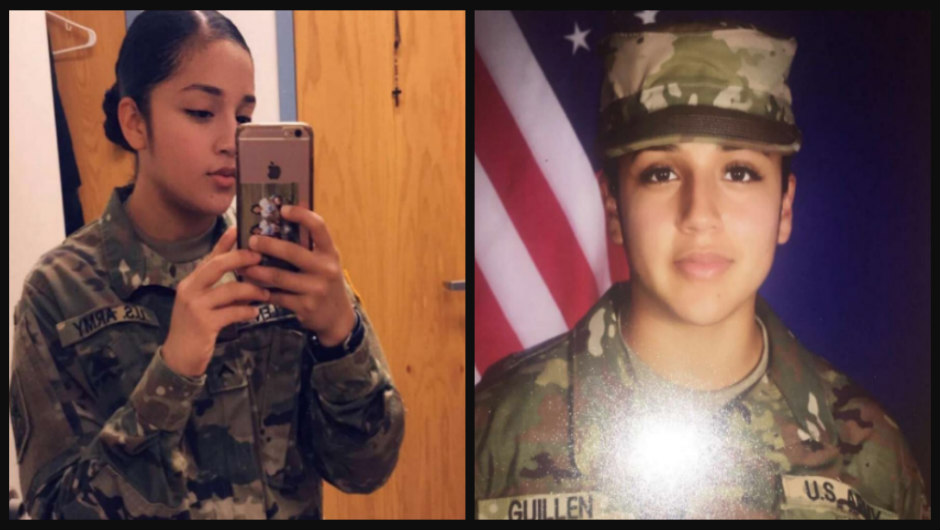 "I'm a former soldier and Fort Hood, right now, in the current state of affairs we are in right now, this post is essentially locked down. I want to know who had access to her. Was there electronic access to get in and off of the post? I have to think that there would be CCTV, there would be an electronic footprint relative to access."
Mayra, who visited her sister twice at Fort Hood, said she had to go through a security gate and visitor's center, undergo a background check, and provide fingerprints before entry access. She said that her car was inspected each time for additional passengers.
Morgan added that soldiers with identification and a Department of Defense vehicle sticker could likely leave the base by simply showing their ID, without having their vehicles inspected.
"My concern is that she may have been obscured in a car," Morgan said. "That's my big fear."
Atlanta's Cold Case Investigative Research Institute Director and crime scene investigator, Sheryl McCollum, said that it's possible Guillen is still on base, given the sheer size of the area.
"There's no proof she got off of that base. They need to start in that parking lot where she was last visibly seen and they need to work [scent] dogs immediately. Not only is Fort Hood massive, there's tons of wooded areas, like deep woods."
Guillen's boyfriend reportedly lives several hours away and has never visited her on base. He was at work when Guillen disappeared, Mayra said. He's also been handing out flyers and taking an active role in trying to find her.
According to psychoanalyst Dr. Bethany Marshall, boyfriends or spouses are generally looked at immediately as persons of interest in a case such as this. Marshall, however, doesn't feel he was involved.
"I always say that rage, resentment, envy, and jealousy emerge, and yet..if there was a domestic violence component, I would think that that would have come out already."
Guillen is of Hispanic descent, stands 5 feet 2 inches tall, weighs 126 pounds, and has black hair and brown eyes. She has three tattoos: a cross with a flower and a flower, both on her left arm, and a mountain on her upper left shoulder. She also has a mole on the left side of her chin.
The U.S. Army's Criminal Investigation Command announced a reward of up to $15,000 for information that leads to whereabouts of Pfc. Vanessa Guillen, whose been missing for almost a week.
Anyone with information should contact Army CID Special Agents at 254-495-7767 or the Military Police Desk at 254-287-4001.
For the latest true crime and justice news, subscribe to the 'Crime Stories with Nancy Grace' podcast.
Join Nancy Grace for her new online video series designed to help you protect what you love most – your children.
[Feature Photo: Vanessa Guillen/Handout]