The senseless death of Ahmaud Arbery has gripped the nation, but the case has also shined a light on a Georgia police department that has been allegedly getting away with corrupt behavior for years.
Arbery, 25, lost his life in February after two men, identified as retired district attorney investigator Gregory McMichael and his son, Travis McMichael, followed him in a Brunswick neighborhood while armed. The pair tailed Arbery in their truck, then circled around the block and stopped their truck in front of Arbery, who was running down a residential road.
The men claimed Arbery looked like someone who had burglarized the area previously, although there is no record of Arbery ever being arrested or named as a suspect.
It's True Justice Month on Fox Nation, and "Crimes Stories with Nancy Grace" is available now! Sign up today and get your first month for only 99cents!
As Arbery approached and ran around the truck, a scuffle broke out. Travis McMichael, who had gotten out of the vehicle with a shotgun, began fighting with Arbery.
Gregory McMichael, who was standing in the bed of the truck with a .357 Magnum, later told police they brought their guns because they didn't know at the time whether Arbery was armed. Reports indicated that Arbery was unarmed.
Arbery died at the scene after being shot twice in the chest by Travis McMichael's shotgun.
For nearly three months, there were no arrests in the case.
In May, the Georgia Bureau of Investigation reviewed the case. Within 48 hours of reviewing security footage of the incident and other evidence, police arrested the McMichaels and charged them with felony murder and aggravated assaulted.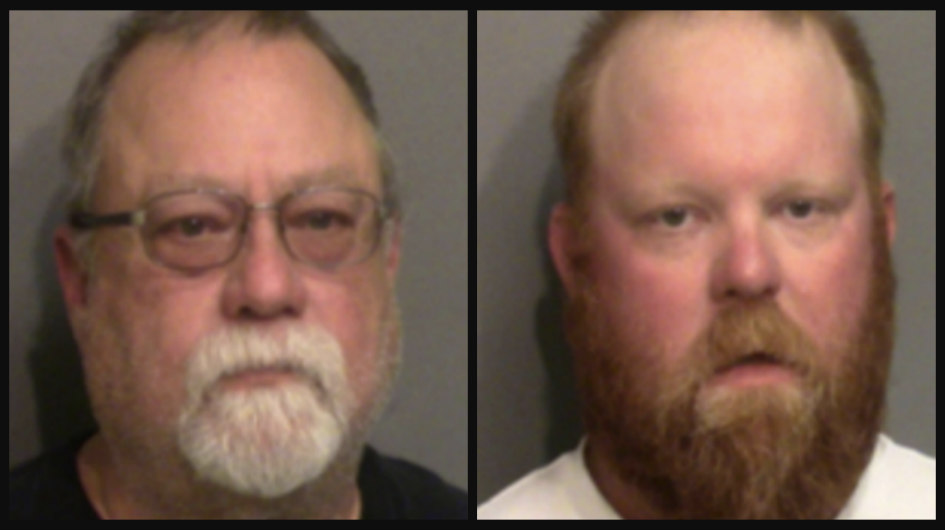 Court documents indicate that corruption with the Glynn County Police Department dates back long before the Arbery murder. The department's alleged "sketchy" actions have come under intense scrutiny following national media exposure of Arbery's case.
"There is not just one prior case," Glynn County criminal defense lawyer Page Pate told NPR. "There are many prior cases. And each one is a separate Netflix episode."
Glynn County Officer Police Officer Kills Unarmed Woman. He Then Kills his Wife.
In 2018, long after documented problems with Glynn County Police Lt. Robert Sasser's behavior, he killed his estranged wife before killing himself.
A month prior, Sasser tried to enter his wife's home by force. He later fled to the woods and hid out for four days. He was placed on administrative leave while an investigation into the incident unfolded. Sasser was charged with battery and trespassing.
The problems, however, according to reports, started years before.
According to AJC, Sasser was also involved in a brutal Glynn County police shooting in 2010 after a woman led him and another officer on "an erratic low-speed chase." The woman, a mother identified as Caroline Small, was unarmed.
Sasser, who "hit her right in the face" after shooting into Smalls' car, avoided punishment and kept his gun and badge. In 2016, he was promoted to lieutenant.
The family of Sasser's estranged wife is now suing the police department for failure to intervene but before the murder occurred.
"This just never should have happened," Atlanta civil rights attorney William Atkins, who is representing the victim's family, said. "He never should have had this opportunity. The signs were everywhere."
In 2005, Sasser shot and injured a man during an arrest at a Brunswick gas station. He claimed he feared for his life after the man allegedly tried to run him over with a car.
Glynn County Police Department Loses Certification
In 2018, the Glynn County Police Department failed to meet the basic policing standards and lost its certification. According to The New York Times, disciplinary records disappeared from the police department and evidence was not properly maintained.
Glynn County Loses its Drug Task Force
In 2019, the Glynn County Drug Task Force was allegedly so riddled with excessive misconduct that it was disbanded. The Brunswick News reports that one of the task force members had sex with an informant.
Further, Glynn County Police Chief John Powell was charged with witness tampering and forgery several days the Arbery shooting.
Fox News reports that Powell was supposed to be cleaning the department's "culture of cronyism." Instead, he allegedly covered wrongdoing "by the police department's narcotics task force." A grand jury found probable cause to indict on:
Violation of oath
Attempt to commit a felony
Lying to the GBI
Influencing a witness
Greg McMichaels Repeatedly Skips Use-of-Force Training
As CrimeOnline previously reported, McMichael's personnel documents indicate that in January 2006, officials took away his power to arrest after an undisclosed infraction that occurred the previous year. Between 2005 and 2010, he failed to complete various types of training required to maintain his certification. During at least three of those years, McMichael failed to fulfill the requirements for use-of-force and firearms training.
"This situation has been a great embarrassment to me and to Investigator McMichael," District Attorney Jackie Johnson, who was McMichael's employer at the time, wrote in a June 2014 letter to the Georgia POST director. "It has negatively impacted my office, and I have taken measures to ensure that it doesn't happen again. Please accept my sincere apology."
In 2006 and 2009, McMichael reportedly applied for a waiver, claiming that a host of health conditions prevented him completed all of the required training. In 2014, his waiver was granted.
By 2019, however, the Georgia Peace Officer Standards and Training Council (POST) issued another suspension order for McMichael after he failed to "maintain training for the year 2018."
McMichael gave up his badge and gun, and signed a memo that indicated he wouldn't "engage in any activity that would be construed as being law enforcement in nature," the Post reports.
DA Allegedly Covers for Gregory McMichael
Earlier this month, two commissioners claimed that Johnson wouldn't let the Glynn County Police Department arrest the suspects.
"The police at the scene went to her, saying they were ready to arrest both of them. These were the police at the scene who had done the investigation," Commissioner Allen Booker told the outlet. "She shut them down to protect her friend McMichael."
Commissioner Peter Murphy also indicated that the DA refused to let police arrest the pair. Both Murphy and Booker said they spoke directly with the Glynn County Police Department.
It's just a straight-up lie," Johnson retorted on Mondy, during an interview with WIFO. "I think it's retaliation for me being the whistleblower on their police department multiple times over the last year."
According to a GBI press release, Attorney General Chris Carr has now requested that the agency investigate Johnson, as well as District Attorney George Barnhill, who recused himself from the Arbery case.
"The Attorney General is concerned that the actions of these offices in possibly misrepresenting or failing to disclose information during the process of appointing a conflict prosecutor to investigate the death of Ahmaud Arbery may have constituted unprofessional conduct under O.C.G.A. § 45-11-4 or other crimes," the GBI said.
Check back for updates.
For the latest true crime and justice news, subscribe to the 'Crime Stories with Nancy Grace' podcast.
Join Nancy Grace for her new online video series designed to help you protect what you love most – your children.
[Feature Photo: Ahmaud Arbery/Handout; Greg and Travis McMichael/Facebook]