The mother of a Tennessee toddler found dead earlier this year has been indicted by a grand jury on 11 charges.
As CrimeOnline previously reported, Megan Boswell, 18, is accused of lying to investigators from February 18 and 23, after her daughter was reported missing. In March, police arrested Boswell and charged her with numerous counts of false reporting, which, according to authorities, hindered the investigation into finding her daughter, Evelyn Boswell.
"During the investigation, we determined that some of the statements Megan Boswell provided to us were false," Sullivan County Sheriff Jeff Cassidy earlier this year. "Many of the false statements that Megan made delayed our investigation and also impeded our investigation on trying to find Evelyn."
How do you protect your children from predators? Join Nancy Grace and a team of world-class experts for the online course 'Justice Nation: Crime Stops Here.'
"Every time we talk to her, her story changes. "I'm serious when I say every single time."
Boswell appeared in court on Wednesday at the Sullivan County courthouse. A grand jury determined there was enough evidence to indict her on the charges, all Class D felonies. After the hearing, Boswell was taken back to the Sullivan County jail, where she remains behind bars on a $150,000 bond amount.
Charges, according to Channel News 11, include:
Count 1: "False statement concerning Evelyn Boswell and the Defendant's claim that her infant child was with the child's father, Ethan Perry."
Count 2:  "The Defendant's alleged lack of knowledge of the whereabouts of her infant daughter and her alleged efforts to locate her daughter."
Count 3: "False statement concerning the alleged last physical contact that the Defendant had with her infant daughter and Ethan Perry's alleged refusal to respond to her texts and voicemails."
Count 4: "False statement concerning the Defendant's alleged last physical contact with her infant daughter."
Count 5: "False statement concerning the alleged time-frame of when the Defendant gave her infant daughter to Ethan Perry to keep since she could not handle her daughter anymore."
Count 6: "False statement concerning the Defendant's alleged claim that she last saw her infant daughter in the custody of Ethan Perry on December 26, 2019."
Count 7:  "False statement concerning the Defendant's mother possibly having her infant daughter but refusing to share with the Defendant the location of her daughter."
Count 8: "False statement concerning the Defendant's mother allegedly having taken her infant daughter in mid-December of 2019 and refusing to tell the defendant of her daughter's location."
Count 9: "False statement concerning the Defendant's mother having allegedly taken her infant daughter because her mother believed that the Defendant owed her money…. Defendant's mother had allegedly told her that Evelyn Boswell would not be returned to the Defendant until the money was paid."
Count 10: "False statement concerning her mother allegedly having Evelyn Boswell at an unknown location and that despite the efforts of the Defendant to find her infant daughter, she allegedly did not know the whereabouts of her infant daughter."
Count 11: "Unlawfully and feloniously make a statement in response to a legitimate inquiry by Tennessee Bureau of Investigation Assistant Agent In Charge, Chris Wilhoit, a law enforcement officer,  concerning her mother allegedly having given the Defendant's infant daughter."
Meanwhile, there have been no arrests in connection with Evelyn's death. An autopsy report is still pending.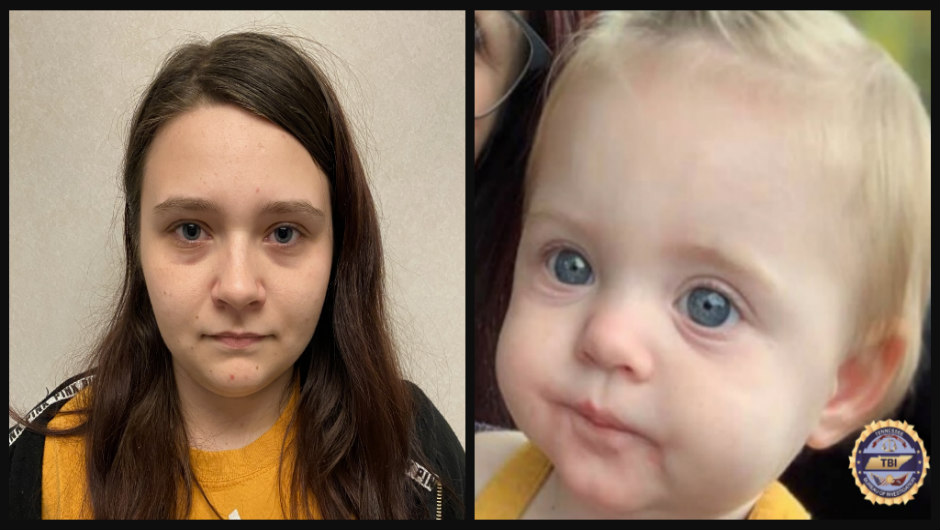 According to TBI special agent Brian Fraley, the toddler's body was found on property off of the 500 block of Muddy Creek Road in Sullivan County, in March. The property belongs to Megan Boswell's father, Tommy Boswell Sr. Property records show that Megan Boswell's mother and stepmother also own the property.
Boswell Sr., who has not been named a suspect in the case, said that he was the one that alerted officials in February that he had not seen Evelyn since December.
When investigators questioned Megan Boswell, she allegedly changed her story each time she spoke with them.
On February 18, the day authorities issued an AMBER Alert for Evelyn, Boswell reportedly told a DCF worker that Evelyn's father, Ethan Perry, had the child and she planned to pick her up.
Authorities said that Perry, who is stationed in Louisiana and actively serving in the military, did not have the baby.
Boswell later told Channel News 11 that her mother took the baby to someone in a silver camper in Virginia.
"I told TBI where to find her in Mendota. My mom took her to a campground in a silver camper and if they don't go tonight, I'm going to go find her myself, because I've told them and they're not really like taking it seriously and if they don't go tonight, I will go myself and go get her."
Sullivan County Sheriff's Office Capt. Andy Seabolt responded to Boswell's claim. According to the Tennessean, Seabolt said Boswell's camper claim was "investigated completely." Authorities did not find Evelyn.
"The claim that Megan made stating that Evelyn was in a camper in Mendota was investigated completely," Seabolt said.
"The Washington County Virginia Sheriff's Office along with the United States Marshals checked every campground in Mendota and nothing was found. Megan's story has changed multiple times throughout this investigation."
Boswell later said that authorities wouldn't give her a polygraph test due to her pregnancy. The Sullivan County Sheriff's Office stated that they "do not use polygraph," according to News Channel 3 in Memphis.
"I am pregnant….that's why they won't give me a polygraph. Due to policy if you are pregnant they will not give you one," Boswell told News Channel 5.
Jail records confirmed that Boswell was not pregnant.
Read all of our Evelyn Boswell coverage here
For the latest true crime and justice news, subscribe to the 'Crime Stories with Nancy Grace' podcast. Here is a previous episode on the case.
Join Nancy Grace for her new online video series designed to help you protect what you love most – your children.
[Feature Photo: Evelyn Boswell/Handout]