The biological mother of a slain Kansas toddler Olivia Jansen says she doesn't believe that her son, who's currently behind bars on murder charges, killed his own child.
As CrimeOnline previously reported, Howard Jansen III, identified as the father of 3-year-old Olivia, has been arrested for first-degree murder, aggravated endangering a child and criminal desecration of a body. Police also arrested his girlfriend, Jacqulyn Kirkpatrick, on the same charges.
Authorities found Olivia deceased on July 10, hours after Jansen walked to the police station to report her missing. Jansen arrived at the station at around 8:30 a.m. and told authorities that he last saw Olivia sleeping on the couch at his girlfriend's Kansas City home,  at 6 p.m. the night prior.
Jansen later allegedly changed his story and said he last saw his daughter at around 11 p.m. the night before, according to police.
Doomsday death & deception: Nancy Grace investigates "Cult Mom" Lori Vallow. Inside sources reveal brand new bombshell information. Click here to watch.
Investigators found the child's body in a wooded area near a walking trail, only nine blocks from Kirkpatrick's home. Someone covered up her with dirt and sticks and left her lifeless body inside a shallow grave.
"I observed broken sticks and branches on top of the shallow grave," a detective wrote, according to CBS 5. "I could see light blue and pink clothing protruding from the dirt as well as a small portion of a Caucasian child's face and hair. The victim was dressed in pajamas and her body had been placed in a fetal position. The victim had severe bruising all over her face."
An autopsy report indicated that Olivia had a cut on the back of her head and "significant bleeding on the back of her brain." The brain bleeding ultimately caused the child's death.
On Wednesday's episode of "Crime Stories with Nancy Grace," Howard Jansen III's stepmother, Elisabeth Jansen, told Nancy Grace that she's known the suspect since he was a 2-year-old. As he got older, he became vicious, according to Elisabeth Jansen, and would harm small animals.
Jansen: "We weren't rich but he had everything. Once he got older he started dabbling into drugs, and I am not blaming drugs; he's this way: mean, hateful, quick temper, crude, rude…. to small animals, children, just a user, and a mooch."
Grace: "Did you say mean to small animals?"
Jansen: "Abusive if they made a mess on the floor or something. He had to be pulled away a couple of times from hurting a small dog."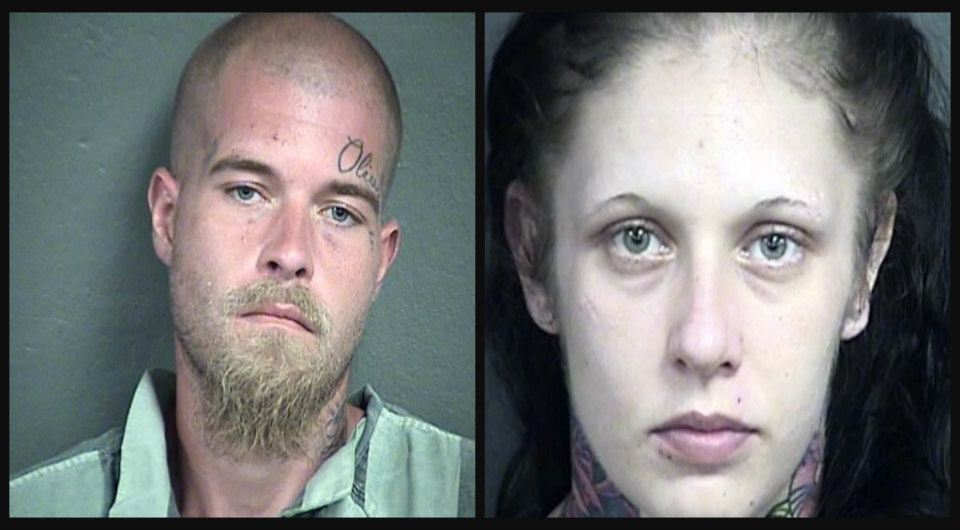 Olivia's biological grandmother, Amanda Coleman-Hobbs, told CrimeOnline that she never witnessed her son harming an animal at any point in his life.
"My son never abused animals or children. His nana babysat him in her home where he grew up. I even talked to other family members and they never witnessed that kind of violence either."
Coleman-Hobbs explained that she became pregnant with Jansen III when she was a young teen. She said she was in an abusive relationship with her ex and that her son's grandparents took over parental rights.
"I was 17 I knew his papa and nana could give him a better than I could of at the time. They made sure I saw him whenever I wanted…I was young and dumb and didn't know what else to do. At the time I thought I was doing what was best for my son."
Coleman-Hobbs is now questioning what really happened to her granddaughter. She thinks her son may have been involved in some way but she doesn't think he killed Olivia, his youngest child.
"I think he is innocent of the murder charge bc he didn't kill her but I do think hes guilt of something yes. I'm just not sure of what. I don't have all the facts about what he knew or didn't know. I think Jackie beat my granddaughter to death."
Coleman-Hobbs lives in Arizona and said she would often FaceTime with Olivia, but she never had the chance to see her in person as often as she would have liked. She's also questioning why Elisabeth Jansen allowed Olivia to go back to her father and his girlfriend if abuse was suspected.
"If they say they saw signs of abuse then why did they let her go back?" Coleman-Hobbs asked, referring to Elisabeth Jansen and Olivia's grandfather, Howard Jansen II. "If I was there I would of not given her back. I would of taken her straight to the police station to make a report and had them arrested right then."
Elisabeth Jansen said she contacted the Kansas Department of Family and Children Services and reported suspected abuse. Nothing was done at the time, and since she was not the biological grandparent, Elisabeth Jansen said she didn't think she had the power to keep Olivia at her home. In hindsight, she said she wishes she would "kept her and called the police."
Two of Jansen III's family members, including cousin Jenny Kane and aunt Robin Dare Jansen-Shields, told CrimeOnline that they're shocked at the allegations Elisabeth Jansen made against Howard III; both claim that they've never seen him be abusive toward animals or children.
"I have never known Howard III to be physically abusive to Olivia, his 10-year-old, or his ex-wife (or anyone else related to him)," Kane said.
"I understand that he is part of something very tragic that happened, but there is another person who should be getting her name dragged through the mud like Howard is and I don't seem to hear much about her (Jackie Kirkpatrick) involvement."
Jansen-Shields said that the suspect's grandparents (her parents) ran a home daycare for years. Howard III was consistently around both children and animals throughout his life, she said. Jansen-Shields said she never saw Jansen III harm any animals or children.
"He has never been cruel to animals. He lived with my dad and stepmom which were his grandparents. They always had animals. Usually more than one. Not once did I see him hurt an animal."
Murder Investigation
Kansas City investigators believe they have enough evidence, however, to indict both suspects on murder and related charges. They're both being held on a $500,00 bond each, at the Wyandotte County Jail.
Meanwhile, Kansas DCF is reportedly refusing to release Olivia's documents, "saying it is still investigating whether Olivia's death was a result of abuse or neglect," Fox 4 reports.
The arrest affidavit indicates that the bruises and marks were so visible on Olivia when authorities found her, that anyone who had contact with her in the days prior to her death should have been able to tell she was being abused.
"Clearly, law enforcement, the district attorney, and a judge who signed the warrant in the court case have made a determination of child abuse," Ron Keefover, president of the Kansas Sunshine Coalition for Open Government, told Fox 4.
The agency reportedly said the once it finds out whether Olivia died from abuse or neglect, it will begin the process of releasing the records.
Check back for updates.
For the latest true crime and justice news, subscribe to the 'Crime Stories with Nancy Grace' podcast.
[Feature Photo: Olivia Jansen/Family Hnadout]