An Alabama woman accused of abusing and neglecting her children is back behind bars after violating her bond agreement.
In January, as CrimeOnline previously reported, three people were arrested after deputies conducted a welfare check at a home in Lee County, Alabama. Authorities found wooden cages and "evidence that the children had been locked in the cages on multiple occasions," according to the Lee County Sheriff's Office.
Four of the five children, ages aged 3, 4, 10, and 11, were present when deputies and representatives from the Lee County Department of Human Resources (DHR) arrived for the welfare check on January 13. The fifth child, an 8-month-old infant, was not present but lived in the home. All five children were placed in the care of DHR.
Doomsday death & deception: Nancy Grace investigates "Cult Mom" Lori Vallow. Inside sources reveal brand new bombshell information. Click here to watch.
Deputies arrested Kylla Michelle Mann, 30; Pamela Deloris Bond, 66; and James H. Bond, 69, and charged them with aggravated child abuse and reckless endangerment.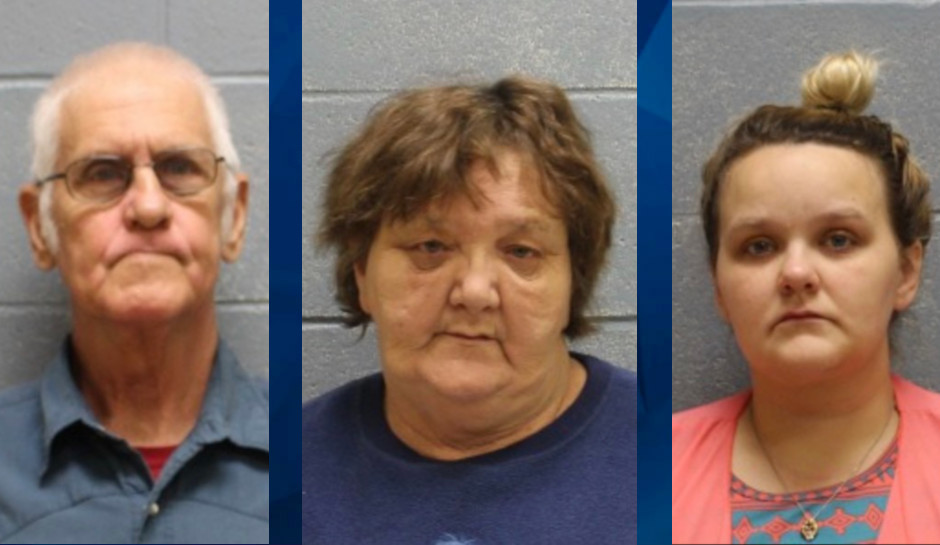 Mann is the mother of all five children, and the Bonds are their grandparents, according to Lee County Sheriff Jay Jones.
News 3 reports that Mann, who was released on bond earlier this year, violated several conditions set forth upon her release from jail. According to Lee County District Attorney Brandon Hughes, one of the violations occurred when she failed to comply with required drug screenings.
Mann also allegedly moved to Mississippi, another violation of her bond. She's accused of stealing lottery tickets from a Mississippi gas station she was working at and now faces an outstanding felony warrant out of the state.
"We presented evidence that she had not taken a single drug screen as ordered by the court as a condition of her bond," Hughes said. "She also left Alabama and moved to Mississippi, which was also a violation of her bond."
House of Horrors
During a preliminary hearing earlier this year, a Lee County investigator said that the children had been kept in filthy cages ridden with feces and cockroaches. The defendants reportedly said that the cages were a form of punishment for some of the children with disciplinary problems.
"There was feces on the actual wood itself," Lee County Investigator Greg Sumner said. "There was some stains of feces and or urine on the mattress. There was cockroaches crawling on the walls and on the mattress as well."
Sumner said the defendant claimed one of the children was kept in cages for his own safety.
"She says the four-year-old, 'He's always getting into stuff and destroying things, so the tops were put on the cages for their safety,'" Sumner said, according to CBS 12.
Sumner testified that the other children were kept in cages most days and only let out for short periods at a time. He added the entire home was in disarray, with piles of clothing on counters, dirty dishes piled up, and cockroaches crawling everywhere.
"I'm not talking just a little bit, stuff was piled everywhere, every square inch."
Fox 8 referred to the home as a 'real-life house of horrors.'
Sumner testified that while he was at the home in January, Pamela Bond said she needed to use the restroom and walked into a bedroom. A few minutes later, one of the children opened the door. Sumner said he noticed Bond trying to hide the silver padlocks that were on the cages.
"Ms. Bond was standing over the cages, lock in her hand, hand under [the] clothes," Sumner testified.
During an interview with Dr. Oz earlier this year, Mann's sister, Courtney, said the children "weren't progressing" as they should have been.
"Her kids, they weren't progressing like they should. They weren't socialized. They weren't able to talk. They would just moan and groan and grunt at things that they wanted or and these kids are like three-four."
Mann will remain behind bars until trial.
For the latest true crime and justice news, subscribe to the 'Crime Stories with Nancy Grace' podcast. Here is an episode on a related case.
Join Nancy Grace for her new online video series designed to help you protect what you love most – your children.
[Feature Photo via Lee County Sheriff's Office]