The grandparents of a slain Minnesota toddler have filed a federal lawsuit, naming medical workers and a social services employee as part of the blame for the child's death.
Star Tribune reports that the lawsuit was filed by Thomas Hunziker and Mary Egan, the paternal grandparents of 3-year-old Arianna Hunziker, who passed away in 2017. The lawsuit alleges that the Allina Health Systems, an Allina Health doctor and nurse, and a Hennepin County social worker failed to act on obvious signs of child abuse and neglect.
According to court documents, Arianna "was starved, dehydrated, bound, immobilized and abandoned in a home littered in trash and smelling of urine," by her foster parents.
Doomsday death & deception: Nancy Grace investigates "Cult Mom" Lori Vallow. Inside sources reveal brand new bombshell information. Click here to watch.
The lawsuit also alleges that the child's weight and even her height dropped while in the care of her foster parents. She began eating gravel, rocks, crayons, dirt, and trash after the couple starved her. She also became withdrawn and went from a smiling, happy child to one who ripped out her own hair in frustration.
"She was always a happy, smiling little girl," Thomas Hunziker told KARE 11.
Hunziker and Egan took Arianna and her brother in when their son and the children's mother lost custody. Worried about their age, however, they thought a younger family would be able to give the children better lives.
The county placed the children with their maternal aunt, Sherry Dirk, and her husband, Bryce Dirk, of Brooklyn Park, who promised the grandparents they could see the children whenever they wanted.
"As soon as the placement was completed, we were cut off entirely," Hunziker said.
A year later, Arianna was dead and left bound to a bed, tied up with bedsheets.
According to the lawsuit, social worker Patricia Doherty, Dr. Robert Marshall, and nurse practitioner Kristen Medhanie saw the warnings signs of child abuse prior to Arianna's death but did nothing to intervene. An example included in the lawsuit states that the Dirks routinely "swaddled" Arianna so tightly she couldn't move.
The social worker, doctor, and nurse were aware of the swaddling, according to court records, but failed to investigate. Swaddling a child at Ariann's age "is inconsistent with pediatric medical standards of care," the lawsuit read.
The lawsuit also states that Sherry Dirk's family members told the plaintiffs that she was not a fit parent, yet when Egan filed a complaint about it, Hennepin County did nothing.
"Egan informed Hennepin County that there were concerns about Sherrie [Dirk] not being a fit parent, which emanated from Sherrie's own family members," the lawsuit claimed.
Doherty is accused of making a home visit to the Dirks' residence, yet failing to investigate further after noting a filthy living environment.
"The house was very dirty smelling of dogs, cats, and urine. Plus, clothes and shoes every place made it difficult to walk into the door, especially with the odor."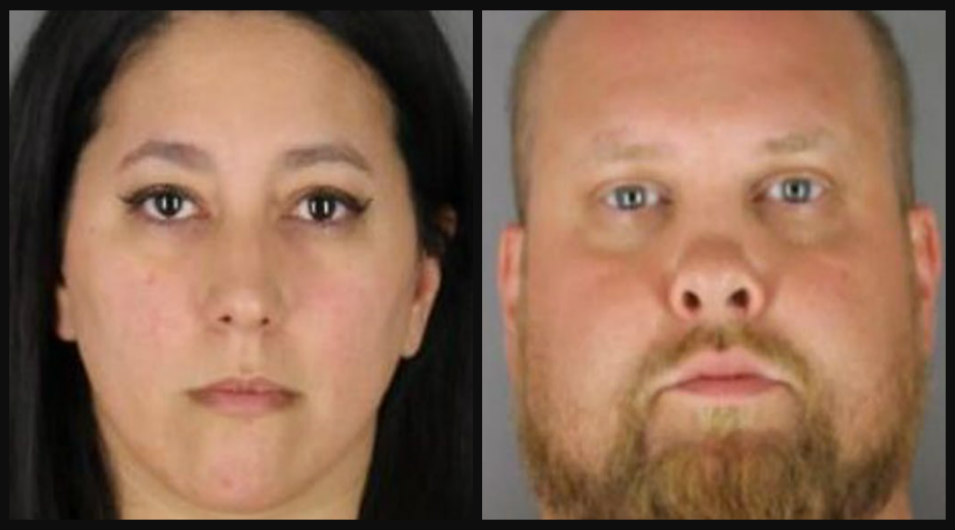 After Arianna was in the care of the Dirks, according to the lawsuit, she began crying often, picking at her skin, having extreme outbursts (which led to swaddling), and refusing to leave school. She didn't want to go home to her foster family, the lawsuit alleges.
The couple withheld food to the point that Arianna went from the 97th percentile for her age down to the 13th percentile. Dr. Robert Marshall and Kristen Medhanie were aware of the child's weight loss and signs of abuse but did nothing to stop it, the lawsuit claims.
A child abuse expert reviewed the case found that Arianna had lost additional weight after her final doctor visit, dropping her to the fifth weight percentile. The expert also found bruises, marks, and other signs of child abuse on Arianna's body.
"[The] suffering continued unchecked and unabated," the lawsuit read.
In 2019, Sherrie and Bryce Dirk pleaded guilty to plead guilty to second-degree unintentional murder. Arianna's likely cause of death was listed as mechanical asphyxia.
"[Sherrie] Dirk completely immobilized the child by binding the girl with three sheets and left her in a room with the door closed. Neither she, nor her husband Bryce Dirk, checked on the child until Bryce did [sic] about four hours later. One of the sheets was found around her neck," the Hennepin County Attorney wrote.
Sherrie Dirk is currently serving a 32-year prison sentence. Bryce Dirk is serving a 12.5-year prison sentence. They're both listed as defendants in the lawsuit.
Check back for updates.
For the latest true crime and justice news, subscribe to the 'Crime Stories with Nancy Grace' podcast. Here is our latest episode. 
Join Nancy Grace for her new online video series designed to help you protect what you love most – your children.
[Feature Photo: Arianna Hunziker/Facebook]