Law enforcement agencies throughout the United States are preparing for the possibility of violent uprisings as the votes for the 2020 general election are tallied.
While millions of registered voters have already cast their ballots at early polling sites or voted via absentee ballot, millions more are expected to line up at the polls on Tuesday in what many consider to be the most critical presidential election of our lifetimes, and one that will determine whether Republicans or Democrats will control the Senate.
Tuesday's election follows months of protests and unrest, with much of the discord in response to police killings of Black citizens like George Floyd, who died when a Minneapolis police officer knelt on his neck for several minutes in late May; and Breonna Taylor, who was killed in her own home in March when police officers fired back at her startled boyfriend, who reportedly shot at the officers believing they were intruders.
As the Washington Post reports, retailers in New York, Los Angeles, Washington D.C. and elsewhere have boarded up businesses in popular shopping areas in anticipation of possible destruction. In some cases, it appears that luxury businesses are particularly concerned about protesters damaging property.
"Rodeo Drive is among the most desirable streets in the world, which means we're one of the biggest targets," Kathy Gohari, vice president of the Beverly Hills-based Rodeo Drive Committee told the Washington Post. "What we do not welcome is people with ill intentions, who are here to destruct property."
Government buildings have also been boarded up in several cities, including in Washington D.C.: The White House has installed a non-scalable fence to fortify the existing barrier, apparently in anticipation of protests.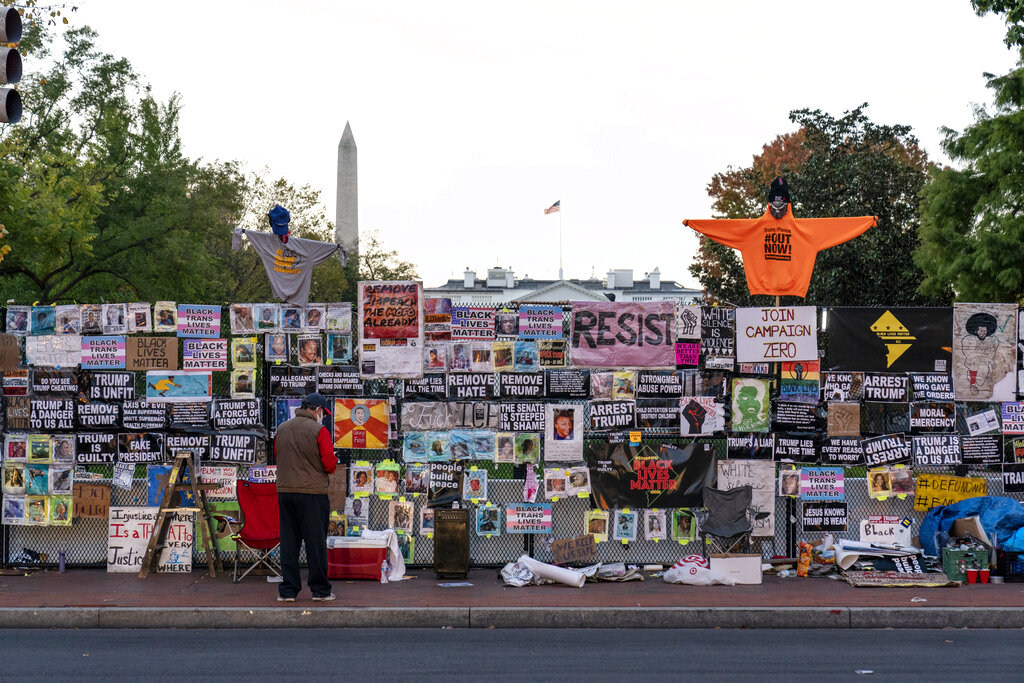 On the west coast, Oregon Governor Kate Brown invoked her emergency powers on Monday in the event of uprisings in Portland, which has been the site of numerous tense protests in recent months.
According to a report in Willamette Week, Governor Brown has also called up the National Guard, instructing officers to be on standby for crowd control measures. As the report notes, it is unclear what circumstances would trigger a National Guard response.
Indeed, while preparation measures appear to be widespread throughout the country, few law enforcement or government officials have offered specifics about the focus of a planned emergency response, and none that CrimeOnline contacted would comment on whether there is a particular election outcome that local authorities expect might lead to a more dramatic — or violent — public reaction.
A spokesperson for the Pittsburgh Department of Public Safety confirmed in a statement to CrimeOnline that police officers in the Pennsylvania city are scheduled to work 12-hour shifts through November 8, with holidays and personal days cancelled.
"Pittsburgh Public Safety acknowledges that there is a heightened level of interest in how its personnel are preparing for the election," the spokesperson said, while declining to discuss operational details. "We are working closely with our local, state and federal partners to be ready for all contingencies. "
Police departments in non-metropolitan areas are also preparing for possible unrest. DuPage County Sheriff's Office Director of Communication Justin Kmitch told CrimeOnline that the local law enforcement in the Illinois county has "a plan in place that allows for a rapid deployment of a large contingent of officers to any situation that may arise."
"Neither we nor our federal partners have identified any credible at this time, we understand the potential for unrest and the need to demonstrate to our citizens that we are prepared to keep them safe."
Of course, given the increase of absentee ballots largely driven by the coronavirus pandemic, there is no guarantee the presidential election will be called on Tuesday — or even this week.  As the New York Times notes, states are not legally required to submit their final results on the night of the election, and in this election year, additional delays are nearly guaranteed. In Pennsylvania, some counties with limited resources will not begin counting mail-in ballots until Wednesday, November 4.
In Texas, San Antonio restaurant owner Daniel Rivera boarded up his business on Monday, and told KSAT he plans to keep the property secured for at least a few days.
"Probably until the weekend's over, once everybody cools off," Rivera said.
For the latest true crime and justice news, subscribe to the 'Crime Stories with Nancy Grace' podcast. Listen to the latest episode:

[Feature image: AP Photo/John Minchillo]