The search for a missing Texas college student has intensified as family members say Jason Landry did not take a direct route while driving home from school for the holidays, and investigators search an oil field near the gravel road where Landry's totaled car was found on Monday.
As CrimeOnline previously reported, a passerby spotted the damaged vehicle on Salt Flat Road in Luling, about a 30-minute drive from the Texas State University campus in San Marcos, shortly after midnight on Monday. On Sunday, Landry had begun the drive to his family's home near Houston, about 165 miles away. Relatives told Fox 7 News that Landry's car was found on a road that indicates he made a possible wrong turn somewhere early in the drive; his father believes his son may have followed the directions of a malfunctioning GPS app.
"I don't know why my son was down this road … my best guess, he will follow Waze wherever it sends him, he was coming home from college, but he was here on this road I don't know if he was trying to avoid a deer or what, swerved and hit some trees on the side," Jason's father Kent Landry told the news outlet.
A Google map shows that Salt Flat Road is north of the direct route to Houston from San Marcos.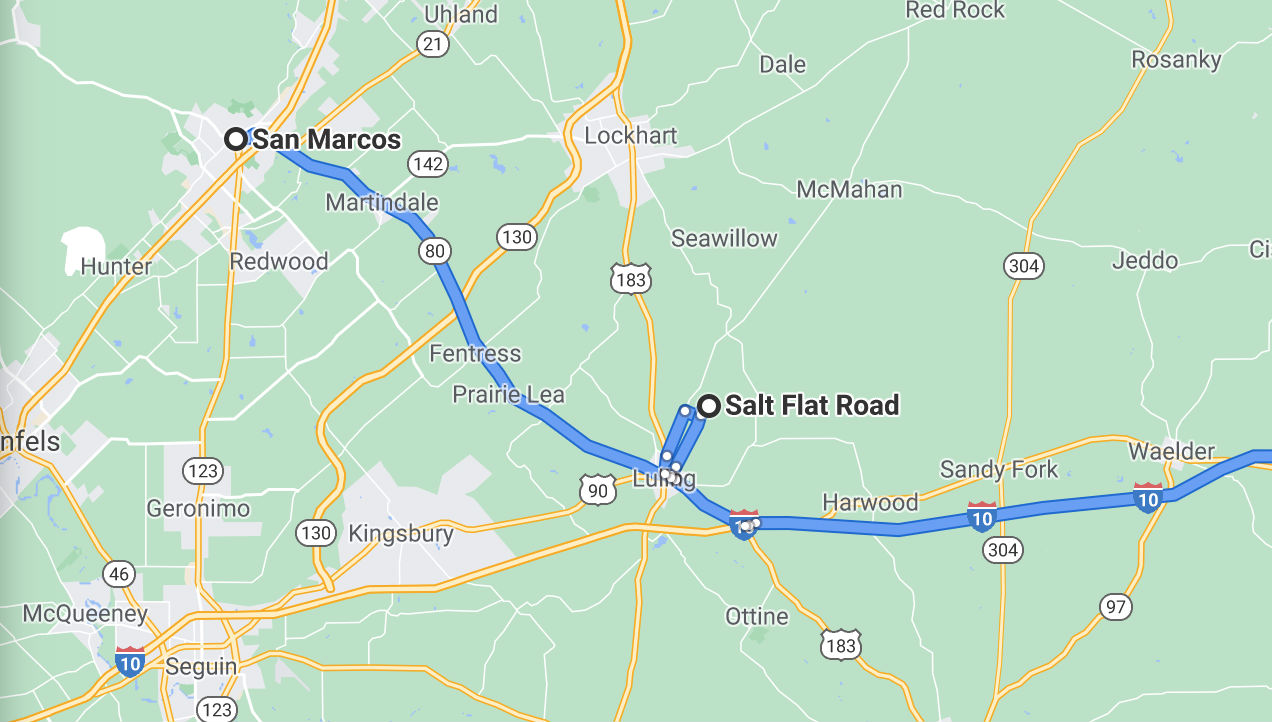 As previously reported, Landry's phone and wallet were left behind in the vehicle, which had stopped in a ditch on the side of the gravel road. But Fox 7 News now reports that his clothes were found near the scene. The student's father believes this means his son was able to walk away from the wreck.
"We know he got out of the crash OK, and was walking back, this way, and that's the last we know for sure," said Kent Landry.
Tracking dogs reportedly detected a scent indicating that Landry was headed toward Luling on foot when he disappeared. About a quarter-mile from the crash site, the scent trail stopped.
Felix Cortinas, who has a lease in the area, told Fox 7 News that it would be easy for someone unfamiliar with the area to lose their way and get stuck in an oil field that is now the primary focus of the search.
"A lot of old wells, saltwater disposal, old wells that were never even capped or cemented just holes and a lot of creeks, a lot of steep banks," Cortinas said.
According to the report, investigators say they have not found any evidence of foul play, though they did find traces of blood in Landry's car.
"Right now we have no indication of any foul play at all, we don't know if maybe somebody picked him up or if he just wandered to an area where we haven't searched or found yet," Texas Department of Public Safety Sgt. Deon Cockrell told the news station.
Anyone with information is urged to contact the DPS Luling office at 830-351-4185.
For the latest true crime and justice news, subscribe to the 'Crime Stories with Nancy Grace' podcast. Listen to the latest episode: