A newly-released deposition video obtained by MailOnline shows Chloe Wiegand's mother emotionally distraught as she relives the day her toddler daughter died aboard a Royal Caribbean cruise ship.
Kimberly Wiegand, the mother of 1-year-old Chloe, was on a cruise with family members when her daughter lost her life aboard Royal Caribbean's Freedom of the Seas cruise ship. The ship was docked in Puerto Rico at the time of the incident, on July 7, 2019.
Chloe died after falling from the 11th floor and landing on the hard, concrete surface of the Pan American dock. She was playing with her grandfather, Salvatore Anello, in the children's H2O Zone children's water park when she fell from an open window. Kimberly Wiegand and her husband, Alan Wiegand, were not in the area when the incident happened.
Anello, who often accompanied Chloe to her brothers' hockey games, where she enthusiastically banged on the hockey rink glass panel, said he lifted the girl up at her request while they were in the play area. He said Chloe slipped from his grip and her death was an accident.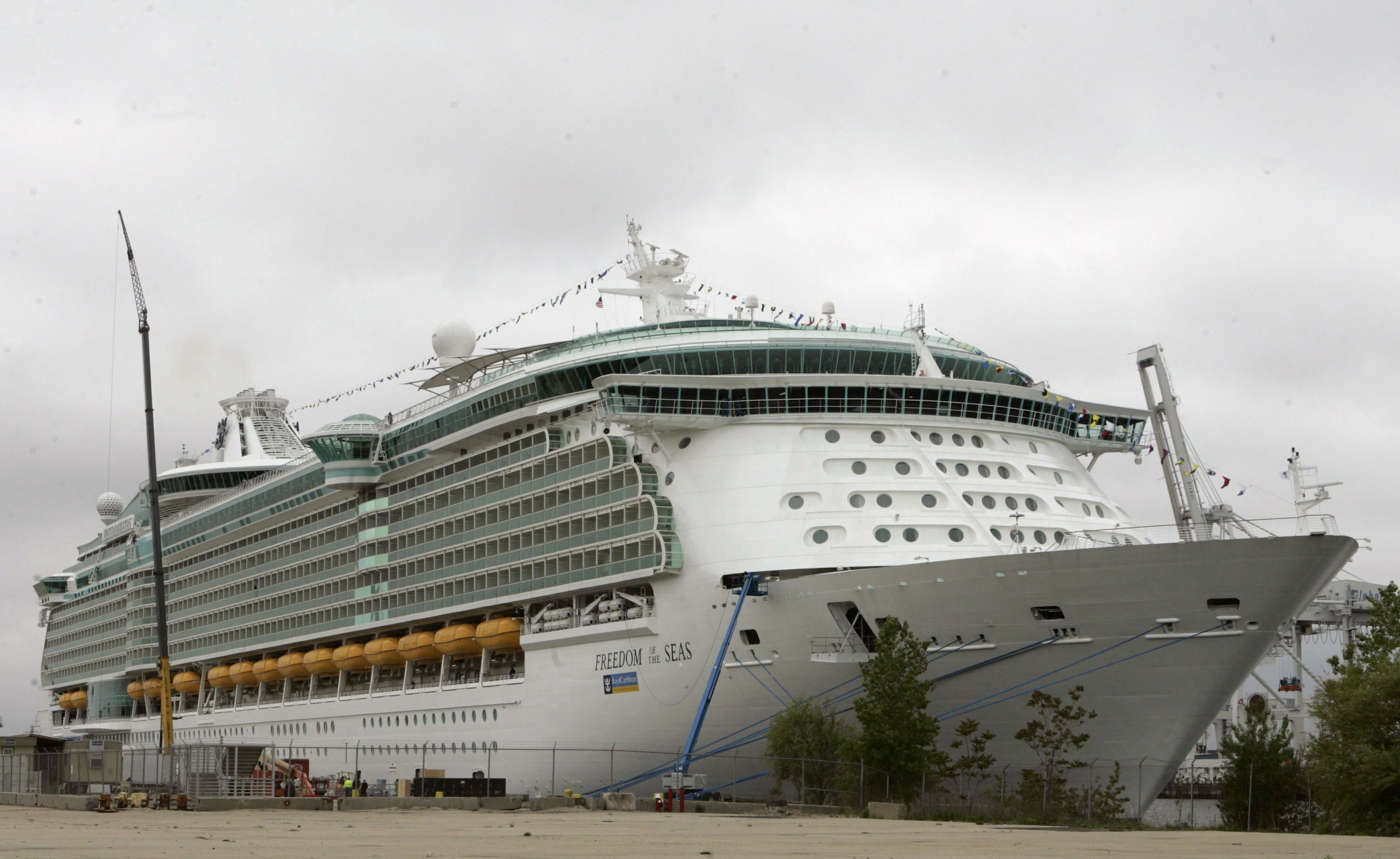 Kimberly Wiegand has maintained that the cruise ship is responsible for her daughter's death for allegedly failing to warn passengers about an open window. During the deposition, however, Kimberly admitted that she initially screamed at her stepfather, Anello, and accused him of killing his granddaughter.
"I saw her under a sheet and I could see Sam by the window. I screamed…I screamed and I know he was talking back. I said 'You killed Chloe!' He said, 'I know.'" -Kimberly Wiegand
Kimberly Wiegand also reportedly admitted that she blamed the cruise line for the incident before discussing anything with Anello. The grieving mother said it took her three months to speak to him again.
When the pair finally spoke, Anello denied knowing that the window was open.
"He said, no. He told me if he wanted me to, he would explain in detail what happened. I told him I did not think I could listen to it. And that's been the conversation that I had with him," Kimberly said.
Alan and Kim Wiegand are pursuing a federal lawsuit against Royal Caribbean, claiming the cruise line acted negligently when it failed to place a sign that could have warned others that the window was open.
Royal Caribbean filed a motion in response in January 2020. The cruise line indicated that video footage showed Anello leaning over the ledge at the window and looking out before he picked his granddaughter up and held her by it. Within minutes, Chloe fell.
Kimberly Wiegand said during the deposition she hadn't yet watched the video because she couldn't bring herself to do it. Both parents said they declined to watch the CCTV footage.
"I don't think I can watch that, I'm sorry," Kimberly said.
Lawyers for the cruise line asked a judge to consider the fact that the child's parents didn't watch the footage and didn't discuss the incident with Anello for months.
"By their own admission, Plaintiffs have never seen the video footage of the incident or even discussed the details of the incident with Mr. Anello, the only known eyewitness.
"While RCL deeply sympathizes with Plaintiffs and understands why grieving parents may wish to avoid reliving such events, it remains that Plaintiffs brought a lawsuit against RCL over these very events.
"In fact, Plaintiffs decided to bring the lawsuit on the same day of Chloe's death, without knowing the full facts and circumstances that caused it."
"Plaintiffs were not aware that, for eight seconds, Mr. Anello leaned over the railing that was inches in front of the window or that after he picked up Chloe and placed her on the railing, he then placed her on the windowsill that faced the pier below.
"Similarly, Plaintiffs were not aware that Mr. Anello held Chloe by the open window, which was flanked by tinted and reflective glass and open to the outside light, air and noise, for thirty four seconds."
The Wiegand family's attorney, Michael Winkleman, previously said that the Freedom of the Seas ship didn't meet industry safety standards.
"This is not some freak accident," family lawyer Michael Winkleman told NBC News. "This is something that was a preventable accident…These windows are entirely not compliant with the standard for windows on cruise ships."
Winkleman told MailOnline that Kimberly was too traumatized to watch a video of her child dying.
"It's noteworthy that it only took Kimberly a few moments to realize how unsafe these windows are once the incident occurred…There's absolutely no requirement for her to watch the video. That's why she hired us to advocate on her behalf, which we will do until the bitter end."
Check back for updates.
CLICK HERE FOR PREVIOUS CHLOE WIEGAND COVERAGE
For the latest true crime and justice news, subscribe to the 'Crime Stories with Nancy Grace' podcast. 
Join Nancy Grace for her new online video series designed to help you protect what you love most – your children.
[Feature Photo: Chloe Wiegand/Family Handout]