The attorneys for Rodney Reed, a Texas man on death row for the 1996 murder of Stacey Stites, are in court today with what they say is proof that Reed is innocent.
As CrimeOnline previously reported, Reed was sentenced to death in 1998 for the murder of 19-year-old Stites. Authorities arrested Reed after finding his DNA inside her body. Stacey was found partially nude in a remote area of Bastrop, Texas. A medical examiner listed her official cause of death as asphyxiation (strangulation) with a belt.
Defense lawyers maintain that Reed was wrongfully convicted and are presenting new evidence in court Monday, starting with forensic pathologist Andrew Baker.
"With respect to false evidence, there's a mountain of it," Reed's lawyer Andrew MacRae said to the court.
Baker testified Monday morning that Stites was likely moved after her death, and was also deceased a lot longer than prosecutors claimed. He also testified that Stites was not anally raped, as stated during Reed's 1998 trial.
Instead, according to Baker, the abrasions were mistaken by another doctor who previously testified, although the evidence showed "normal anal anatomy."
The hearing is expected to last several weeks.
What Happened to Stacey Stites?
Prior to her death, Stacey had been brutally beaten, raped, and sodomized. The truck Stacey drove the night of her death was found abandoned at the town's local high school, a few blocks away from Reed's grandmother's home.
Initially, Reed told investigators he had no idea who Stacey was. During the murder trial, however, he changed his story and claimed he had been carrying on a secret affair with Stacy behind her fiancé, Jimmy Fennell's back.
Reed said he didn't speak up about it before because he was afraid that Fennell, who was a police officer at the time for the Giddings Police Department, would make sure he never got a fair trial.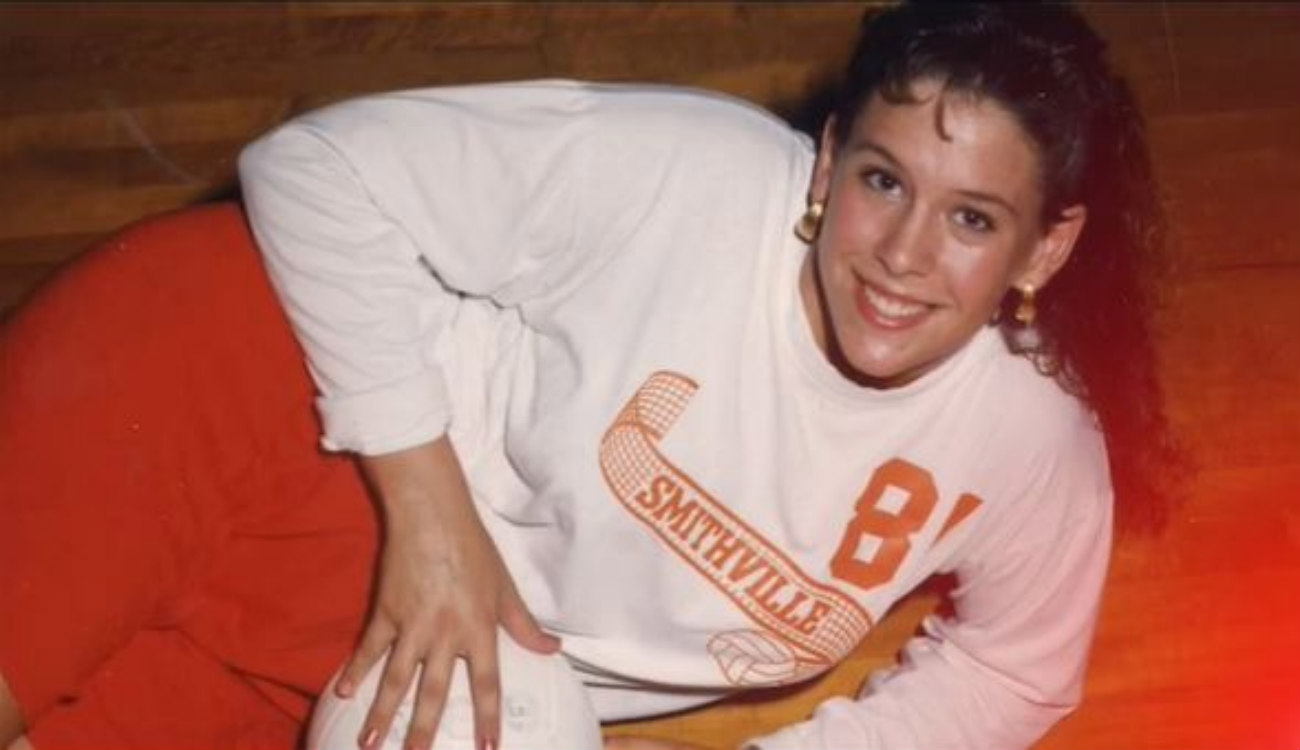 Stacey's sister, Crystal Hefley, told CrimeOnline that not only had her sister never once mentioned Reed, but she was also obsessed with her upcoming wedding to Fennell.
Hefley said Stacey was working late shifts at an H-E-B grocery store in Bastrop to save up extra money to put toward the wedding. She was in love with Fennell, according to Hefley, and had no interest or time to pursue an affair.
"We were looking forward to a beautiful wedding," Hefley explained. "We buried her in her wedding dress. Jimmy on his own went up and put the ring on her finger. Jimmy will always be our brother in law…..He [Reed] did not know my sister personally. We have zero doubt that Rodney Reed crossed paths with our sister that morning of April 23, 1996."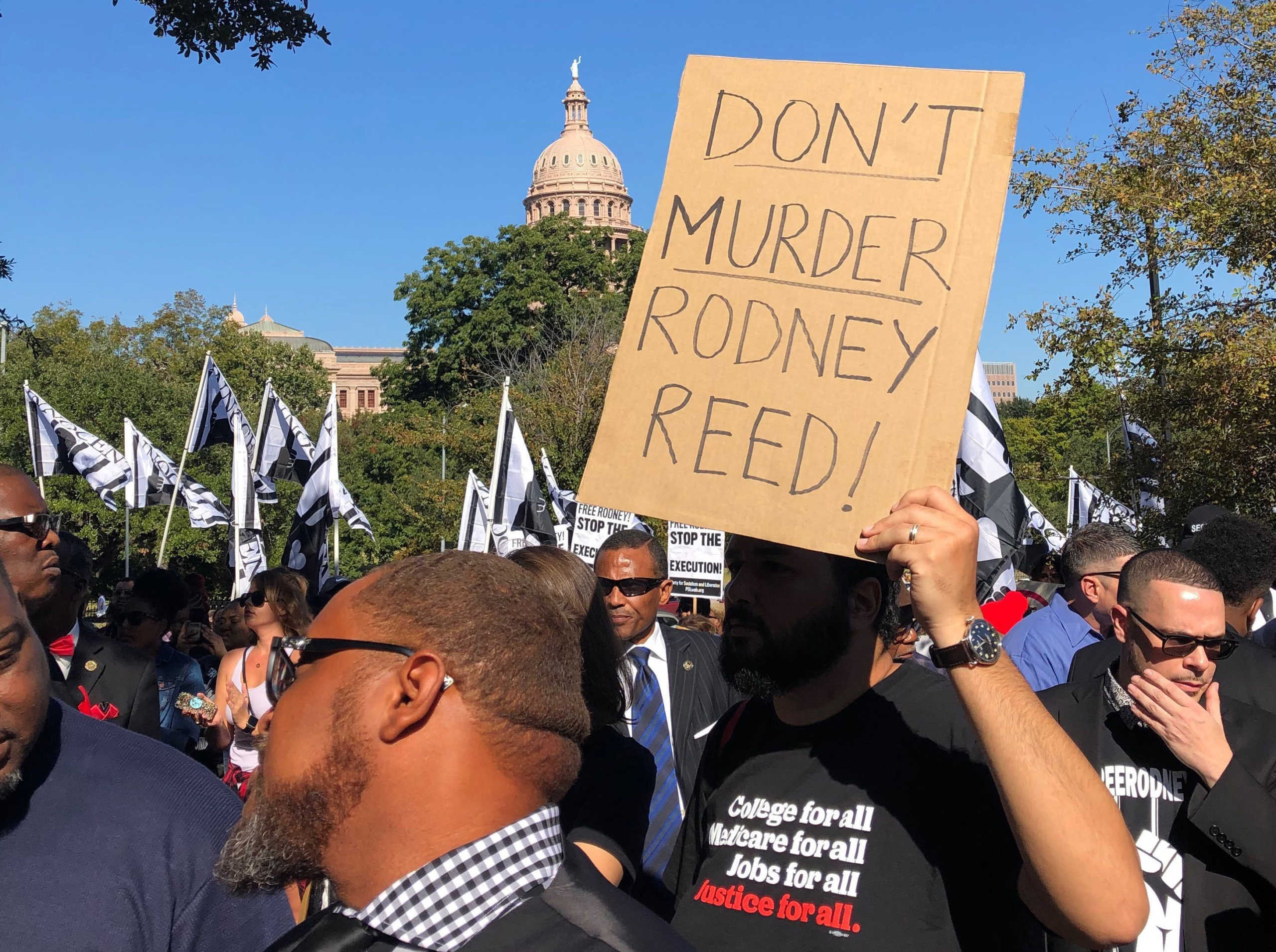 In 2019, Reed's lawyer filed documents to halt the execution, claiming too many questions exist concerning Fennell's possible role in the killing. Texas GOP congressman, Michael McCaul, showed his support in favor of postponement.
"As a member of Congress representing the Bastrop community where this crime took place, I have heard from many of my constituents about evidentiary gaps in Mr. Reed's case," McCaul wrote. "In reviewing the case, and the press reporting around these evidentiary gaps, new witness statements, and forensic evidence could potentially change the outcome of the case."
Three witness accounts were filed in court in 2019, with the Texas Court of Criminal Appeals. The filing also included statements from four additional witnesses who came forward recently, claiming Stites and Fennell had an abusive, volatile relationship.
Fennell was also accused of telling a fellow officer at a 1995 police training event that if he ever caught Stacey cheating on him, he would strangle her with a belt to avoid leaving fingerprints, according to The Texas Tribune.
According to court documents, a beer can found at the crime scene had fingerprints on it that matched Fennell's friend and colleague, Giddings Police Officer David Hall. A medical examiner later said that it appeared as if Stites had been raped with "a rod-like instrument, such as a police baton."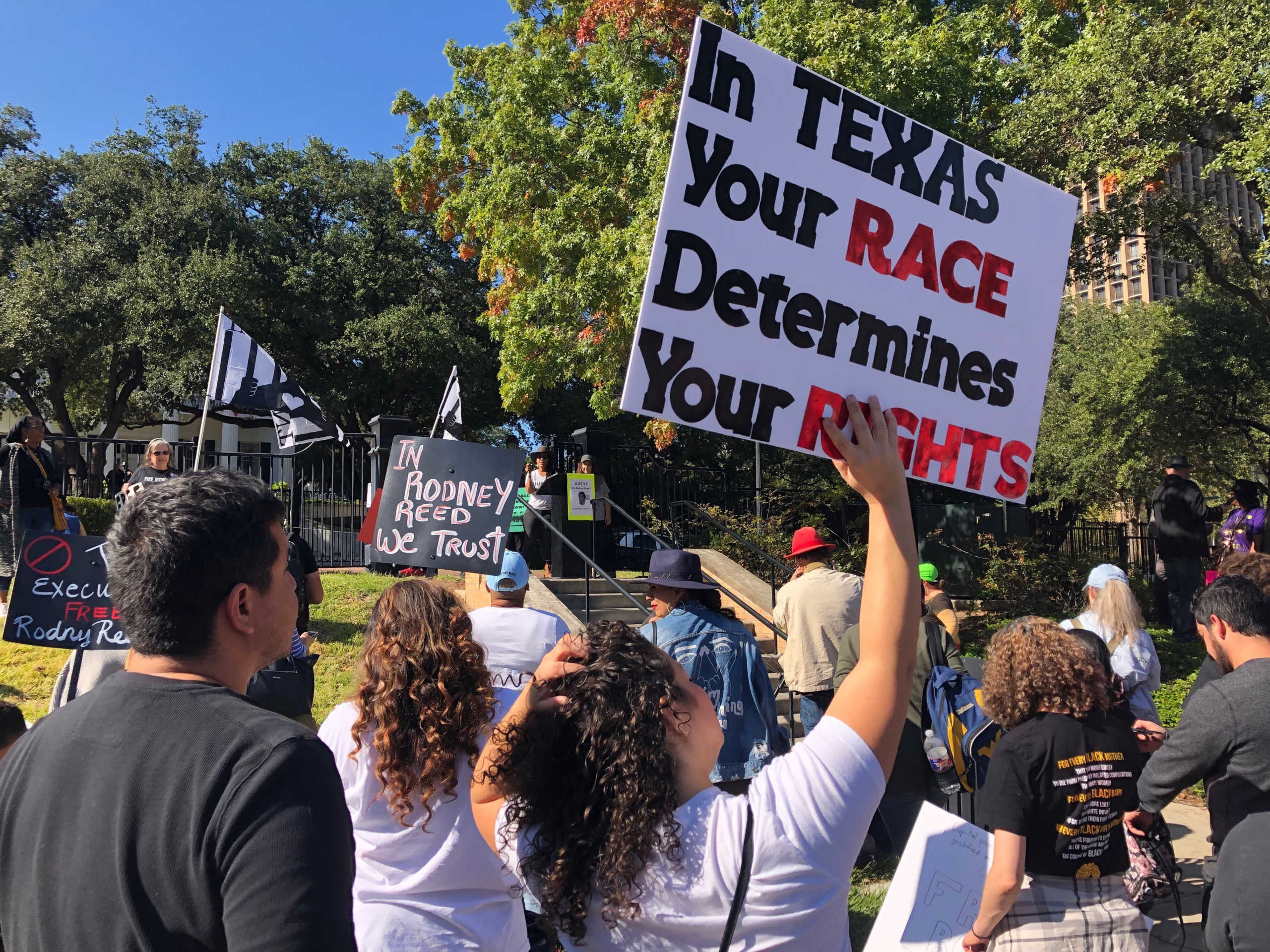 Hefley questioned why these witnesses waited over 20 years to come forward, considering that at the time, a $50,000 reward was being offered for information that could help crack the case.
"They found the truck my sister was driving the morning of murder like 2blocks from [Reed's] grandma's house. Also, all these new witnesses coming forward…. wondering where they were when HEB, that's where she worked, had a large reward for information," Hefley told CrimeOnline.
Supreme court documents confirmed that no witnesses came forward during the time they were searching for Stacey's killer to implicate Fennell. It also confirmed that the people interviewed at the time had no knowledge of Stacey associating with Reed.
"For approximately a year, multiple agencies searched for Stites's killer," court records read. "And none mentioned that Reed associated with Stites."
Hefley also pointed out that Reed's sperm was found on Stite's anus and on her breasts. Court documents confirmed Hefley's statement, although Reed claimed his DNA was probably still on Stites from consensual sex they had a few days prior to her murder.
It was ultimately Reed's prior criminal record that landed him as a suspect in Stacey's case. Around six months after her death, another woman was attacked, and in the same area as Stacey, according to the Supreme Court documents. The woman, Linda Schlueter, picked Reed out of a lineup.
"Reed became a suspect in Stites's murder after he was arrested for kidnapping, beating, and attempting to rape and murder another nineteen-year-old woman, Linda Schlueter. Schlueter was abducted by Reed approximately six months after Stites's murder, near both the route Stites typically took to work and the time she disappeared—3:00 a.m. Moreover, Reed was regularly seen in this area by Bastrop police officers in the early morning hours, and his home was close to where both Stites's and Schlueter's vehicles were abandoned."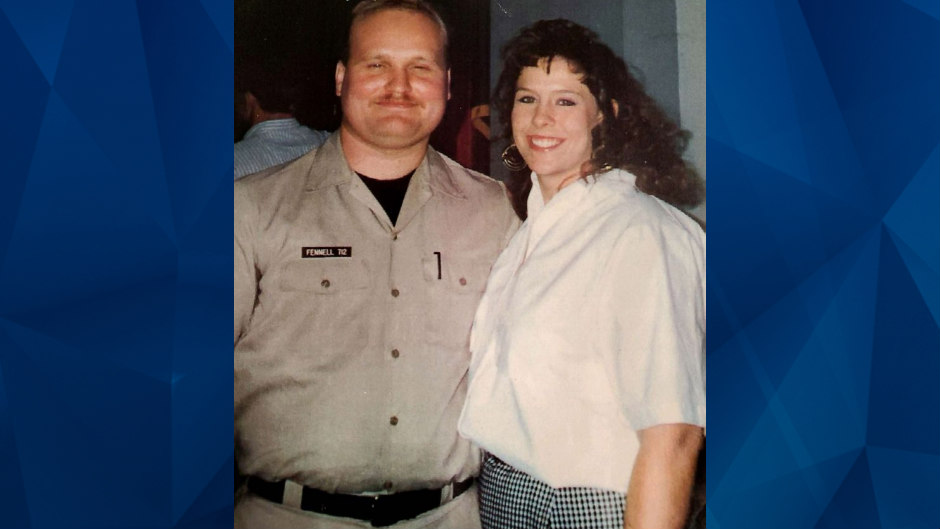 Further, documents indicate Reed has a lengthy criminal file full of accusations of sexual assault, including assaults on a 12-year-old girl, Reed's disabled girlfriend, Caroline Rivas, and the mother of his children, Lucy Eipper.
"Given the similarities between these crimes, law enforcement inquired with DPS if they had Reed's DNA profile on file; they did because Reed had raped his intellectually disabled girlfriend, Caroline Rivas.3 46.RR.122–23. Reed's DNA profile was compared to the foreign DNA inside and on Stites's body—the two were consistent."
"Next was A.W., a twelve-year-old girl, who was home alone, having fallen asleep on a couch after watching TV. A.W. awoke when someone began pushing her face into the couch and had blindfolded and gagged her. 58.RR.42–43. She was repeatedly hit in the head, called vulgar names, and orally, vaginally, and anally raped. The foreign DNA from A.W.'s rape kit was compared to Reed; Reed was not excluded and only one in 5.5 billion people would have the same foreign DNA profile from A.W.'s rape kit."
Regardless, lawyers and activists who support Reed insist that a botched investigation and an all-white jury landed an innocent man behind bars. They continue to push for an investigation into Fennell. Records indicate that Fennell was ruled out as a suspect.
Authorities never searched the apartment Fennell and Stacey shared together, although it was her last known location before she was killed. Fennell also had a history of violence and sexual harassment while on the job, according to The Intercept.
Nearly a decade after Stacey's death, Fennell was sentenced to 10 years in prison after a woman accused him of raping her on his patrol car. The woman said Fennell responded to a domestic disturbance call between her and her boyfriend, and when Fennell took her to a hotel, he raped her and threatened to kill her if she told anyone. Fennell eventually took a plea deal for kidnapping and improper sexual activity.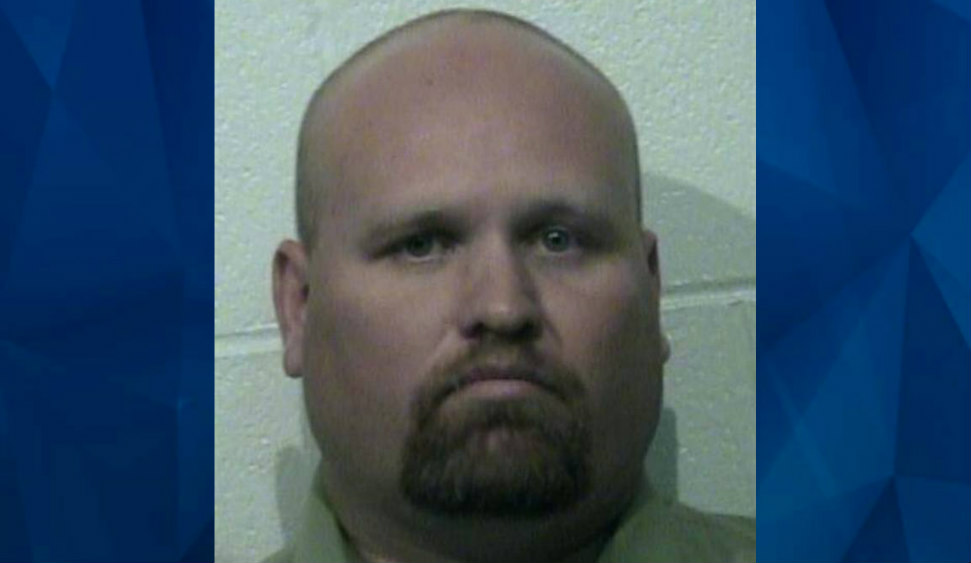 Still, no DNA evidence placed Fennell anywhere at the crime scene, according to court documents. Authorities also said it would have been logistically impossible for Fennell to have killed Stacey, then returned by foot back home (his only vehicle was the truck found at the high school parking lot) in time to receive a phone call on his landline.
A petition to exonerate Reed has reached over 2 million signatures. Kim Kardashian, Rihanna, and numerous other celebrities are rallying behind Reed, in hopes that the state of Texas halts the execution, given the new witnesses and information.
Meanwhile, Hefley holds onto the memories of her sister and how Stacey touched the lives of everyone she met. The weekend before Stacey died, Helsey spent the day laughing with her youngest sister and joking about men, a memory etched her in mind forever.
"You couldn't help but smile when you saw her, she was always smiling. I saw her Easter weekend before she was killed. It was sunny and semi-warm and we broke out those cheap little lay down lawn chairs. Getting some sun. We had a conversation about men leaving their laundry on the floor, the toilet seat up in the middle of the night, and them farting. True and funny at the same time. Her, Jimmy, I and my mom played cards in the evening that weekend. I had never known her to be mad, ugly, depressed. She was the girl we all want to be."
In 2019, Reed was granted a stay of execution, only days before he was scheduled for death.
Check back for updates.
For the latest true crime and justice news, subscribe to the 'Crime Stories with Nancy Grace' podcast. Here is our latest episode. 
[Feature Photo: Stacey Stites/Handout]