Updated: August 12 7:02 p.m.
A group of vacationers in Arizona saw a young Massachusetts woman and her date hours before the woman was found dead, and shared new details about their encounter with her companion.
As previously reported, 31-year-old Angela Tramonte traveled from Masschusetts to Phoenix, Arizona, in late July to visit Dario Dizdar, a Phoenix police officer she had first met on Instagram earlier this year. Angela's friends and family told CrimeOnline they some had reservations about the young woman traveling to Phoenix to meet Dizdar, who they later came to believe was married with children — something he did not disclose to Tramonte, they said. Tramonte's loved ones are skeptical of the narrative Dizdar reportedly provided to police, and are asking for a thorough investigation into the circumstances of her sudden death.
Tramonte and Dizdar went hiking at Camelback Mountain on the morning of July 30. Dizdar later told police that Tramonte had turned back during their hike to the summit of Echo Canyon Trail, as she was feeling overheated. The temperature that Friday reportedly reached 105 degrees. Dizdar called 911 around 1 p.m. that Friday, saying that Tramonte was not in the parking lot at the bottom of the trail, where they had agreed to meet when he was done with the hike. Authorities launched a search for Tramonte, and found her dead at about 4:40 p.m. She had reportedly gone off-trail and was near a residence — where investigators reportedly believe she may have been trying to ask for help.
" … at that point in time, [she] could have conceivably been in the early stages of heat exhaustion and heatstroke, where you become delirious, and unfortunately, your faculties are not about you," Phoenix Police Captain Rob McDade told the Boston Globe.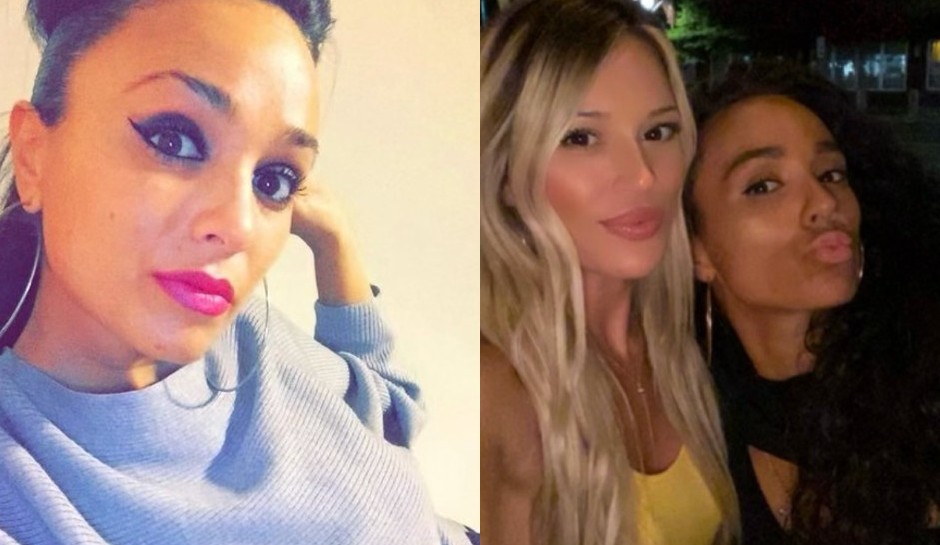 Phoenix Police have said there is no evidence of foul play in Tramonte's death, and no obvious signs of trauma on her body. Phoenix Police spokesperson Ann Justus confirmed that Tramonte had her phone on her when she was found, but was unable to say why she didn't use it to call for help. The spokesperson did not answer a question about Dizdar's marital status. She confirmed that Tramonte's autopsy had been performed, but the person who answered the phone at the Maricopa County Medical Examiner's office on Monday said the results, including the cause and manner of death, were not expected to be released for another 90 days.
READ MORE: Angela Tramonte's Cause and Manner of Death Are Still Pending: Medical Examiner
On Thursday, an administrative assistant who answered the phone said the autopsy was not complete, and the cause and manner of death had not been determined. A public information officer at the medical examiner's office did not respond to a voicemail message left earlier this week asking for more information about the apparent delay. CrimeOnline is awaiting further clarification from the Maricopa County Medical Examiner's office.
Matthew Orr, Hunter Robinson, and Matt Brubaker were among a group of about seven men who traveled to the Phoenix area for a bachelor party the weekend Tramonte died. On the morning of July 30, a Friday, the men hiked Echo Canyon Trail, around the same time Tramonte and Dizdar were there. All three men report having seen Dizdar and/or Tramonte, and one believes he spoke to Tramonte after she and Dizdar split up on the trail.
Orr said he remembers seeing the pair behind them before later seeing Dizdar climing alone, and Robinson took a photograph that he would later realize captured Tramonte and Dizdar in the background.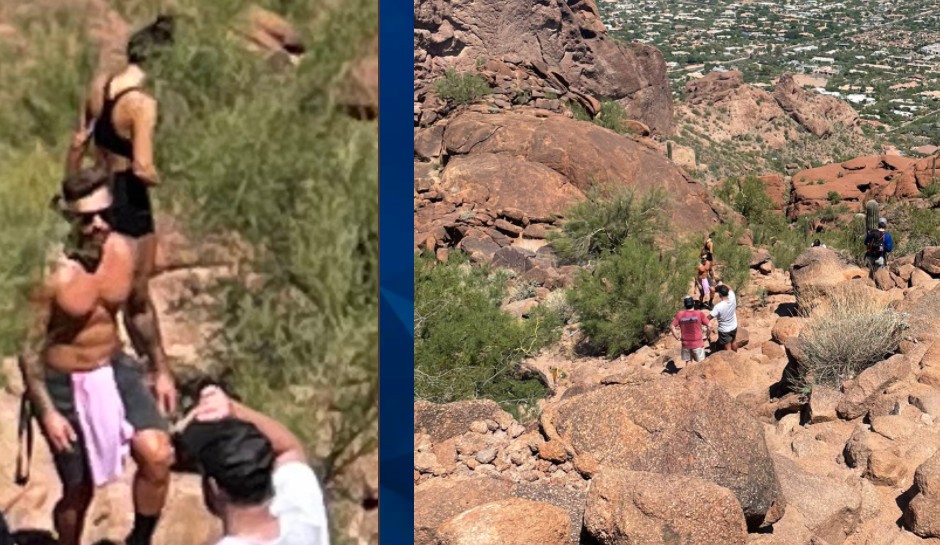 Orr said he believes the above photograph was taken at the moment Tramonte decided to turn back, while Dizdar continued toward the summit.
Although Orr was too far from the pair to hear their conversation, he said, "It did not appear to be amicable .. It appeared to be some sort of dispute."
The visiting hiker said he believes he saw Dizdar after he split with Tramonte, and that the more experienced hiker passed him on the trail going toward the summit.
Orr said he tried to make small talk with Dizdar, who was hiking faster than him. "Everyone was friendly, but he ignored me. That's why I remembered him," Orr said.
Brubaker said he was struggling with the hike and fell behind his group as they were climbing, though his friends routinely checked on him. Based on the witness accounts, Brubaker may have been behind Tramonte and Dizdar when they split up. He said he remembers seeing the pair walk past him — "they were going pretty quick" — and later seeing Tramonte hiking back down alone.
Brubaker said he remembered seeing Tramonte earlier, and asked how she was doing when they passed on the trail. Tramonte responded, "'It's too freaking hot, I'm turning around … We didn't bring any water today,'" Brubaker said. He also said Tramonte did not appear to be in serious trouble and was in relatively good spirits. She did not ask for any water or help, he said.
"If we had any way of knowing then of course we would have helped her … at the time she just didn't seem like she was in distress. She didn't seem panicked. She just seemed hot and tired and like she didn't want to hike anymore … Which I totally get. It was hot, and it kind of sucked."
As previously reported, Dizdar told police that he and Tramonte did not bring water on their hike — something the hikers who were there the same day find shocking. Tramonte's friends and family who spoke to CrimeOnline earlier this month said they don't understand why Tramonte, who was very active and conscious about staying hydrated, would have agreed to a desert hike without water; though it was reportedly her first time going hiking.
All three men from the bachelor party group spoke of an encounter with Dizdar at the bottom of the trail after their hike, and after Dizdar was not able to find Tramonte. The men were seated at a picnic table in a shaded area, they said, when Dizdar approached then and asked if they had seen the woman he was with.
The three visiting hikers who spoke to CrimeOnline had somewhat varying recollections of this conversation, with Brubaker noting that he was pretty worn out by that time. But Brubaker believes he told Dizdar that he may have seen Tramonte and described their brief exchange. Dizdar did not ask any follow-up questions, Brubaker said. All three men said they felt Dizdar's behavior was odd for someone who had lost his hiking companion.
"It didn't seem like he was that interested in finding her. I would be frantic," Robinson said. Dizdar also "threw out the fact that the girl he was with wasn't his girlfriend and that she was from out of town and he didn't know her that well."
The men left Camelback Mountain that day but continued to follow the news, and discussed the incident among themselves. After learning that Tramonte had died, two of the men contacted police to share their observations; and possibly, their concerns about Dizdar's behavior after Tramonte disappeared. Early in the first week of August, Orr sent a detective the photo of Tramonte and Dizdar on the trail. And Robinson called Phoenix Police (at the direction of Scottsdale Police) but said he was not able to fully share his observations.
Robinson said that a member of the department he reached on the phone directed him to submit his tips at Silent Witness, a website that fields anonymous tips.
"I didn't get to say everything I wanted to say," Robinson said, noting that the online form does not ask for the tipster's contact information. "The whole thing just didn't make sense. It annoyed me that they didn't care enough to get my name and number."
Brubaker is expected to be in contact with Phoenix police about encountering Tramonte on the trail after she separated from Dizdar.
Police continue to treat Dizdar only as a witness, despite possible inconsistencies in the account he provided on the day Tramonte went missing.
As CrimeOnline previously reported, Dizdar is believed to have first told fire officials and a park ranger that he was familiar with Echo Canyon Trail and hiked it frequently. But in follow-up interviews with police, Dizdar reportedly said it was his first time on the trail. Following reports of the conflicting statements, the Phoenix Fire Department directed the media to discontinue using the department's initial statement referring to Dizdar's familiarity with the trail, because fire officials had misunderstood him.
An earlier version of this story stated that a Phoenix Police spokesperson confirmed that Tramonte's autopsy had been completed. The spokesperson said the autopsy had been 'performed', in response to a question of whether the autopsy had been completed. 
For the latest true crime and justice news, subscribe to the 'Crime Stories with Nancy Grace' podcast. Listen to the latest episode: