A California judge heard from witnesses on Thursday at the Orange County Superior Court, including a woman who had her case dismissed against a doctor and girlfriend accused of raping people.
As CrimeOnline previously reported, prosecutors accused Grant Robicheaux, 40, and his girlfriend, Cerissa Laura Riley, 34, of drugging and raping mostly women. Since the charges were filed in 2018, additional victims have come forward from across the country, including from Nevada, Southern California, and New York, but those cases were ultimately dismissed.
One of the alleged victims called the duo the "Bonnie and Clyde" of rapists.
In court Thursday, Orange County Superior Court Judge Frank Ospino heard arguments from the attorneys of both victims and the defendants, CBS Los Angeles reports. One of the suspect's accusers, whose case was previously dismissed, said she wanted to testify anyway.
"This case is a complete travesty," she said. "I've already begged a judge not to dismiss my case and here I am again."
The victim, known as Jane Doe #1, told the court that the defendants' lawyers began digging into her past after the allegations, Los Angeles Times reports, including bringing up her past sexual experiences. She also said Orange County Dist. Atty. Todd Spitzer "slut-shamed" her in 2019, when he tried to get all charges dropped in the case.
Prosecutors have now indicated that the case will focus on two female victims which didn't include Jane Doe #1. Prosecutors from the attorney general's office said there is not enough evidence without a reasonable doubt in connection to Jane Doe's case and other victims' cases.
Prosecutors added that seven other victims had been "dragged through the mud" and there still isn't enough evidence for convictions in those cases.
"We're making decisions based on the evidence and nothing else," Deputy Atty. Gen. Mary Strickland reportedly said.
Ospino planned to make a ruling on scaling the victims down to two women on Thursday, but he held off after Jane Doe #1 requested to read the court her impact statement.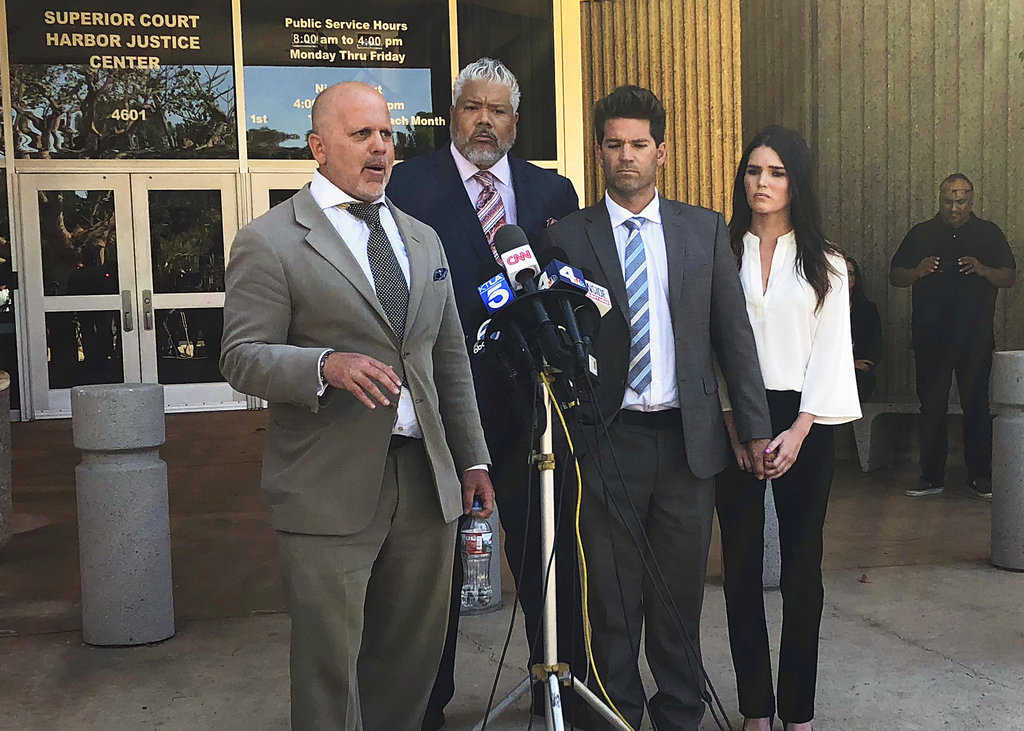 Jane Doe #1 said that prosecutors never did any follow-up interviews with her, which they should have, she said, if they found inconsistencies in her story. Kimberly Edds, a spokeswoman for the district attorney's office, said that although prosecutors have pored through all of the case files and information, evidence to convict in the majority of the cases is lacking.
"It is heartbreaking when a prosecutor has to tell someone that there is insufficient evidence to proceed in a case, but we are bound by the ethical obligations of the law, and prosecutors are prohibited from proceeding on charges they know they cannot prove," Edd said.
Defense lawyers for the couple haven't objected to prosecutors' proposal to pare down the charges, according to the Los Angeles Times.
"The law is clear," lawyer Philip Cohen, who represents Robicheaux, said Thursday. "A prosecutor who harbors a reasonable doubt about the charges is ethically obligated to dismiss … or not proceed."
In 2020, Orange County Superior Court Judge Gregory Jones reportedly refused  Spitzer's request to dismiss the case, after "politics interjected into the case" when Spitzer took on predecessor, Tony Rackauckas, in a tight election.
"From the victims' perspective, responsibility for the contentious nature of this litigation lies squarely with a district attorney who continues to place his own political self-interests above the rules of ethics and the rights of victims," retired Orange County senior deputy district attorney Matt Murphy, who represents five of the victims, wrote.
"None of the victims have recanted, no alibi witnesses have appeared, and all six women represented by Marsy's Law counsel are still desirous of prosecution," he added.
Edds accused Murphy of making "unfounded allegations in this case."
Robicheaux, an orthopedic surgeon, appeared on Bravo's "Online Dating Rituals of the American Male" in 2014. Authorities previously claimed the couple used their looks to lure women and take them to their upscale Newport Beach home to assault them.
The couple previously pleaded not guilty to all charges and claimed they were swingers who only had consensual sexual liaisons.
Check back for updates.
For the latest true crime and justice news, subscribe to the 'Crime Stories with Nancy Grace' podcast. Here is our latest episode. 
Join Nancy Grace for her new online video series designed to help you protect what you love most – your children.
[Feature Photo: Grant Robicheaux & Cerissa Riley/Police Handout]