The prime suspect in the disappearance and presumed murder of Madeleine McCann is believed to be taunting German prosecutors while serving jail time for a rape conviction.
As CrimeOnline previously reported, Christian Brueckner, a convicted felon with a violent criminal history that includes pedophilia, was named a suspect in the 2007 disappearance of then-three-year-old "Maddie" McCann, who vanished from her family's hotel suite during a vacation to Praia de Luz, Portugal. Investigators reportedly found that Brueckner, a German national who at one time had an itinerant lifestyle, was in Praia de Luz when Maddie vanished, and transferred ownership of a vehicle just after she disappeared.
Brueckner has never been charged in relation to Maddie's disappearance, though prosecutors reportedly believe Maddie is no longer alive and that Brueckner is responsible for her death.
As the Australian outlet 7 News reports, Brueckner is in prison in northern Germany after he was convicted of raping a 72-year-old American woman in Praia de Luz; the rape was in 2005, two years before Maddie vanished.
According to that report, the German news outlet Bild obtained a cartoon believed to be drawn by Brueckner in prison. The report indicates that the drawing was leaked to the news outlet.
The cartoon reportedly depicts prosecutor Hans Christian Wolters in a courtroom, holding a 5 euro note to the judge, and looking to what appears to be a psychic. The captions are written in German. According to the 7 News translation, Wolters is depicted as saying "Is there anything new?" to the psychic.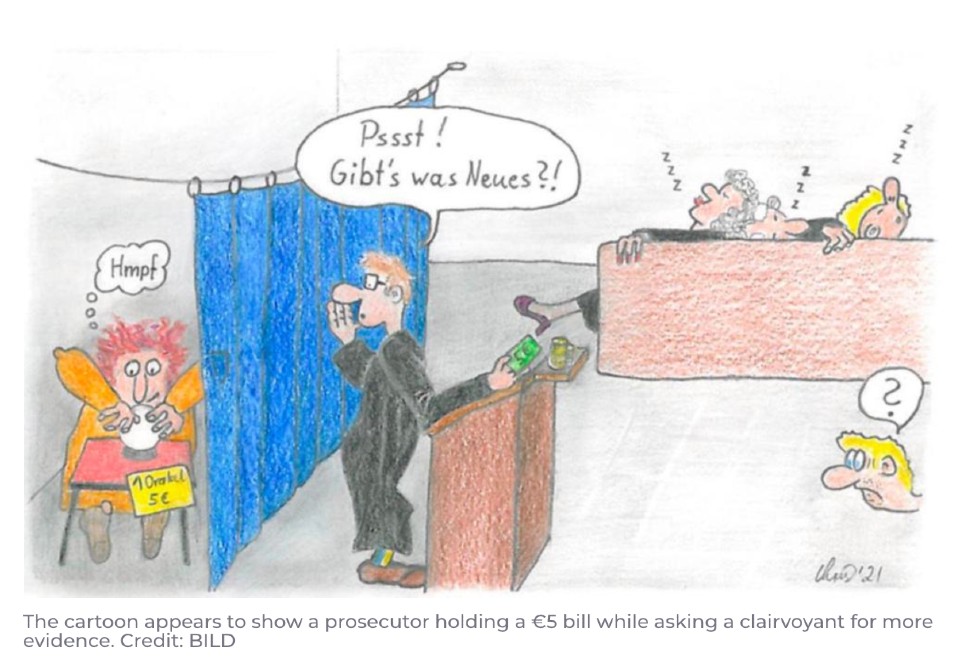 It is unclear if Brueckner is expected to be charged in connection to Maddie's disappearance.