Infamous South Carolina legal scion Alex Murdaugh apparently pocketed life insurance money after his longtime housekeeper passed away. He also failed to give the funds to her sons, as reportedly promised, court documents state.
South Carolina Law Enforcement Division (SLED) announced that the 2018 "trip-and-fall" death of housekeeper Gloria Satterfield is now being investigated. Satterfield, who was a housekeeper for the Murdaugh family for 25 years, mysteriously fell and suffered a fatal brain injury.
As CrimeOnline previously reported, Murdaugh is facing numerous charges after he allegedly stole millions from his law firm, then paid a "hitman" to shoot him in the head. Murdaugh suffered superficial wounds after the shooting.
Curtis 'Eddie' Smith, 61, was arrested Tuesday and charged with assisted suicide, insurance fraud, conspiracy, pointing and presenting a firearm, and assault. The arrest happened after Alex Murdaugh allegedly hired Smith to shoot him in order to get $10 million in life insurance money for his surviving son.
Murdaugh's attorney said in an appearance on the "Today" show that the failed plot was an "attempt on his part to do something to protect his child." The attorney also said that Murdaugh had been struggling with opioid addiction.
Murdaugh has one surviving son after his youngest son, Paul, and his wife, Maggie, were shot to death earlier this year at their hunting cabin. No arrests have been made in the case.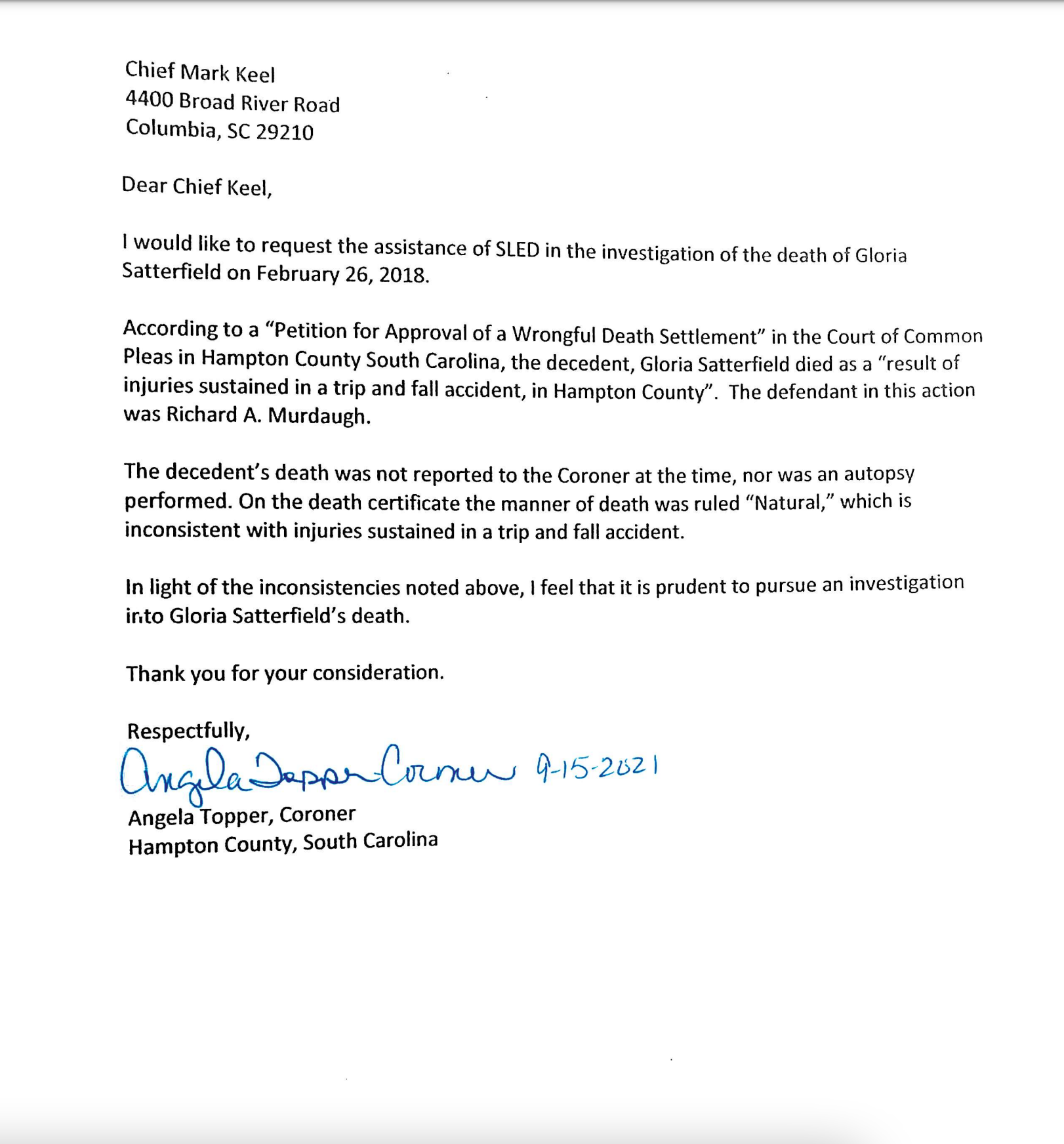 Meanwhile, a lawyer for Sattlefield's family, Eric Bland, said that Murdaugh convinced the housekeeper's sons, Michael Satterfield and Brian Harriott, to file a wrongful death lawsuit against him so that insurance companies would provide a payout.
The case eventually settled between the Satterfield family and Murdaugh for $500,00, which was reporetly paid to Murdaugh through a life insurance company.
On Sunday, Bland filed a lawsuit against Murdaugh, claiming the Satterfield family has not seen "one single dime" from the insurance payout.
"As you can imagine, it has just been a wellspring of emotions for the family. One, the Murdaugh family was like family to them because their mother worked as a housekeeper there for 25 years, so she was interwoven into the fabric of the family and by extension, her sons were considered close to the family as well," Bland said.
Bland added that Murdaugh told Satterfield's sons that she tripped over a dog and fell, causing fatal injuries. The brothers reportedly believed Murdaugh's story until recently.
"And one of the things that is difficult for my clients to really understand and comprehend is after she fell and was in the hospital for three weeks, only Maggie came to visit her, not Mr. Murdaugh, not the boys and they didn't pay for her funeral."
"Certainly there were questions by my clients because after she unfortunately fell, she was airlifted to a hospital and she had a traumatic brain injury, she never was able to communicate with them for the next three weeks until she died," Bland told CNN.
"So, it was Alex Murdaugh who told the story of that she had tripped and fell down the stairs over his dogs."
When Murdaugh admitted guilt in Satterfield's death, $160,000 of the payout went to Murdaugh's lawyer, according to documents. The rest of the money, which was supposed to go to the sons, is unaccounted for. Bland said he also thinks the insurance payouts could have reached nearly $2 million.
Satterfield's death was never reported to the coroner and an autopsy was not performed.
"The decedent's death was not reported to the Coroner at the time, nor was an autopsy performed. On the death certificate the manner of death was ruled 'Natural,' which is inconsistent with injuries sustained in a trip and fall accident," the coroner's report to SLED said.
Check back for updates.
For the latest true crime and justice news, subscribe to the 'Crime Stories with Nancy Grace' podcast. Listen to a related episode below.
Join Nancy Grace for her new online video series designed to help you protect what you love most — your children.
[Featured Photo: Alex Murdaugh/Police Handout; Gloria Satterfield/Herndon & Sons Funeral Home]