Murder suspect Kimberly Kessler, accused of killing her co-worker at a Florida hair salon, was once again removed from the courtroom as her trial resumed on Tuesday morning.
Nassau County Judge James Daniel gave Kessler another chance to stay in the courtroom Tuesday, following an outburst on Monday that landed her in a holding room as the trial continued. According to First Coast News, Kessler continued to insist that her former defense lawyer was cousins with the murder victim, Joleeen Cummings, although the accusations were already proven to be false.
"No, I refuse this counsel," Kessler said on Tuesday. "It's injustice, and you know it. Jordan Beard is Joleen's cousin."
At the judge's order, a deputy wheeled Kessler, who was in a wheelchair, to a holding room again, where she can see and hear the trial but can't cause any further outbursts. Kessler has been interrupting court proceedings dating back for months. On several different occasions, she accused Beard of being the victim's family member.
One of Kessler's lawyers requested another mental health evaluation following the latest outburst. Daniel denied the request.
Previous Video Coverage of Kessler  
As CrimeOnline previously reported, Cummings was reported missing on Mother's Day 2018, after she failed to pick up her three children from her former husband. Both Kessler and Cumming worked at the Tangles Hair Salon in Fernandina Beach at the time. Police said Kessler was the last person to see Cumming alive while they were both inside the salon.
One of Cummings' final text messages was played in court this week. She reportedly called her new co-worker, Kessler, "bossy."
"She's been real negative," Cummings told her boss in a text message. "Trying to avoid her."
State prosecutors said during opening statements that although Cummings' body has never been recovered, there was substantial DNA left behind at the crime scene that matched Kessler.
"As Joleen Cummings made plans for the next day of her life, the defendant had planned Joleen's death," Prosecutor Donna Thurston said.
Authorities found Cummings' SUV abandoned close to a local Home Depot store a few days after her disappearance. Surveillance camera footage captured Kessler parking Cummings' vehicle a little after 1 a.m.
The security footage showed Kessler getting out of the driver's side of the SUV but Cummings never emerged. According to an affidavit, Kessler then walked to the nearby Gates gas station, where she got into a taxi cab.
On May 16, 2018, police located Kessler sleeping inside a black Kia Soul at a rest area off of Interstate 95 in St. John's County. She was arrested and charged with grand theft auto, based on the footage of her driving the victim's car. Police also noted she had scratches on one hand and one eye.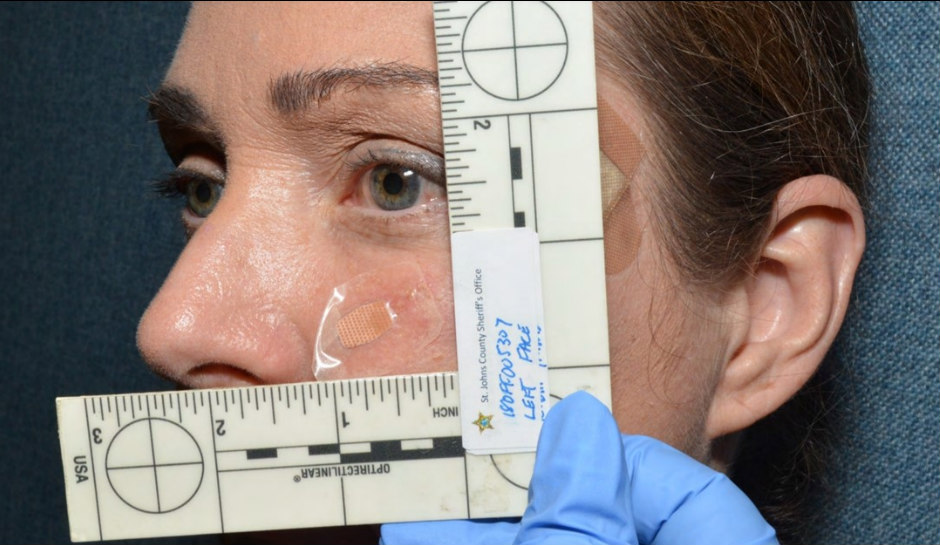 Kessler is facing a first-degree premeditated murder charge after evidence showed she killed Cummings, prosecutors said. The defense disagreed and argued that the case has a "lack of evidence" and that the wounds on Kessler were defensive wounds.
In June 2018, Nassau County Sheriff Bill Leeper announced at a press conference that Kessler has lived under 17 names in 33 cities spanning over 14 states since 1996. He said that he doesn't believe Nassau County, located in the northeast corner of the sunshine state along the Atlantic Ocean, has ever seen a case like it before.
"We're not quite sure yet why all the disguises or if she has been involved in the disappearance of anyone else before, but it seems she is definitely running from something," Leeper told reporters.
"I'm not sure what she was hiding from, but this time she came to the wrong county and messed with the wrong people. Hopefully, she will never have the opportunity to do anything like this ever again."
The trial resumes. Check back for updates.
For the latest true crime and justice news, subscribe to the 'Crime Stories with Nancy Grace' podcast. Here is a previous episode on the case. 
Join Nancy Grace for her new online video series designed to help you protect what you love most – your children.
[Feature Photo: Joleen Cummings (left)/Handout; Kimberly Kessler/Police Handout]