A prosecutor is asking a judge to intervene after the parents of a suspected school shooter reprtedly blew kisses at each other during a remote hearing.
James and Jennifer Crumbley, the parents of Ethan Crumbley, are each facing four counts of involuntary manslaughter in connection to the November 2020 school shooting which killed four victims. Crumbley, 15, is accused of opening fire in the hallway of Oxford High School and shooting nearly a dozen classmates and one staff member, kiling four students.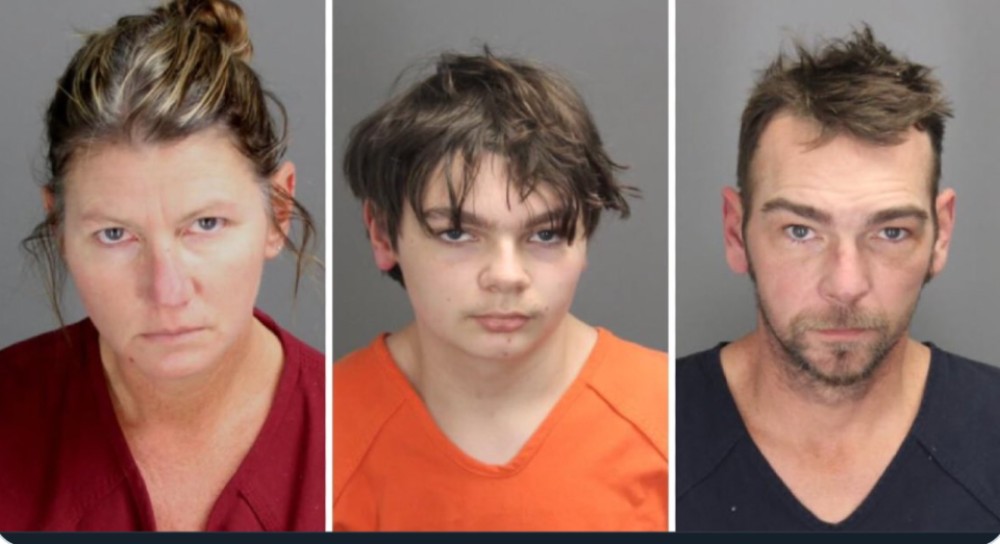 The elder Crumbleys were each charged with involuntary manslaughter for allegedly giving their son accces to the handgun he used in the school shooting. As previously reported, Crumbley's behavior in the days and weeks leading to the shooting appears to have caught the attention of school staffers and students. On the day of the shooting, a teacher reported seeing distrubing sketches and notes that Ethan created during class, and his parents were called to the school. The parents reportedly declined to take him out of school and the sophomore was returned to the classroom. A short time later, he allegedly went into a bathroom, pulled a gun out of his backpack, walked into a hallway, and opened fire.
As the Detroit Free Press reports, James and Jennifer Crumbley appeared for a virtual hearing on Thursday, during which they were seen blowing kisses and mouthing messages including "I love you" to each other from their separate jail cells.
Oakland County Assistant Prosecutor Markeisha Washington asked the judge to intervene, calling the behavior disrespectul.
"These communications … not only disparage the integrity of the judicial proceedings as a serious distraction, but are also traumatic for families of the deceased victims," Washington wrote in a motion obtained by the news outlet. "Their communication is far more distracting and offensive than a cell phone going off, which the court would not condone."
The prosecutor is asking the judge to bar any contact during court proceedings. The judge has not yet made a ruling, but a defense attorney reportedly indicated that the couple is willing to comply with any order.
Ethan Crumbley is expected to use an insanity defense at his upcoming murder trial.