An Indiana teen will spend the next 100 years behind bars for the brutal murders of his younger brother and sister.
Nickalas Kedrowitz was convicted last year of killing his younger siblings inside their Ripley County home. Although 13 at the time of the incident, his case was tried in adult court due. On Tuesday, Judge Ryan King ordered Kedrowitz to serve two 50-year prison sentences, to be served one after the next.
Although the defense argued that Kedrowitz, now 17, had an untreated mental illness at the time, the judge said the defendant showed a lack of remorse after the killings, Local 12 reports.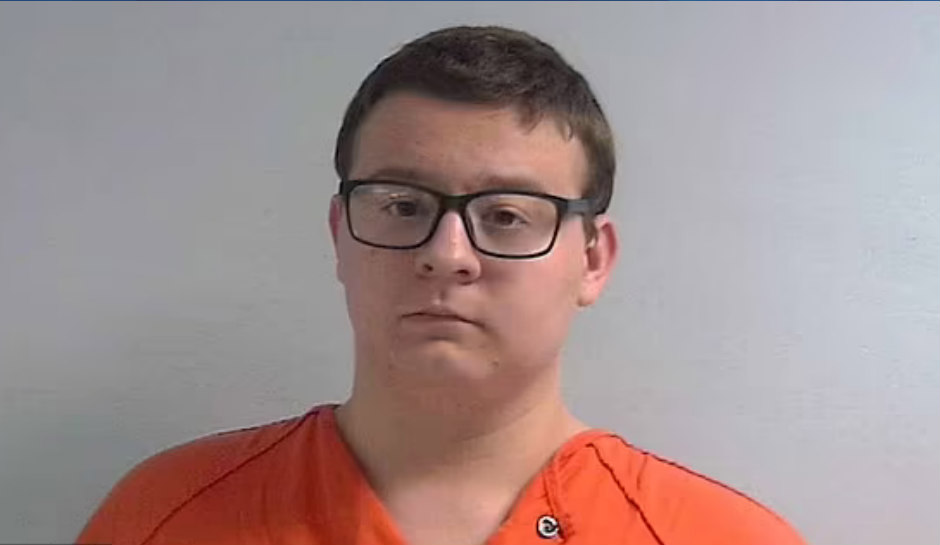 As CrimeOnline previously reported, Kedrowitz admitted in 2017 to killing his younger brother, 11-month-old Nathaniel Ritz, and sister, Desiree McCartney, 2. He claimed he had to protect them from living through the "hell" he endured, according to Ripley County prosecutors.
Paramedics arrived at the family's Osgood home on May 6, 2017, and found Desiree unresponsive. Desiree's mother, Christina McCartney, performed CPR on the toddler until first responders arrived. Five days later, the child died at the Cincinnati Children's Hospital.
Less than three months later, emergency crews arrived at the home again after Nathaniel, too, was found unresponsive. After Nathaniel passed away, the coroner's office ultimately determined that both children had been suffocated.
After Nathaniel's death, investigators zeroed in on Kedrowitz once numerous people said he squeezed a kitten so hard that the animal's "insides came out." When he was asked why he harmed the kitten, Kedrowitz said the kitten scratched him.
On September 5, 2017, McCartney told police a similar story; she said her son mutilated a kitten "to the point of almost killing it" while over at a family member's home.
When authorities questioned the family members, they learned a relative had a litter of kittens on his front porch. One of the kittens was later found in the basement of the relative's home with "blood all over it and its insides were hanging out of it."
The kitten also had a puncture wound on its head. The relative said Kedrowitz was found crying afterward.
Family members decided to have the kitten put down. Kedrowitz asked if he could come along and see "the kitten's brains splattered everywhere."
Previous Video Coverage 
Per the arrest affidavit, when investigators questioned the boy about his siblings' death, he admitted to both killings, stating he used a towel to kill Desiree and a blanket to kill Nathaniel.
When authorities asked the teen why he did it, he said, "he had a conversation with God about them, but he could not talk about it because he had promised God he wouldn't tell anyone."
As investigators questioned him further, Kedrowitz said he was made to do daily chores and wanted to save his siblings from that kind of "hell." He then asked investigators if they had seen the daily list of chores he had to do each day.
Kedrowitz's uncle told authorities that McCartney's boyfriend had once given Kedrowitz a bloody nose. The teen's grandmother told investigators that Kedrowitz told her that "he didn't want them to be treated the way he had been."
McCartney admitted that her son lived with her boyfriend, who was abusive to the children, which may have played into the tragedies.
Kedrowitz also told investigators that he had dreams that told him killing the children would prevent them from "hell and the chains of fire."
The jury took around six hours to convict Kedrowitz in 2021, Fox 28 reports.
Ripley County Prosecutor Ric Hertel justified the 100-year sentence by making emphasis on the time between both murders, according to NBC 13.
"This wasn't some sort of heat of passion, one killing and then minutes or hours or even days later," Hertel said. "We're talking months here, so we think that the consecutive part of the sentence was warranted and appropriate in this circumstance."
For the latest true crime and justice news, subscribe to the 'Crime Stories with Nancy Grace' podcast.  
Join Nancy Grace for her new online video series designed to help you protect what you love most – your children.
[Feature Photo: Family Handout]