A woman who served on the jury during convicted killer Scott Peterson's 2004 California murder trial broke down Monday in court while being questioned on several actions she took before, during, and after the trial.
Richelle Nice, nicknamed "Strawberry Shortcake" for her dyed red hair during Peterson's trial, was questioned on her letters written to Peterson in prison, profiting off of a book written about the case, and allegedly using deceptive strategies to become a juror.
"I didn't get rich!" Nice snapped when Peterson's lawyer, Pat Harris, asked about the book Nice co-authored concerning the trial.
The Modesto Bee reports that Harris questioned Nice on writing Peterson in prison. Nice testified that it was a part of her therapy, suggested at the time by her therapist.
The letters are part of the information Peterson's attorneys are using in an attempt to prove Nice was involved in juror misconduct during the 2004 trial, which could lead to a new murder trial for Peterson. He's accused of killing his wife, Laci, and their unborn son, Connor, in December 2002.
Nice previously talked about her letters to Peterson while co-authoring the book, which was written by journalists after she answered their questions about her experiences during and after the trial.
"Nice's therapist suggested that her emotionally frail client, who had suffered two breakdowns since the end of the trial, tell Peterson about her life on the edge of sanity," the book read.
Nice is also accused of failing to disclose during jury screening that she obtained a restraining order against her former boyfriend's girlfriend in 2000 for harassment. She was pregnant at the time of the restraining order but denied any involvement in any crime-related incidents.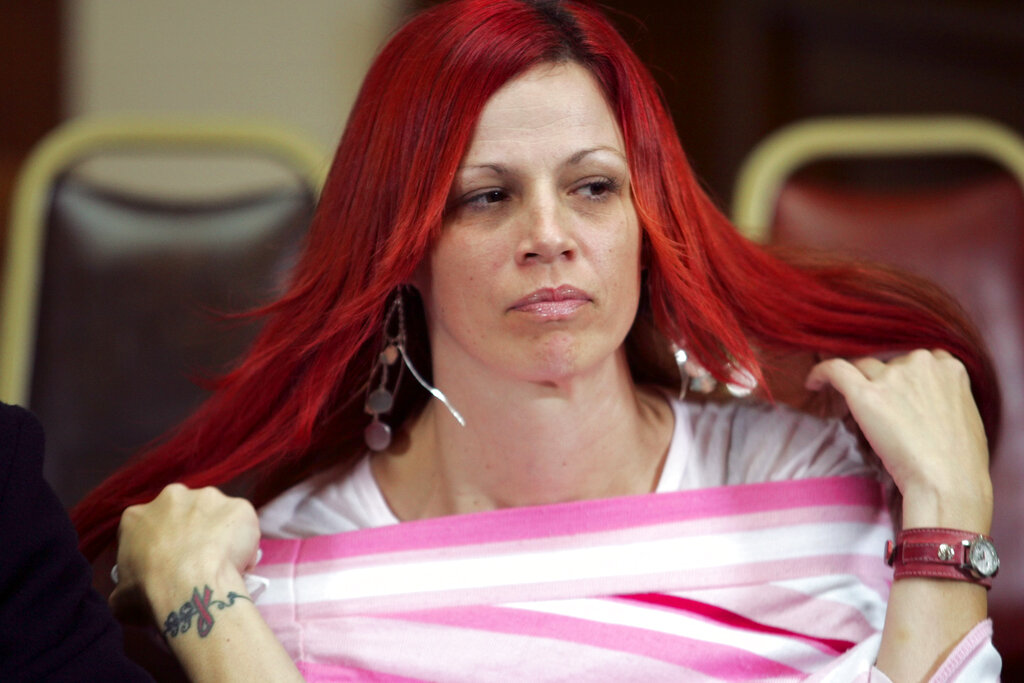 In August 2021, the California state Supreme Court overturned Peterson's death sentence due to "significant errors" in jury selection, specifically Nice, who was juror number 7.
"Juror No. 7 committed prejudicial misconduct by not disclosing her prior involvement with other legal proceedings, including but not limited to being the victim of a crime," the order read.
Last week, Nice told the court that she remembered taking out a restraining order against his former boyfriend's new girlfriend, but she didn't think of herself as a crime victim. She also claimed that her ex never hit her after failing to disclose that he reportedly beat her in 2001.
Nice testified that she was the one that hit her ex.
"When I filled out that questionnaire, honestly and truly, nothing of this ever crossed my mind," Nice said. "I'll say it again– I didn't write it on the questionnaire because it never crossed my mind. I didn't do it intentionally."
Peterson's attorneys said they plan to call other people to the stand who will contradict what Nice said. Check back for updates.
For the latest true crime and justice news, subscribe to the 'Crime Stories with Nancy Grace' podcast. Here is a related episode.
Join Nancy Grace for her new online video series designed to help you protect what you love most – your children.
[Feature Photo: Scott Peterson listens during a hearing at the San Mateo County Superior Court in Redwood City, Calif., Friday, Feb. 25, 2022. The juror at the heart of convicted murderer Scott Peterson's retrial bid swore Friday that she had no animosity toward him until after she heard evidence that he had killed his pregnant wife in a case that grabbed worldwide attention in 2004.(AP Photo/Jeff Chiu, Pool)]