Amber Heard took the stand this week in her ex-husband Johnny Depp's defamation case against her and claimed the actor kicked her and accused her of having an affair with fellow actor, James Franco.
On Thursday, Heard testified that Depp kicked her in the back while they were traveling by plane eight years ago, from Los Angeles to Boston. According to Heard, witnesses were present when Depp accused her of having an affair with Franco. Heard and Franco worked together on the 2008 film, "Pineapple Express."
"He was mad at me for taking the job with James Franco," Heard testified. "He hated, hated James Franco and he was already accusing me of kind of secretly having a thing with him in my past because we had done Pineapple Express together."
"I didn't want to aggravate him. I didn't want to give him any excuse to pounce on [me]. I didn't want to upset him. I didn't want him to flip the switch and get worse."
Heard testified that the incident marked the first time Depp attacked her in front of witnesses. Depp previously testified and admitted to alcohol and drug use, but insisted he never abused Heard.
"He just kicked me in the back…Nobody said anything. Nobody did anything," Heard said.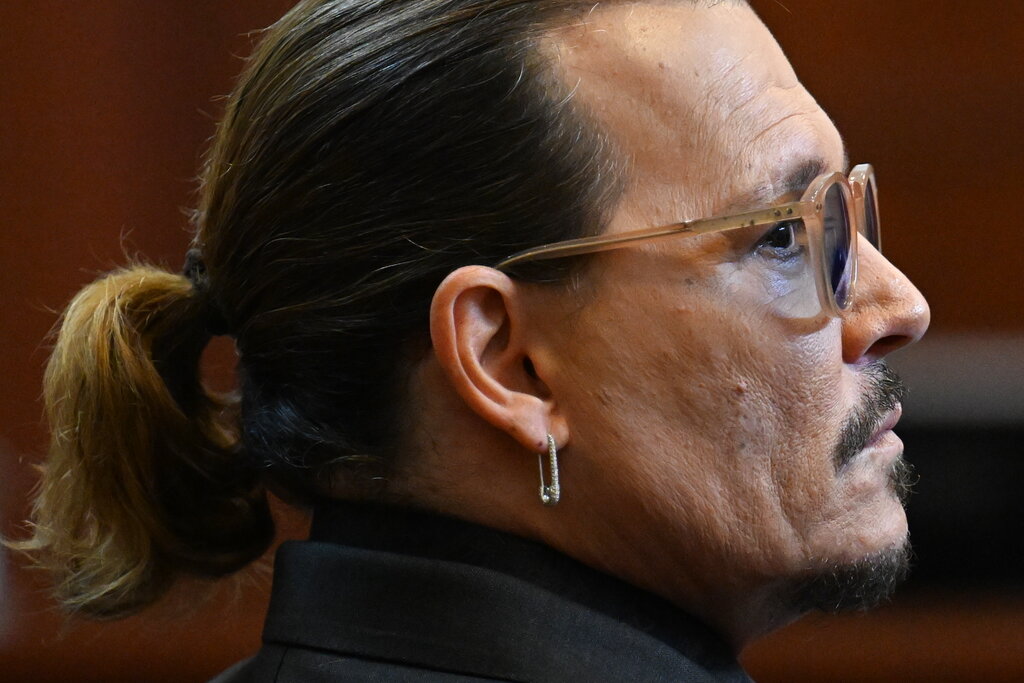 Depp's attorneys rested their case on Tuesday, as CrimeOnline previously reported, and the defense began with a forensic psychologist who testified that Heard suffered from post-traumatic stress disorder from the abuse Depp heaped on her, a counter to Depp's psychologist who testified that Heard showed symptoms of at least two personality disorders and appeared to be the aggressor in the couple's relationship.
After Depp's attorneys cross-examined the psychologist, Heard took the stand.
Heard told the court that the two had been in a relationship for about a year when she asked him about a tattoo's meaning, NBC News said. The actor said the tattoo meant "wino," and Heard said she laughed.
"I just laughed because I thought he was joking. And he slapped me across the face," Heard said. "And I laughed. I laughed, because I didn't know what else to do. I thought, 'this must be a joke.'"
"I will never forget it," she said. "It changed my life."
Depp himself had previously testified about the incident and the tattoo, which he got when he was in a relationship with actor Winona Ryder. It had been altered to read "wino." Depp testified that Heard had laughed at the tattoo but denied hitting her.
On the stand, Heard leaned into Depp's drug and alcohol use, saying his violent outbursts coincided with the times he was drinking or doing drugs. Depp had testified that while he did drink and do drugs, he was never out of control.
"I wanted to want to leave him. I wanted him to get better," Heard said. "And he expressed to me so many times when he was in that period of getting clean and sober, 'You saved my life. Baby girl, you saved my life.' Everyone else is saying that to me, and I believed it."
Heard testified that Depp's violent outbursts broke her heart, USA Today reported.
"I didn't want to leave him … I know you don't come back from that," she said. "I know you can't hit a woman, you can't hit a man. You can't hit anybody. I knew it was wrong and that I had to leave him and that's what broke my heart because I didn't want to leave him."
Early in her testimony, Heard described meeting him on the set of "The Rum Diaries" and falling in love.
"When I was around Johnny I felt like the most beautiful person in the whole world," she said, later adding "I fell head-over-heels in love with this man."
But Depp began to be controlling as they went on, she said, with Depp taking issue with her clothes and worrying she was cheating on him. Their arguments would get ugly, she said, and Depp would leave, coming back as the "wonderful, almost unreal … unbelievably nice, sensitive, warm generous funny man that I loved."
Depp had previously testified that he frequently left, or at least tried to, in an attempt to de-escalate their arguments.
"It was always intense. it didn't become intense, it started that way," Heard said.
Check back for updates.
For the latest true crime and justice news, subscribe to the 'Crime Stories with Nancy Grace' podcast.
[Feature Photo: Actor Amber Heard testifies in the courtroom at the Fairfax County Circuit Court in Fairfax, Va., Wednesday, May 4, 2022. Actor Johnny Depp sued his ex-wife Heard for libel in Fairfax County Circuit Court after she wrote an op-ed piece in The Washington Post in 2018 referring to herself as a "public figure representing domestic abuse." (Elizabeth Frantz/Pool Photo via AP)]
*Additional reporting by KC Wildmoon*