A former Nevada county official will remain behind bars without bail until his murder trial, in connection with the death of a Vegas investigative reporter.
According to the Las Vegas Review-Journal, a judge denied bond on Tuesday after former Clark County Public Administrator Robert Telles' defense lawyer pushed for his client's release on $100,000 bail.
Telles, 45, stands accused of killing Jeff German, 69, last month after German reported Telles' behavior during his role as an elected official.
German was found dead outside his home on September 3, as CrimeOnline previously reported. The following day, police executed search warrants on Telles's home, then returned and arrested him that evening.
During his court hearing Tuesday, Telles became emotional and started sobbing, and clutching his hands when the judge announced no bail.
Las Vegas police said last month during a news conference that investigators found a straw hat and shoes, cut into pieces, that matched what a suspect was seen wearing in a surveillance video police released.
Capt. Dori Koren showed photos of the hat and shoes at the news conference, noting what appeared to be blood on the shoes. More significantly, Koren said, was Telles's DNA found at the crime scene.
An arrest report revealed that DNA was found underneath German's fingernails, indicating he fought back against his assailant.
Surveillance video showed the killer approaching German's home at 11:18 a.m. and apparently breaching a pedestrian gate. A few minutes later, German's garage door opened and he exited, walking toward the gate.
He was "immediately attacked," the report said.
German's body was not found for nearly 24 hours. Investigators noted a sharp-force wound to his neck, and an autopsy revealed seven stab wounds to his torso. The report said he also had injuries to his arms and hands, further indicating he tried to protect himself from the blows.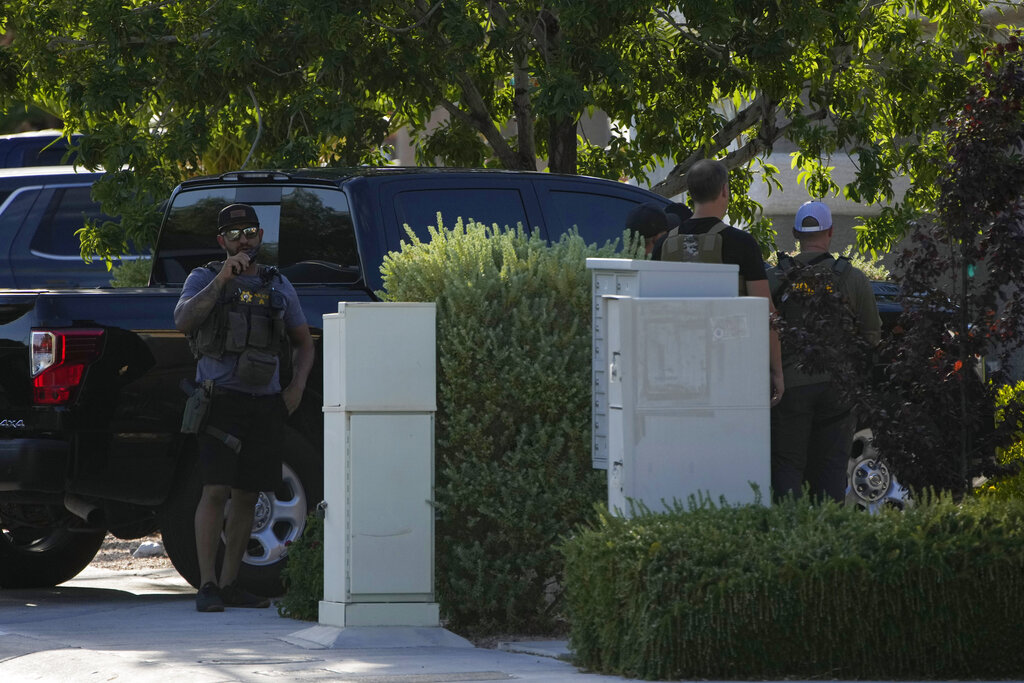 According to the report, surveillance video showed the killer walking away from the crime scene but returning six minutes later in a maroon GMC Yukon Denali — which matches the description of a vehicle owned by Telles's wife.
"The suspect, wearing the same clothing, exited the Maroon GMC Denali, re-approached the area where (German's) body was located and appeared to look for something," the arrest report states.
The killer got back in the vehicle and drove off. The Denali owned by Telles's wife was among the evidence seized during the search Wednesday morning.
The Las Vegas Review-Journal published several of German's stories exposing a toxic work culture in Telles's office — including an alleged inappropriate relationship with one of his subordinates. German had recently filed public records requests for more documentation for his investigation.
Telles lost his re-election bid in June for the public administrator position — which oversees estates of deceased persons who have no relatives or other executors — finishing third in a three-person race for the Democratic nomination.
The spot was won by one of his deputies, Rita Reid, who will face off with Republican Patsy Brown and Independent Tabatha al-Dabbagh in November.
German's family released a statement on Thursday, calling him "a loving and loyal brother, uncle and friend who devoted his life to exposing wrongdoing in Las Vegas and beyond."
"We're shocked, saddened and angry about his death. Jeff was committed to seeking justice for others and would appreciate the hard work by local police and journalists in pursuing his killer," the statement said.
"We look forward to seeing justice done in this case. We also want to thank everyone for the outpouring of love, support and recognition for Jeff and his life's work."
Check back for updates.
For the latest true crime and justice news, subscribe to the 'Crime Stories with Nancy Grace' podcast.
[Featured image: Las Vegas Metropolitan Police Department; Jeff German/Wikicommons; Robert Telles/Twitter]
Additional reporting by KC Wildmoon