A man who abducted a 4-year-old girl from a Western Australia campsite while she slept in a tent with her parents will spend over a decade in prison for abducting a 4-year-old child, a Perth court heard.
According to The Guardian, Terry Kelly, 37, appeared in court Wednesday in Perth, where Chief Judge Julie Wager, of the WA District Court, sentenced him to 13 years and six months in prison for the abduction of Cleo Smith.
As CrimeOnline previously reported, family members reported Cleo on October 16, 2021, from Blowholes Campground in Macleod, where she was staying in a tent with her family. Cleo's mother, Ellie Smith, told police that they woke up to find her missing at around 6 a.m. They reportedly last saw at around 1:30 a.m. that morning.
Police arrested Kelly 18 days later after piecing together evidence and information provided by tipsters. The court heard that Kelly initially went to the campsite looking to search for things to steal, but when he saw the child in the family's tent he decided she was what he wanted to steal.
Police said Kelly did not know the Smith family. Following his arrest at his home in Carnarvon, videos and photos from his Facebook account surfaced. A room in Kelly's home showed dozens of dolls, some that were still in their packaging. In April 2020, Kelly posted a photo to Facebook of himself taking a doll for a drive.
"I love taking my dolls for drive around [sic]and doing their hair and taking selfies in public," the Facebook post read.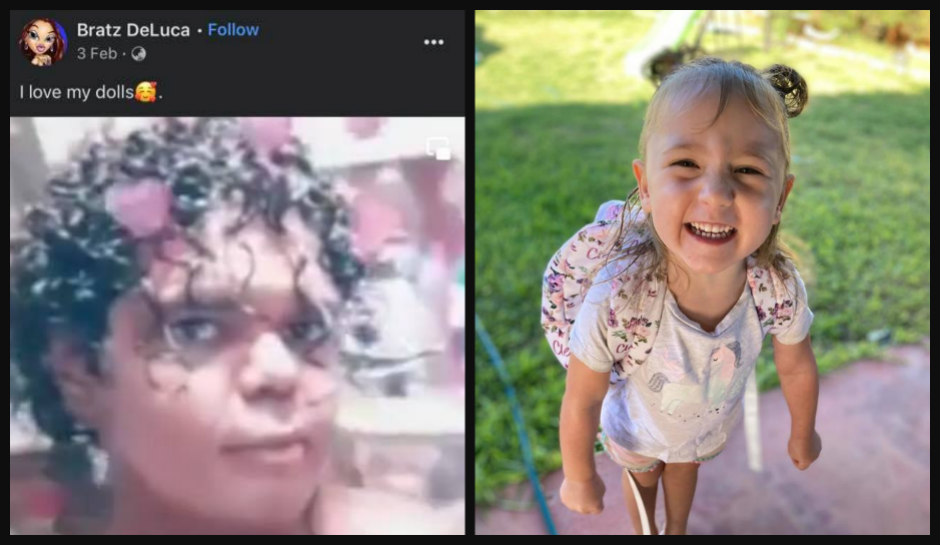 Neighbors at the Tonkin Crescent neighborhood in Carnarvon, where Cleo was found inside a locked duplex, said that Kelly was a loner that mostly kept to himself. Another neighbor said they noticed Kelly leaving the home more frequently in recent days and returning with groceries before his arrest.
For weeks, Kelly kept the child in a locked room with a mattress and toys. Kelly admitted that he "roughed her up a few times" for crying and smacked her when she was "bossy" and asked for chocolate. Kelly added, however, that he didn't want to hurt her.
Kelly then befriended Cleo's mother on Facebook while the search for the child continued.
"The fear and distress caused to them [Cleo's parents] over those 18 days was immeasurable," Wager said during sentencing. "The child's life and that of her family has been permanently impacted, and that impact will never go away.
"Her parents were sad, scared and confused. They described being too fearful to sleep, watching the same space at the blowholes each day while feeling completely empty and broken… No child in Western Australia should have suffered the neurodevelopmental difficulties, the trauma, the grief and the neglect that you suffered as a child and as a young person."
Wager said the defendant was given a 25% sentence reduction (from the maximum 20-year sentence) since he pleaded guilty early on. He'll be sent to a secluded part of the prison for his own protection.
Cleo's parents are asking for privacy at this time and "for an opportunity for their little girl to do whatever it takes to be able to lead her best life in the future".
For the latest true crime and justice news, subscribe to the 'Crime Stories with Nancy Grace' podcast. Listen to our latest episode below. 
Join Nancy Grace for her new online video series designed to help you protect what you love most – your children.
[Feature Photo: In this image made from a video released by Western Australia Police, a police officer carries rescued girl Cleo Smith in Carnarvon, Australia Wednesday, Nov. 3, 2021. Police smashed their way into a suburban house on Wednesday and rescued the girl whose disappearance from her family's camping tent on Australia's remote west coast more than two weeks ago both horrified and captivated the nation. (Western Australia Police via AP)]