On Friday, prosecutors in the Letecia Stauch murder trial resumed a 4-hour long interview conducted in 2020 between a detective and Stauch, followed by a video showing the defendant attacking a deputy while being transported to jail.
As CrimeOnline previously reported, prosecutors say Stauch stabbed, shot, and beat her stepson, 11-year-old Gannon Stauch, inside the family's El Paso County home in Colorado, on January 27, 2020. Months later, his body was found stuffed into a suitcase beneath a bridge in Pace, Florida.
Stauch is now on trial at the El Paso County Court, facing first-degree murder and related charges.
Former El Paso County Sheriff's Office Detective Jessica Bethel took the stand Friday morning and testified that she had an interview with Stauch on January 29, 2020, at the El Paso County Sheriff's Office, in reference to Gannon's disappearance.
Stauch arrived at the interview voluntarily, albeit two hours late.
During the second half of the interview, Bethel left the room shortly while closing the door to the interview room. Stauch opened the door and was confronted by a deputy who ordered her to close it; Stauch complained of having anxiety and not being able to breathe, prompting police to contact EMS.
When EMS arrived, Stauch answered a series of questions before she was taken to Memorial Hospital. Bethel told the court that the interview had been going on at that point for nearly four hours.
"Did the reported anxiety attack achieve her goal of wanting to leave the Sheriff's Office?" Fourth Judicial District Attorney Michael Allen asked Bethel.
"Ultimately, yes," Bethel replied.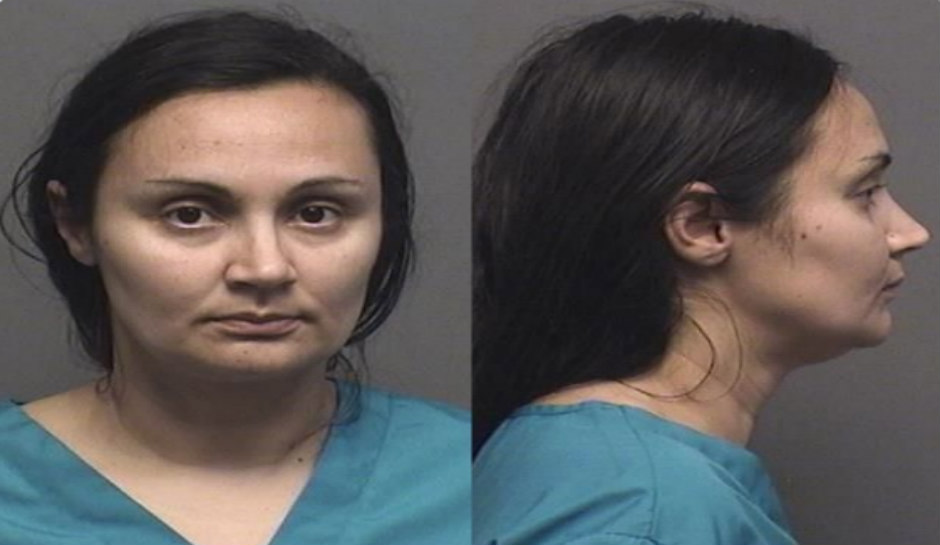 Next, the prosecution played police security footage taken on March 4, 2020, after law enforcement arrested Stauch in Myrtle Beach, South Carolina, in connection with Gannon's disappearance and death.
Stauch fled back to South Carolina, her home state, in February 2020.
After her arrest, law enforcement was transporting Stauch back to Colorado in a police transport van when she allegedly attacked a deputy.
Footage from the incident shown in court Friday displayed Stauch trying to wiggle out of handcuffs before she grabbed a Monster energy drink and hit a female deputy, who was near her in the van. The driver slammed on the brakes and law enforcement took measures to restrain Stauch.
Stauch: "She keeps threatening me the whole time!"
Bethel: "Cooperate with me."
Stauch: "I will with you, but not with her (referring to the guard she attacked)."
Law enforcement then took measures to detain Stauch. While restraining her, Stauch complained that they were hurting her arm.
"You're hurting my arm," Stauch complained. "Please get off my arm!"
Stauch told law enforcement she wasn't trying to escape but wanted the door open to get air. Bethel said the defendant had been squirming around before slipping out of her handcuffs and kept looking to see if the deputies had guns around their waists.
"I believe she is sane and very manipulative and calculating," Bethel said.
Bethel told the court that it was an extremely dangerous situation since Stauch was a murder suspect attempting to grab a deputy's gun.
During cross-examination, the defense questioned whether Bethel was familiar with the "bible" of psychiatry book, "DSM-5" and whether Bethel concluded that Stauch was sane after reading the book.
Bethel said she had not read the book.
Colorado Springs Police Department CSI, Christian Liewer, also took the stand Friday and said he found presumptive positive blood samples while investigating the Stauch home in Fountain, in February 2020.
Letecia Stauch is facing charges of:
Murder in the First Degree (Child Under Twelve-Position of Trust §18-3-102(1)(f))
Tampering with a Deceased Human Body, §18-8-610.5
Tampering with Physical Evidence, §18-8-610(1)(a)
She pleaded not guilty by reason of insanity. The trial continues. Check back for updates.
For the latest true crime and justice news, subscribe to the 'Crime Stories with Nancy Grace' podcast. Listen to a previous episode on the case below.
Join Nancy Grace for her new online video series designed to help you protect what you love most – your children.
[Feature Photo: Letecia Stauch makes her first appearance in El Paso County District Court in Colorado Springs, Colo., Wednesday, March 11, 2020. Stauch faces several charges, including first-degree murder of a child, in the presumed death of 11-year-old Gannon Stauch. (KRDO-TV/The Gazette via AP, Pool)]