Testimony continued Monday morning in the Letecia Stauch murder trial; she stands accused of killing her 11-year-old stepson, Gannon Stauch.
As CrimeOnline reported, prosecutors say Stauch stabbed, shot, and beat Gannon inside the family's El Paso County home in Colorado, on January 27, 2020. Months later, his body was found stuffed into a suitcase beneath a bridge in Pace, Florida.
Stauch is now on trial at the El Paso County Court, facing first-degree murder and related charges.
4th Judicial District Judge Gregory Werner addressed the defendant Monday morning concerning Stauch sticking her middle finger up Friday while a witness was on the stand.
"It would be a violation of the decorum I expect in this case…I may then impose other remedies," Werner said, adding that if it happens again, Stauch would possibly be handcuffed, with the cuffs attached to a bolt under a table.
Werner also removed the swivel chair Stauch sat in last week and exchanged it for a chair that doesn't move. He also adjusted the defense table and had the defendant sit in the middle, between her defense team.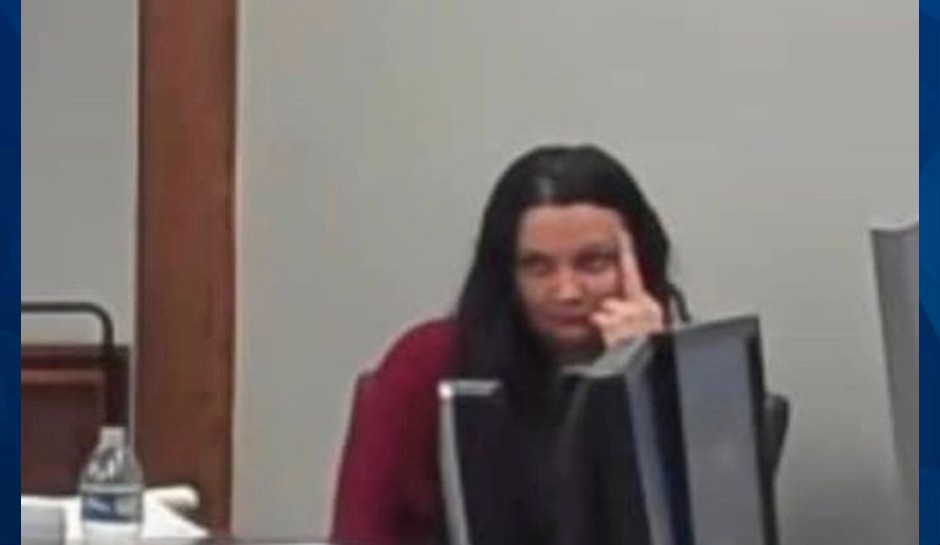 Harley Hunt, who identified herself as the defendant's daughter, then took the stand. She began with her recollections of her own father, who passed away in 2014. She said the defendant told her that her father had been robbed and killed, but she recently found out online that he actually died from a drug overdose.
Hunt said she didn't know why her mother didn't tell her the truth.
Hunt then said she lived with Stauch in Myrtle Beach, South Carolina in 2015, when the defendant married Gannon's father, Al Stauch. The pair bought a house in Myrtle Beach but Al Stauch was stationed shortly after in Alaska with the National Guard.
Hunt said the defendant did not like Alaska and would travel back and forth between there and their Myrtle Beach home. Then, an incident happened in Alaska and the family took a transfer to Colorado.
Hunt said she didn't know what the Alaska incident entailed but in 2019, she moved to a home in the Fountain area of Colorado, with the defendant, her step-siblings, Gannon and Laina, and her stepfather.
"It started to feel like we were family again because everyone was there and we were together," Hunt said, adding, however, that Al and Letecia would argue a lot, with her mother often dragging her into the disputes.
On January 25, 2020, two days before Gannon was reported missing, Letecia Stauch texted Hunt and told her she took Gannon and his sister to Garden of the Gods in Colorado Springs, where Gannon had an accident in his pants.
Hunt, who was working when Stauch sent her the text, returned home that night and saw Gannon in his bed. She said Stauch asked her to come down the stairs with her to say "goodnight" to Gannon, but Hunt said she didn't speak to Gannon herself.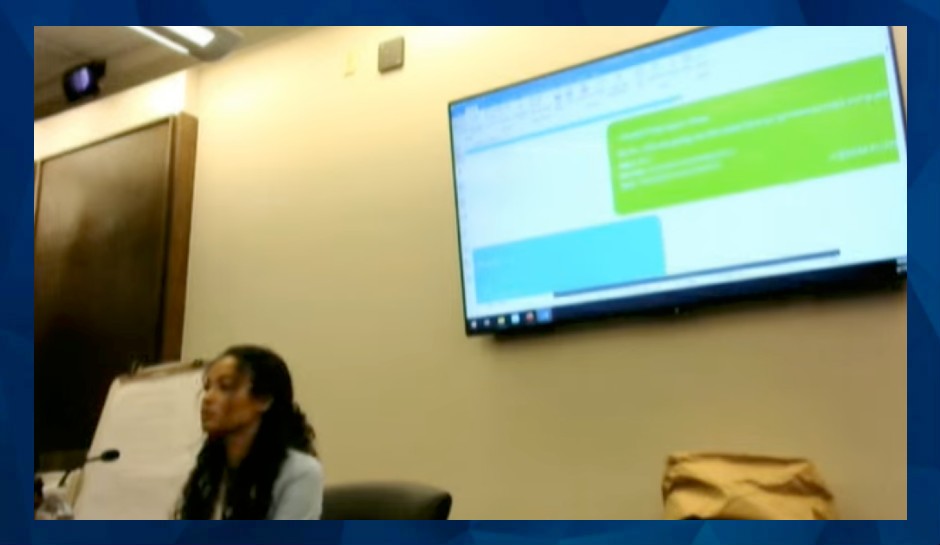 On January 26, 2020, Hunt was at work again when the defendant sent her a text message claiming a blanket had caught on fire from a candle. At first, Hunt thought one of the family dogs had been harmed, but then realized the defendant was referring to Gannon's blanket catching on fire while he was sleeping.
"She thinks he was playing on his Nintendo and wasn't supposed to be and maybe that's how it got knocked over," Hunt told the court.
Stauch told Hunt she took the children and the dogs outside and called a firefighter friend, who told them it was OK to go back into the home.
"She said that when they were in the street that Gannon was screaming that he hates his life and screaming different things," Hunt said, which was something he had never said before, to her recollection.
On January 27, 2020, Hunt said she returned home after her work shift ended at 4:20 p.m. to find Laina, 8 at the time, playing outside. She said it was odd since neighborhood children would usually be inside around that time doing homework and eating snacks.
Hunt said Gannon was not home and Letecia Stauch said he was at a friend's house.
Hunt said Letecia Stauch immediately asked her to go get some supplies at the store to fix a burned carpet area. A receipt shown to the court indicated that Hunt went to a nearby dollar store and bought:
Elastics
Trash bags
Extra-strength deodorizer
Bubble gum
Baby oil
Baby powder
Afterward, Hunt said they drove around the neighborhood looking for Gannon when he failed to come home for dinner. Hunt said it wasn't unusual for Gannon to go to visit friends. But it was unusual for him to not return back on time since he was good with numbers.
Letecia Stauch called police to report Gannon missing but asked Hunt to check his backpack before police arrived. Hunt said she saw a Swisher Sweet cigar roll inside the backpack but she had never heard of Gannon ever even knowing of those before.
"I didn't understand why it was in his backpack," she said.
Earlier in the day on January 27 before Hunt returned home from work, a text came in from Gannon's phone that said Letecia Stauch had left her phone at home, and to contact her through Gannon's phone if anything was needed.
"It's just weird how this particular day she left her phone at home," Hunt said, adding that the defendant always had her phone on her.
Hunt also said Letecia Stauch turned off the Life360 app for the first time ever on the day Gannon vanished. Hunt said the app was used by the entire family so they could keep track of each other and that the defendant had never turned the app off before.
Word spread quickly and social media groups and people in the community began talking about Gannon. Hunt said her mother told her not to answer the door to anyone and to pull her car into the garage.
On January 28, 2020, Letecia arrived home in a rental car, which was something else Hunt found odd since the defendant has her own car. Stauch told Hunt that she wanted to save on gas and mileage.
By that afternoon, Hunt said she had heard numerous stories about Gannon's disappearance, including him being missing, or at a friend's house, going with a friend's older brother, and then, her mother became paranoid of being "framed."
Hunt said her mother became paranoid after detectives arrived at the residence and asked for toothbrushes and hairbrushes. Hunt said the defendant sent her a text message at 6:28 p.m. on January 28, claiming that police were asking her "dumb questions."
The trial continues.
Letecia Stauch is facing charges of:
Murder in the First Degree (Child Under Twelve-Position of Trust §18-3-102(1)(f))
Tampering with a Deceased Human Body, §18-8-610.5
Tampering with Physical Evidence, §18-8-610(1)(a)
Stauch pleaded not guilty by reason of insanity.
CLICK HERE to see all of our coverage on Gannon Stauch
For the latest true crime and justice news, subscribe to the 'Crime Stories with Nancy Grace' podcast. Listen to a previous episode on the case below.
Join Nancy Grace for her new online video series designed to help you protect what you love most – your children.
[Feature Photo: Gannon Stauch/Facebook via Landen Hiott]