Testimony continued Monday afternoon in the Letecia Stauch murder trial; she stands accused of killing her 11-year-old stepson, Gannon Stauch.
As CrimeOnline reported, prosecutors say Stauch stabbed, shot, and beat Gannon inside the family's Fountain home in Colorado, on January 27, 2020. Months later, his body was found stuffed into a suitcase beneath a bridge in Pace, Florida.
Stauch is now on trial at the El Paso County Court, facing first-degree murder and related charges.
The defendant's daughter, Harley Hunt, continued testimony Friday afternoon with details leading up to when she and Stauch moved from Colorado after Gannon vanished.
On the days following Gannon's disappearance, Stauch allegedly made Hunt, 17 at the time, pick her up at various locations in Colorado Springs without explanation, such as from a Taco Bell after Stauch was discharged from an area hospital.
Stauch also started exhibiting paranoid behavior, including a fear that detectives were trying to frame her, Hunt said.
Hunt said despite her mother's behavior and despite that Gannon mysteriously vanished under Stauch's care, she didn't question the defendant as they packed up and left Colorado Springs.
"I didn't really question her a whole lot," Hunt explained. "I would be told that I'm being disrespectful or talking back. Sometimes she would backhand me, to my face."
According to Hunt, Stauch rented a van on January 30, 2020, while the search for Gannon was still ongoing. Hunt said Stauch wanted to leave the area because of safety concerns.
Stauch was also upset that Gannon's mother, Landen Hiott, and her family members were staying at the Fountain home with Gannon's father, Al, at the time.
Hiott, who lives in South Carolina, arrived in Colorado Springs shortly after learning her son was missing. She reportedly stayed at the residence briefly, before police called it a crime scene.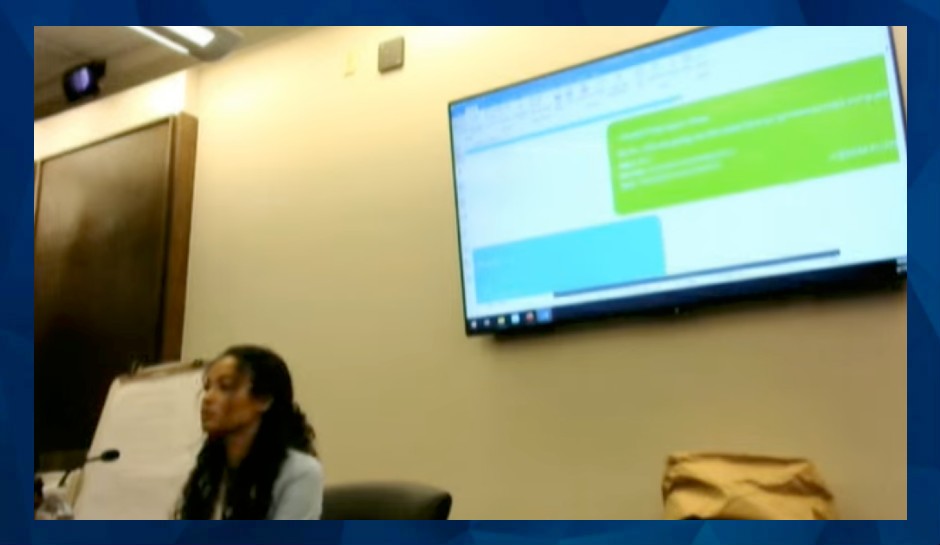 Hunt said Stauch loaded up many belongings on the van, but she didn't see the green suitcase that police would later find Gannon in. Hunt said she had seen the suitcase previously since it belonged to Al, but she never saw it in the van.
Stauch and Hunt stopped at various places after leaving Colorado, Florida, where Stauch rented a room at the Candlewood Suites in Pensacola.
Hunt said she never saw her mother leave the room and she didn't recall if the van had been parked in different parking spots. Hunt added that she never smelled anything foul in the van and that Stauch usually had the air conditioner on.
In March 2020, police found Gannon stuffed inside the green suitcase, under a bridge a few miles away from Pensacola's Candlewood Suites.
After Pensacola, the pair traveled to Orlando; Stauch said she wanted to live there and began looking at apartment ads, Hunt testified.
Within a few days, however, Hunt said they left Orlando for South Carolina after Stauch became paranoid that police were following her. They eventually ended up in Myrtle Beach with family.
On March 2, 2020, police arrested Stauch in Myrtle Beach and charged her with Gannon's murder.
During cross-examination Friday afternoon, Hunt told defense lawyer Josh Tolini that at the time, she believed her mother and didn't question her about Gannon during the road trip.
Tolini then accused Hunt of being manipulative for her own gain, referring to a GoFundMe page Hunt made after Stauch's arrest. The page indicated that Hunt had lost both parents.
Tolini told Hunt that she didn't lose both parents since Stauch is on trial, but Hunt explained she lost her mother when she was arrested and left her without anything to survive. Her father passed away from a drug overdose in 2014.
Hunt said her aunt helped her out after Stauch's arrest, and even gave her a car, but took the car back and stopped helping after Hunt gave a statement to the prosecution. The GoFundMe page was subsequently created.
The prosecution then resumed questioning and asked Hunt if Stauch was capable of picking Gannon up, stuffing him into a suitcase, and tossing the suitcase over a guardrail.
"Yes," Hunt said.
Hunt said she was irate when she learned that Stauch pleaded not guilty by reason of insanity, after believing in her mother's innocence for years.
"I'm still in shock. I just feel manipulated and lied to," Hunt said. "The thought never came across my mind, I just never thought my mom would do that. I didn't see her as the type of person to do that."
She cried and put her head down when the prosecution asked if she still loved her mother.
The trial will resume on Tuesday.
Letecia Stauch is facing charges of:
Murder in the First Degree (Child Under Twelve-Position of Trust §18-3-102(1)(f))
Tampering with a Deceased Human Body, §18-8-610.5
Tampering with Physical Evidence, §18-8-610(1)(a)
CLICK HERE to see all of our coverage on Gannon Stauch
For the latest true crime and justice news, subscribe to the 'Crime Stories with Nancy Grace' podcast. Listen to a previous episode on the case below.
Join Nancy Grace for her new online video series designed to help you protect what you love most – your children.
[Feature Photo: Gannon Stauch/Facebook via Landen Hiott]