Several people were left nauseous and shaken up after a Pennsylvania amusement park ride malfunctioned Wednesday.
Passengers aboard the Pirate at Kennywood in West Mifflin were in for a surprise when the brakes malfunctioned and crews were unable to stop it for approximately 10 minutes—a ride that normally lasts only about 2 minutes, CBS Pittsburgh reports.
The colossal ship, which stands 66 feet tall and is 45 feet long, swings left to right, up and down in a pendulum motion that is typically controlled when the ride is operating efficiently and the way it's intended. However, the malfunction caused it to keep swinging, leaving riders terrified and nauseated.
Workers were eventually able to stop it using a secondary braking system, but it wasn't soon enough for some passengers. While no injuries were cited, several people reported feeling sick upon exiting, where EMT's were waiting to help.
"It just kept on going, and I just got really scared, and I was feeling really sick, and I was crying. I was just terrified," rider Evan Paulick told CBS Pittsburgh.
"I was terrified. My kids are crying," an anonymous passenger of the Pirate said. "There was people behind us panicking. There was a guy in front of us, he was ready to get sick."
Reddit users, one who said they previously worked at Kennywood, spoke of their experiences with the ride in a forum.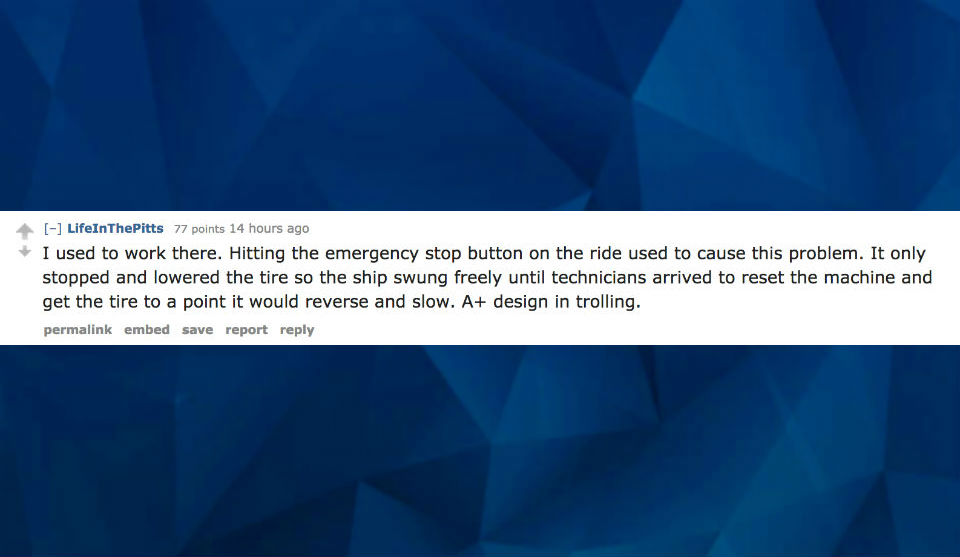 "I used to work there," @LifeInThePitts wrote. "Hitting the emergency stop button on the ride used to cause this problem. It only stopped and lowered the tire so the ship swung freely until technicians arrives [sic] to reset the machine and get the tire to a point it would reverse and slow. A+ design in trolling."
A Kennywood spokesman told CBS the malfunction was "a relatively minor issue," adding that the 35-year-old ride has a good track record regarding safety.
[Feature photo: Kennywood Pirate ride, Youtube]