A woman who alleges she was raped by Harvey Weinstein told jurors this week that when she first saw Weinstein naked, she thought he had a vagina, Page Six reports.
Jessica Mann, 34, a hairstylist and former actress, testified Friday at the Manhattan Supreme Court that she was raped twice by Weinstein.
"The first time I saw him fully naked, I felt, I thought he was deformed and intersex," Mann said.
How do you protect your children from predators? Join Nancy Grace and a team of world-class experts for the online course 'Justice Nation: Crime Stops Here'.
"He has extreme scarring that I didn't know if maybe he was a burn victim," Mann added. "He does not have testicles and it appears like he has a vagina."
Weinstein, seated at the defense table, looked down during the testimony.
Mann acknowledged that she initially consented to oral sex with him – and had some consensual encounters as late as October 2016.
"When I first saw him naked, I was filled with compassion, absolute compassion," Mann said. "It seemed his anger came from a place of shame."
But Mann alleges that Weinstein raped her in March 2013 at a Doubletree Hotel in Manhattan. Mann and Weinstein were scheduled to have breakfast that morning with her agent and a friend.
Mann testified that Weinstein took her to his room. She twice tried to leave, but he locked the door in both instances.
Then he told her to undress. Mann refused, prompting Weinstein to try to force her to take her clothes off. Mann said she "kind of shut down a little bit" and eventually "gave up."
"I undressed and he stood over me until I was completely naked and he told me to lay on the bed," Mann told the court.
Weinstein walked into the bathroom, came out naked and got on top of her.
"That's when he put himself inside of me, his penis inside of me," Mann testified.
After the attack, Mann said she ran to the bathroom and found a syringe that appeared to induce erections, according to The Daily Beast.
"He stabbed himself with a needle and there has to be blood and he was inside of me," Mann said. "I was kind of in shock over that."
Prosecutors have charged Weinstein with two counts of predatory sexual assault as well as two counts of rape and one count of a criminal sex act. The charges are based on allegations from Mann, Miriam Haleyi and Annabella Sciorra.
Weinstein has claimed all of the allegations were consensual encounters.
The charges involving Mann relate only to the March 2013 attack in New York, but Mann recounted another incident later that year, in November 2013, in which she alleged Weinstein raped her a second time at the Peninsula Hotel in Los Angeles.
In that episode, Weinstein allegedly became enraged when she refused to say whom she was dating.
"He ripped me up from the chair and the table and he was screaming, 'You owe me. You owe me one more time,' as he was dragging me into the bedroom," Mann testified.
Mann said Weinstein threw her on a bed and told her to remove her clothes. She begged him not to do it again.
"He lunged at me with both hands and went into my pants and he ripped my pants so hard and so fast off of me that I had three scratches down each leg from the top of my thigh to my knee," Mann testified.
"He grabbed both of my ankles and he pulled me so hard down that I flew back and that's when . . . he pushed my legs apart and did something with my pants to get them out of his way and then he put his mouth on my vagina."
"He said something I don't know what he said and then he came at me to get on top of me and then he penetrated me. He put his penis inside of me and he started to just try to you know . . . have sex with me and I remember that he had attacked me so fast."
Mann said she could not breathe because of Weinstein's weight.
She said she may have passed out, and "the next thing when I came to, I was on my knees and he was shoving his penis in my mouth and he has an orgasm."
"It choked me it was so bad," Mann said.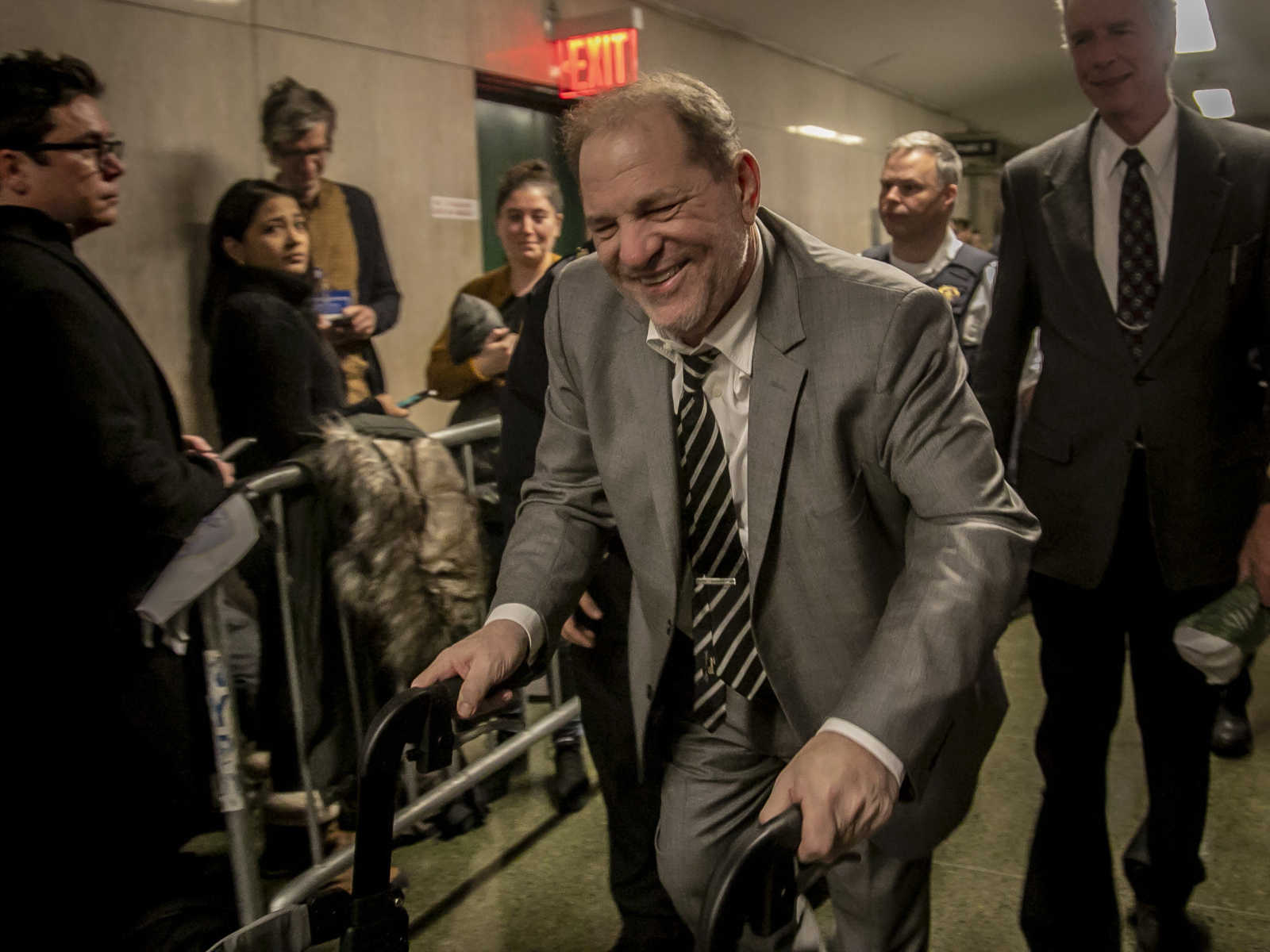 Weinstein allegedly told her after, "Now you can go have your relationship and what you can do is you can bring me other girls. You can be my, what do you call it, a wing girl."
He later apologized, telling Mann that he could not resist because he found her "so attractive."
Mann, who grew up in a trailer park, testified that she initially thought meeting Weinstein was a gift from God.
"With my religious background and everything I thought God was blessing me for having met him for committing to myself for committing to my dreams," Mann said.
In the beginning, Mann said their interactions were "very normal."
"He was very engaging. There were a few moments where he made a grunting sound and would look at me . . . I didn't know if it was an autistic-like trait because it was a little confusing," Mann said.
But any innocence in the relationship changed when she had dinner with Weinstein at the Peninsula Hotel, where he began undressing.
"He said, 'Let me give you a massage. Take off your shirt. I want to give you a massage, just relax.' And I was like, 'It's OK, I don't want a massage' and this went on," Mann testified.
But she felt pressured into giving Weinstein a massage and did so.
"He had a lot of, a lot of blackheads and the texture of them was uncomfortable," Mann told jurors.
In another instance, Mann and a friend went to a different hotel with Weinstein after he told them they would be ideal for a film he was producing.
"He said, 'listen, girls, why don't you take your time, finish your drinks. Let's go upstairs. I have the scripts. I'll give you the scripts,'" Mann testified.
"I said, 'no, no, no, I know what that means,' and then he laughed at me and said, 'I'm a harmless old man,' and then I got embarrassed because he made fun of me."
Once inside the hotel room, Weinstein asked Mann to come into his bedroom, where he closed the door and started trying to kiss her.
"I was like, 'whoa, whoa, whoa, I told you I'm not sexual,'" Mann said.
When Mann pushed back, Weinstein "tightened his grip."
"The more I fought, the angrier he got and his anger scared me, so I tried to calm him down [with a] joke and he calmed down a bit," Man said. "He said, 'I'm not letting you leave until I do something for you' . . . then he told me to sit on the bed and that's when he went down on me."
"He put his mouth on my vagina," Mann told the court as she tried not to cry.
Mann faked an orgasm and, when Weinstein asked if she enjoyed it, she told him "it was the best I ever had."
Weinstein would also engage in dirty talk with Mann and discuss his sexual fantasies
"He would say, 'do you like my big fat Jewish d–k," Mann testified.
Mann also told the court that Weinstein once urinated on her and attempted to have a threesome with her, but it ended when Mann "ran out of there into the bathroom and started crying."
Mann also testified that Weinstein was dirty and smelled "like sh*t.
For the latest true crime and justice news, subscribe to the 'Crime Stories with Nancy Grace' podcast. 
Join Nancy Grace for her new online video series designed to help you protect what you love most – your children.
[Feature Photo: Harvey Weinstein via AP/Julio Cortez]