The stepmother of missing Colorado boy, 11-year-old Gannon Stauch, released a statement Tuesday night to local Denver station, FOX 31, as the desperate search for the boy continues.
As CrimeOnline previously reported, Gannon's stepmother, Tecia Stauch, previously told police that she last saw him on January 27, between 3 p.m. and 4 p.m., as he left their home near Colorado Springs on foot to visit a friend in their Lorchan Ranch neighborhood.
Stauch claimed the boy never returned home. None of Gannon's friends remember seeing him that day, according to reports, and police confirmed he did not attend school on January 27.
How do you protect your children from predators? Join Nancy Grace and a team of world-class experts for the online course 'Justice Nation: Crime Stops Here'.
Neighbor Roderrick Drayton said he started doing some investigating on his own after Gannon mysteriously vanished.
"I couldn't sleep so I just stayed up and I started looking through [surveillance footage]," Drayton said. "I looked through on my tablet, then I said, 'Let me look on my TV to be sure."
Video footage taken with Drayton's security camera apparently showed Tecia and Gannon getting into a red truck in the driveway of their residence at around 10:15 a.m. on January 27.
Around four hours later, security footage captured Tecia Stauch arriving back home in the truck, but she was alone.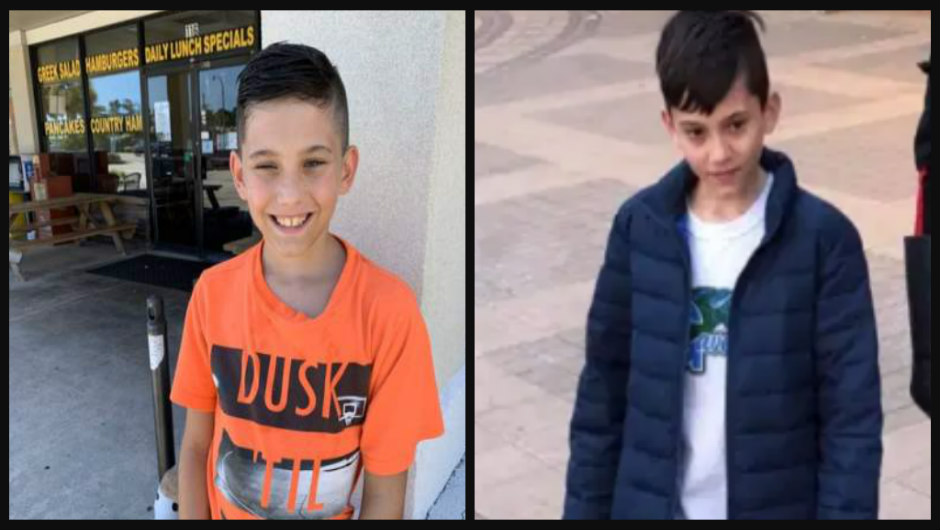 Tecia Stauch is apparently still sticking to her initial timeline.
The stepmother also explained why authorities may have possibly found Gannon's blood inside their home. Over the past two weeks, a crime lab van has been seen going back and forth to the Stauch residence to collect evidence.
"Saturday Night, G [Gannon] was helping me unload in the garage and cut his foot because there are a lot of tools because Albert does woodworking."
"He sat on the edge of the car and we bandaged it up. He was good to go. He always loves helping his dad in the garage build things like his LEGO tables and the flower pot they built for me as a gift. After this, I noticed G kept going to the side of the house." 
"He told me he was checking to see if the gate was locked because he was the only one with a gate key. It made him proud to be the man of the house while Albert was away. Fast forward, we did a hike on Sunday (cleared), and shopping on Monday (cleared as well for him getting out of the other side)."
Stauch also touched on what appears to be details regarding the footage taken with Drayton's security camera. She claimed Gannon did indeed get out of the truck on January 27 when she returned home.
"Please don't think for a second that there isn't enough of technology to determine shadows and movement around the truck. There was also proof from my phone that we had taken a selfie in the truck in our driveway that was time stamped. We always send pictures to Albert when we are out and about or when he is away."
"That can be scanned for actual time verification. Last, from day one the Sheriff's office has known a description of the person/friend whom Gannon left with."
"I explained to them and provided evidence. They had information about G having the key to go out the side gate. Last they have more in-depth details that go along with this pointing to who sent the person or why he may have come. Again, I repeat they have had this Initially and I was asked to keep quiet about it so they could have the best shot at doing their job and bringing G home. The last thing that they needed was a hindrance to their investigation. I encourage you to think of any suspicious cars that may have been in the area watching a few days prior and keep praying for G!"
Stauch thanked law enforcement for their search efforts and touched again on criticism against her, claiming that people have waited outside of her hotel and tried to run her "off of the road."
Tecia Stauch previously gave an interview to CBS 11  and spent a lot of the interview time complaining about social media groups that have reportedly criticized her actions and sent her threats.
See Tecia Stauch's previous interview below.
Gannon is described as a white male who stands 4-feet-9-inches tall and weighs around 90 pounds. He has brown eyes and brown hair. He was last seen wearing a blue hooded jacket, jeans, and athletic shoes.
"To Gannon, please come home soon because your daddy is waiting to watch the new Sonic movie that comes out this week and the cool shirt I got you to wear to the theatre is in your closet," Tecia Stauch said.
Gannon's biological mother, Landen Hiott, flew to Colorado from South Carolina shortly after her son disappeared. She has made several media appearances with the boy's father, Al Stauch, pleading for the safe return of her son.
Anyone with any information on Gannon's whereabouts is urged to contact the El Paso SO's "Investigations Tip Line" at 719-520-6666. or the El Paso County SO 719-390-5555.
The story is developing. Check back for updates.
For the latest true crime and justice news, subscribe to the 'Crime Stories with Nancy Grace' podcast. 
Join Nancy Grace for her new online video series designed to help you protect what you love most – your children.
[Feature Photo: Gannon Stauch via Facebook/Handout]