Accused murderer Fotis Dulos spoke on the phone with at least three people on the morning he committed suicide, never once indicating that was what he planned to do.
Dulos, accused of killing his wife as the couple went through a tumultuous divorce, was due in court on the morning of January 28 and was likely to see his bond revoked. He told a bail bondsman, his lawyer, and his girlfriend he was getting ready to drive to Stamford, Connecticut, for the hearing, all the while meticulously preparing for his own death, according to a 19-page police report obtained by the Hartford Courant.
Jennifer Farber Dulos, 51, disappeared on May 24, 2019, after dropping the couple's five children off at school, as CrimeOnline previously reported. Her vehicle was seen in surveillance returning home, and then leaving the home a few hours later — when police believe Dulos was at the wheel and his wife's body was inside, according to court documents.
How do you protect your children from predators? Join Nancy Grace and a team of world-class experts for the online course 'Justice Nation: Crime Stops Here'.
Other surveillance videos showed Dulos tossing trash bags away later on May 24, and police found items in them containing DNA from Farber Dulos, Dulos, and his then-girlfriend, Michelle Troconis. Dulos and Troconis were arrested last summer and again a few months later on charges of evidence tampering. And then, on January 7, Dulos was charged with his wife's murder, and Troconis was charged with a count of conspiracy to commit murder, along with Kent Mawhinney, an attorney who sometimes represented Dulos in civil matters.
On January 28, Dulos was due in court for a bond hearing after the company holding his $6 million bond had said it planned to revoke it. On that morning, his girlfriend Anna Curry, who had been staying at his Farmington home with him, left the house to run an errand for him, according to the police report the Courant obtained. Dulos twice called bail bondsman Michael Motuzick asking about the possibility of Motuzick's company taking over his bond. The two calls were made at 9:53 a.m. and 10:34 a.m.
On the second call, Matuzick to police that Dulos sounded "like he was in a rush, or out of breath, like he was working out." He also told Matuzick he was headed to his attorney's office. Dulos's next call came at 10:45 a.m. to one of his attorneys, Kevin Smith.
"Smith said that Fotis had called him and he told Fotis to hurry up and get down to [Stamford] for the bail hearing at 1200 hours," the police report says. "Smith said that Fotis gave no indication that he was about to try and take his own life."
At 10:59, Dulos called Curry, telling her he needed to leave for Stamford or he'd be late. The two had planned to drive together, but Curry said Dulos told her he'd drive alone and could follow. Curry"noted that Fotis sounded out of breath as he was telling her this," according to the police report.>
Curry arrived back at the house 15 minutes later, not knowing that Dulos was in the garage breathing carbon monoxide. He had stuffed Styrofoam under the garage door, removed a carbon monoxide detector. and fastened a hose to his vehicle's tailpipe with duct tape, running it into the vehicle.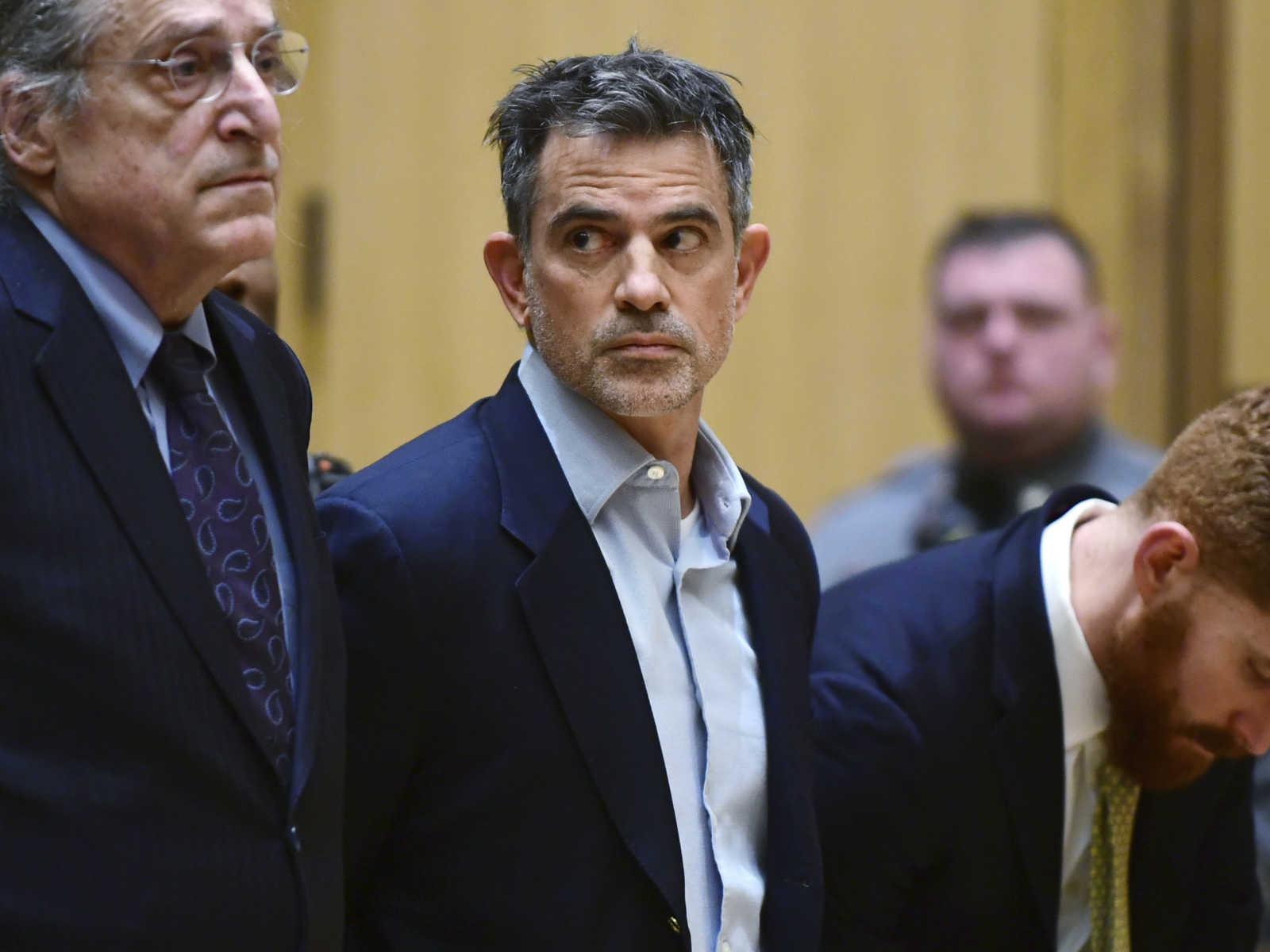 Curry left, heading for Stamford. Motuzick called Dulos at 11:34 a.m. but got no answer. Four minutes later, Smith called Curry asking where Dulos was. She said he was ahead of her, driving to Stamford, but Smith said his GPS monitor showed him still in Farmington. She turned around and headed back, knowing "that Fotis must have done something to harm himself," according to the police report.
According to Curry, she asked Smith to call 911 and he twice refused, saying "that he didn't want to cause more problems for Fotis, in case Fotis had removed the GPS device," according to the report. Smith told police, however, that it was "absurd" to say he said such a thing. Stamford State's Attorney Richard Colangelo corroborated Smith's version, as Smith was in his office during the phone call.
"I heard him tell someone that the police are already on their way to the house," Colangelo said. "We were getting updates in real time and he knew exactly what was going on."
At 11:44 a.m., state police noticed that Dulos had not arrived in Stamford, with his GPS monitor showing him still in Farmington. They called Farmington police, who arrived at 11:57. They found Dulos in the garage and called for medical help at 12:03. Just after that call, Curry arrived, got out of her car, and shouted for someone to call 911.
Dulos was ashen and not breathing when police found him, but EMTs found a pulse and rushed him to a hospital. He never regained consciousness and was declared dead on January 30. A judge dropped the charges against him in March.
Jennifer Dulos's body has not been found, but on Friday, investigators returned to a home in Avon where the Duloses briefly lived in 2010. Searchers had obtained a warrant to search the abandoned mansion's septic tank, as CrimeOnline reported. There's been no word on what, if anything, was found.
For the latest true crime and justice news, subscribe to the 'Crime Stories with Nancy Grace' podcast:
Join Nancy Grace for her new online video series designed to help you protect what you love most – your children.
[Featured image: Jennifer Dulos/handout]