Cecily Aguilar is behind bars facing tampering with evidence charges in connection with the disappearance and death of Fort Hood soldier, Vanessa Guillen.
As CrimeOnline previously reported, 20-year-old Guillen was last seen on April 22 at an armory room at Fort Hood, where she worked. She left behind her keys, wallet, and ID cards. Guillen walked to an adjacent armory room, where soldier Aaron Robinson was working, according to court documents, and was never seen again.
Robinson told investigators that Guillen met up with him in the armory room to read off serial numbers for weapons and equipment. She was supposed to then take information about a .50 caliber handgun to the motor pool at the base, but she never arrived.
On July 2, authorities arrested Aguilar, identified as Robinson's girlfriend, after she admitted to helping Robinson dismember and hide Guillen's in three shallow holes around the Lake Leon area in Belton, Texas.
Robinson, who's accused of beating Guillen to death inside the armory room, shot himself in the head on July 1, while authorities were pursuing him.
Previous Arrest History
Aguilar, of Michigan, has a previous arrest record of removing and/or concealing a price tag, a Class B misdemeanor. She was arrested in Bell County, Texas, in 2019.
Aguilar had previous minor infractions in Jackson, Michigan, including speeding and no proof of insurance.
Previous Marriage
Aguilar was married to Keon Aguilar, a former soldier once stationed at Fort Hood. According to her Facebook page, Aguilar started a "new relationship" in February 2020. Investigators said that Robinson and Aguilar had been dating for several months prior to Guillen's disappearance.
Employment
According to court documents filed with the U.S. District Court Western District of Texas, Robinson told investigators that Aguilar worked at a gas station. Her social media posts indicate that she also sold or tried to sell feet photos.
Social Media
Social media photos posted by Aguilar include numerous selfies, many of which depict her holding different guns. Photos posted a few days after Guillen's disappearance were detailed with grim messages.
"People who fight fire with fire end up with the ashes of their own integrity," one post read.
"Any girl can play innocent, but her demons are what drove me wild. Her secrets, her pain she mask by laughter, her darkness she trys so hard to hide, thats what made me fall for her," another post read.
Aguilar Helped Police Track Down Robinson
According to court documents, Aguilar helped authorities locate Robinson after he fled Fort Hood. Robinson, who was asked to stay on the base during the investigation, escaped on June 30.
"Baby, they found pieces…they found pieces," Robinson said to Aguilar during a recorded phone call on June 30, referring to investigators discovering human remains.
Robinson then sent text messages to Aguilar of news article photos detailing human remains found.
Authorities eventually located Robinson during the early morning hours of July 1, off of the 4700 block of East Rancier Avenue in Killeen. He was on foot, wearing only a pair of shorts. When authorities approached him, he pulled out a handgun and shot himself.
Aguilar Previously Lied to Police
Before Aguilar cooperated with investigators, she initially gave Robinson an alibi for the night of April 22. She claimed Robinson was at her off-post home with her all night. She later changed her story and said he met up with her in Belton, Texas, to "look at the stars."
Leon River is in Belton, Texas. Authorities searched through the suspects' phones and determined their phones were both in Belton on April 22, 23, and 26.
Aguilar Used a 'Machete Type Knife' to Dismember, Hide Vanessa Guillen
Aguilar, according to court documents, admitted that she and Robinson used a "machete type knife" to "remove the limbs and the head from the body."
The suspects then placed the remains in three different shallow holes, investigators said.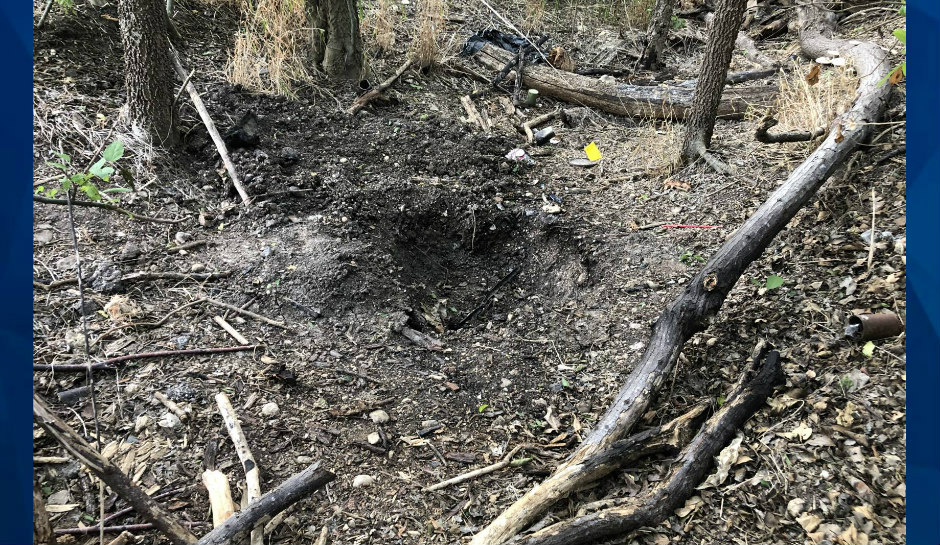 Aguilar, according to the Guillen family attorney, Natalie Kwaham, told investigators that she helped Robinson after Guillen threatened to expose him for having an affair with a woman married to a soldier. She claimed Robinson contacted her on April 22 and told her he had killed Guillen in the armory room.
Check back for updates.
For the latest true crime and justice news, subscribe to the 'Crime Stories with Nancy Grace' podcast. 
Join Nancy Grace for her new online video series designed to help you protect what you love most – your children.
[Feature Photo: Cecily Aguilar; Bell County SO/Vanessa Aguilar; Family Handout]