A suspect accused of dismembering Fort Hood soldier Vanessa Guillen apparently wants to flee the country, according to a U.S. prosecuting attorney.
During a Tuesday hearing at the Waco County courthouse, U.S. Attorney Mark Frazier detailed the actions 22-year-old Cecily Aguilar allegedly took after helping her boyfriend, soldier Aaron Robinson, dismember 20-year-old Guillen.
According to a criminal complaint, Robinson, who may have been sexually harassing Guillen, bludgeoned her to death inside an armory room at Fort Hood in April. He then took her body to an area near the Leon River, where Aguilar allegedly helped him hack the soldier's body parts and bury them in three shallow holes.
According to Frazier, Aguilar deleted her Google account while in jail, after her arrest earlier this month, in an attempt to get rid of incriminating evidence. She also contacted someone from jail via phone and asked them to delete her Facebook account, Frazier said.
Further, during another jail phone call, Aguilar allegedly told someone she wanted to flee with the country while using a $5,000 credit card.
Doomsday death & deception: Nancy Grace investigates "Cult Mom" Lori Vallow. Inside sources reveal brand new bombshell information. Click here to watch. 
The judge ultimately ruled that Aguilar would remain in jail without bail. Despite the evidence against her, Aguilar pleaded not guilty to three charges connected to tampering with evidence, namely a human corpse. She faces up to 20 years in prison if convicted.
Aguilar's husband, Keon Aguilar, attended the hearing. According to NBC 6, Keon claimed that his estranged wife was a religious and "outgoing person."
"There was a time when she really wanted to know more about the relationship that I have in God and she would just really draw in on that," Keon told the outlet.
The Guillen family attorney, Natalie Kwaham, said she found it bizarre that Keon Aguilar showed up to the hearing, given his wife was dating another man. Kwaham now hopes Keon will divulge information about the suspect that will help in obtaining justice for Guillen.
"We hope to God he has the courage to come forth and disclose what he knows about her because we believe she's a murderer," Khawam said.
Kwaham, who announced Tuesday that the family plans to meet with President Trump this month, added that Aguilar should face terrorism charges after she "did exactly how ISIS would treat one of our soldiers."
"She did exactly how ISIS would treat one of our soldiers. They decapitate our soldiers. They dismember them. They light them on fire. She did exactly that to Vanessa who is a U.S. soldier and I want her to be treated as the same way and punished as a terrorist because she is." – Natalie Kwaham
As CrimeOnline previously reported, Guillen was last seen alive on April 22 at around 1 p.m. at the Regimental Engineer Squadron Headquarters, 3rd Cavalry Regiment, in Fort Hood, Texas. Guillen left behind her car keys, barracks room key, identification card, and wallet in the Arms room, where she worked.
Someone called Guillen in to work on her day off, but it was not Robinson, according to a criminal complaint.
A witness, however, saw Guillen walk to an adjacent arms room, where Robinson was working on April 22. She never came out of the room. According to Kwaham, blood was left all over the room after Robinson bludgeoned her to death.
Robinson hid Guillen's body in a Pelican case, stored it to the side of the armory room, then left the base to buy supplies. He returned that evening and took the case to the Leon River area, according to the criminal complaint.
Robinson later determined that he couldn't dispose of Guillen himself and in turn, contacted Aguilar and asked her to help. Both Robinson and Aguilar drove to Leon River, then allegedly used a machete to hack Guillen's body apart.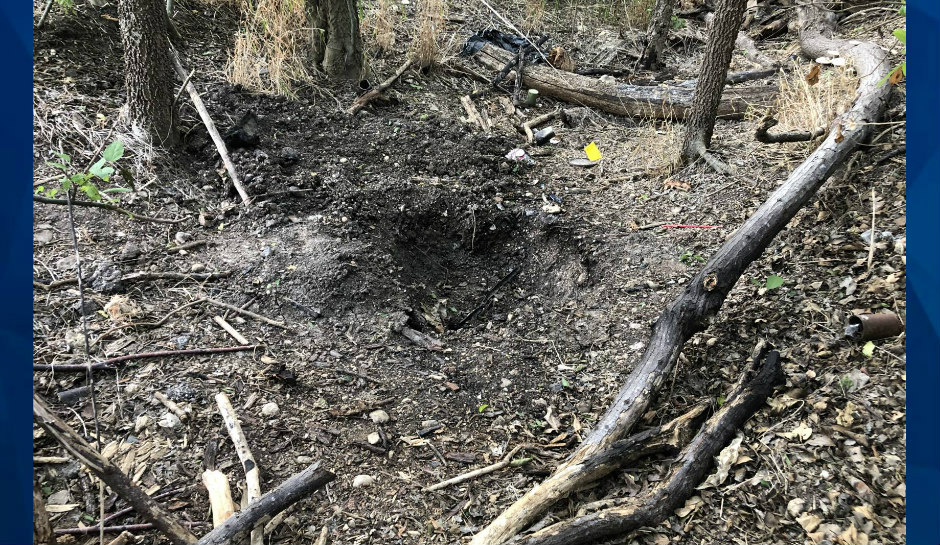 On April 26, the suspects returned to Leon River wearing hairnets and gloves. They used cement to encase Guillen's body parts and lime and rocks to get rid of the evidence. They buried the hairnets and gloves at the crime scene, then drove home and burned the clothes they were wearing that day.
"Vanessa's sister Mayra was arriving at the base; while was looking for her sister, they were dismembering her body," Kwaham said during a previous "Crime Stories with Nancy Grace" episode.
After leaving the scene, the suspects allegedly threw the machete, hammer, and Guillen's cellphone from a car window.
Although two witnesses saw Robinson leaving the base on April 22 with a Pelican case, no warrants were taken out until after investigators found the remains. When authorities pursued Robinson earlier this month, he shot himself in the head. He died at the scene.
Officials told Kwaham that Guillen's face had been bludgeoned so badly that officials could barely use dental records since her teeth were smashed in during the gruesome attack.
Check back for updates.
LIVE: Guillen Suspect in Court

#BREAKING #LIVE – The lone suspect in custody in connection to the Vanessa Guillen case has pleaded not guilty in court to a charge of conspiracy to tamper with evidence with intent to impair a human corpse. Cecily Anne Aguilar will be held without bond. Drake Lawson KWTX reports.

Posted by KWTX News 10 on Tuesday, July 14, 2020
For the latest true crime and justice news, subscribe to the 'Crime Stories with Nancy Grace' podcast.
Join Nancy Grace for her new online video series designed to help you protect what you love most – your children.
[Feature Photo: Vanessa Guillen/Handout]