On Friday, the Kansas Department of Family and Children's Services released a partial report on Olivia Jansen, a 3-year-old child found dead and buried in a shallow grave last month.
As CrimeOnline previously reported, Howard Jansen III, identified as the father of Olivia, has been arrested for first-degree murder, aggravated endangering a child and criminal desecration of a body. Police also arrested his girlfriend, Jacqulyn Kirkpatrick, on the same charges.
Authorities found Olivia deceased on July 10, hours after Jansen walked to the police station to report her missing. Jansen arrived at the station at around 8:30 a.m. and told authorities that he last saw Olivia sleeping on the couch at his girlfriend's Kansas City home, at 6 p.m. the night prior. He later said he last saw Olivia at 11 p.m. the night prior, according to police.
Doomsday death & deception: Nancy Grace investigates "Cult Mom" Lori Vallow. Inside sources reveal brand new bombshell information. Click here to watch.
Investigators found the child's body in a wooded area near a walking trail, only nine blocks from Kirkpatrick's home. Someone covered up her with dirt and sticks and left her lifeless body inside a shallow grave.
An autopsy report indicated that Olivia had a cut on the back of her head and "significant bleeding on the back of her brain." The brain bleeding ultimately caused the child's death.
Recently released documents from Kansas DCF indicated that on at least two occasions in February, two unknown people contacted the agency to report suspicions of child abuse. One caller said Howard Jansen III hit the child in the leg, and there were concerns her leg may have been broken.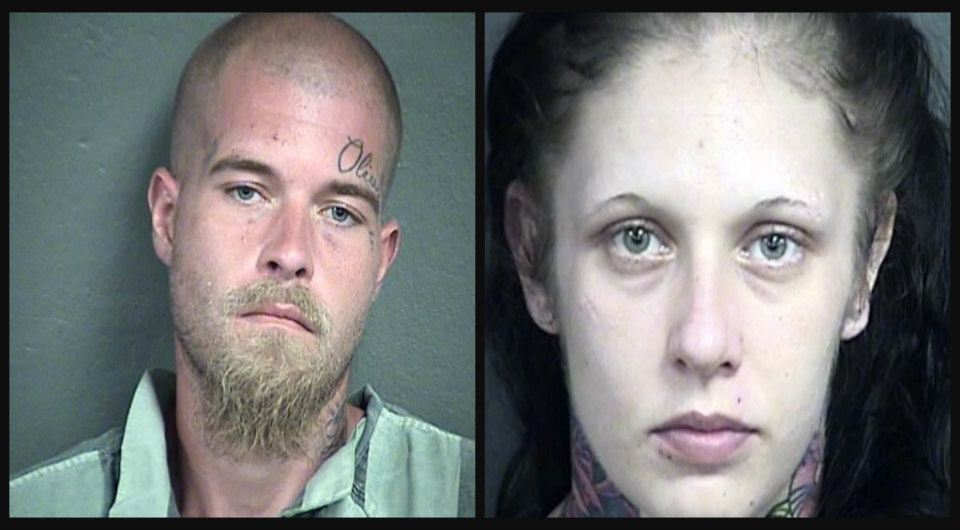 In another call, a tipster said that Kirkpatrick hit Olivia. The agency, however, reported that it didn't find any bruising on Olivia. FOX 4 reports that the person who made the call recanted their story and the case was closed.
"Two reports were made, one alleging that "dad" hit Olivia on the leg, leaving a bruise, and that the leg might be broken. Another report stated Kirkpatrick hit Olivia. The case was assigned to a worker that same day. DCF interviewed Olivia that day and no marks or bruises were observed. DCF notes that after reaching back out to the person how filed the report, the story was recanted," the report read.
On June 22, DCF received a call from Olivia's step-grandmother, Elisabeth Jansen, regarding substance abuse around the child. The agency set up a "Family in Need of Assessment" and scheduled a meeting for a week later.
On June 30, a caseworker set up a call with Olivia and Kirkpatrick. The reports indicated that Olivia seemed excited about the upcoming Fourth of July.
"A video? Isn't that kind of a warning?" Elisabeth Jansen asked FOX 4. "I mean, if I'm saying that I think my grandchild is, that I'm scared for my grandchild, you're going to video call and that's all?"
No one actually physically saw Olivia during the June 30 meeting, according to a response by DCF Secretary Laura Howard, who claimed a "Family in Need of Assessment" is not an emergency situation like child abuse allegations.
"The video conference call was the proxi that we used because the child was reported to be out of state. And our worker really insisted in having a video contact because she felt like it was very important to be able to see Olivia and be able to talk to her as we reported in the summary," Howard said.
Elisabeth Jansen, however, previously told Nancy Grace on "Crime Stories" that she not only reported suspected drug usage, but also suspected child abuse, neglect, possible prostitution, and possible "drug dealers after them [Jansen III and Kirkpatrick]."
The investigation was still in progress when on July 7, Jansen III tested positive for THC, according to the affidavit.
"Also as a result of the report, Howard Jansen was contacted on June 30 and asked to take a drug test. He tested positive for THC on July 7," the report read.
Three days after Jansen III's drug test results, Olivia was killed. DCF's internal investigation ultimately decided that Olivia's death was contributed to child abuse.
"I observed broken sticks and branches on top of the shallow grave," a detective wrote in the affidavit, according to CBS 5. "I could see light blue and pink clothing protruding from the dirt as well as a small portion of a Caucasian child's face and hair. The victim was dressed in pajamas and her body had been placed in a fetal position. The victim had severe bruising all over her face."
"The obvious visible injuries that are observed on the victim's body, and most notably the face, would have been apparent to anyone having contact with Olivia that she had suffered great physical abuse."
Both suspects remain behind bars at the Wyandotte County Detention Center, on bail amounts of $500,000 each.
Olivia's biological mother was behind bars on unrelated charges when the incident occurred and is not considered a suspect in the child's death.
Click here to read all of our Olivia Jansen coverage
Check back for updates.
For the latest true crime and justice news, subscribe to the 'Crime Stories with Nancy Grace' podcast.
Join Nancy Grace for her new online video series designed to help you protect what you love most – your children.
[Feature Photo: Olivia Jansen/Handout]