Investigators are so far stumped over the disappearance of a North Dakota mom, who walked away from a party in the middle of the night nearly two weeks ago and hasn't been seen since, Inforum reports.
Detectives say Anne Fitzsimonds, 47, may have intended to walk to her home 26 miles away from the Petersburg farmstead she left at about 1:30 a.m. October 4, wearing only a leather jacket, jeans, and cowboy boots.
But they're just not sure, because witnesses have provided conflicting information about what was going on at the farmstead and why Fitzsimonds may have walked off into temperatures that had dipped below freezing.
How do you protect your children from predators? Join Nancy Grace and a team of world-class experts for the online course 'Justice Nation: Crime Stops Here'.
So far, however, police are not classifying the disappearance as suspicious, despite learning that alcohol and possibly drugs were involved at the party, that Fitzsimonds had been cheating on her husband, and that her new boyfriend drove her truck home from the party that night.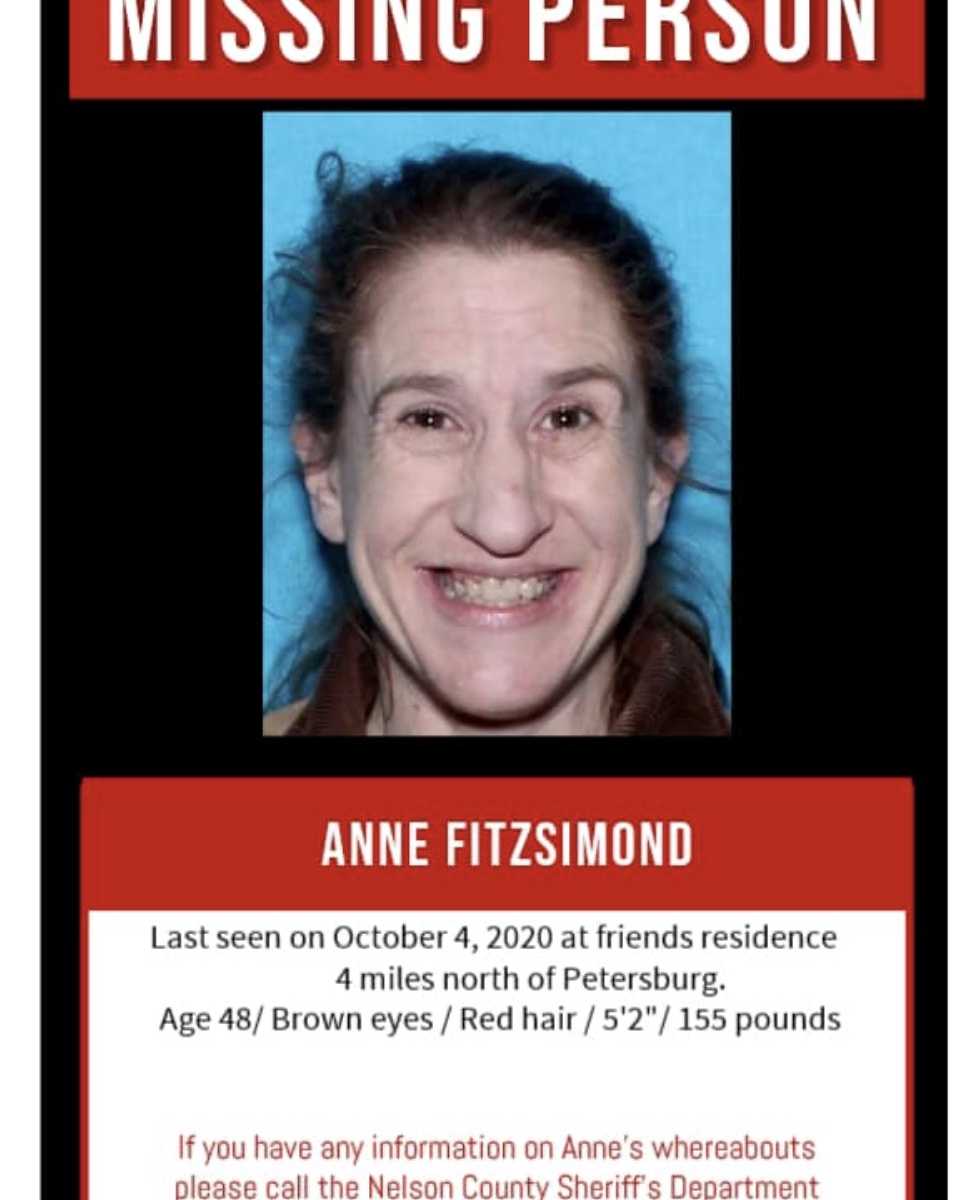 Investigators brought tracking and cadaver dogs to the farmstead this Thursday to try to determine which way Fitzsimonds went when she left, but the dogs were unable to pick up a scent in 2 1/2 hours spent on the farm, largely because of a hard blowing wind.
"The wind is kind of hard. The dogs have to work with the wind; if we would have had a gentle breeze it would have been better," Valley Water Rescue President Pete Fendt told Inforum.
"It's been a hard one," Nelson County Sheriff's Deputy Jesse Madche said. "This is classified as a missing person until we get a lead to change that to something else."
Detectives were able to take Fitzsimonds' truck on Thursday, after discovering the title had several names on it, including the owner of the farmstead. He gave permission for the sheriff's deputies to take the truck on Thursday.
Fitzsimonds' brother, George Niece, came from Minnesota and has been searching for his sister since, even putting up $5,000 for information.
"In this case there was a love triangle, I think, and I think there is drugs; that's going to be money. It doesn't look good," Niece told the Dickinson Press.
But he doesn't think she would have been walking home that night.
"There's no way; 26 miles is a marathon," he said.
So far, police, friends, family, and community members have all turned up empty handed, but Niece said he won't be giving up any time soon.
"I'm going to find her — that I know. I am going to find her, whether it's one day, or 100 days or a thousand days, or the last day I breathe, I just don't know. It's super scary. Anne, where are you?" he said.
Meanwhile, family members have set up a GoFundMe to help her 14- and 8-year-old children, with Niece promising to match the amount raised.
For the latest true crime and justice news, subscribe to the 'Crime Stories with Nancy Grace' podcast:
Join Nancy Grace for her new online video series designed to help you protect what you love most – your children.
[Featured image: Anne Fitzsimonds/Nelson County Sheriff's Office]