A second night of protests in downtown Portland ended early Saturday with dozens of detentions and 13 arrests during an "autonomous demonstration" against Department of Homeland Security officers deployed in the city, KGW reports.
The Portland Police Bureau said the protesters took to the streets at about 9 p.m. Friday and "devolved into property destruction in the Pearl District," a trendy shopping and residential area just north of the downtown district.
Protesters smashed windows and blocked traffic before officers "kettled" the group into a contained area, then photographed and identified them. Most were released without charge; 13 were arrested, including a 17-year-old boy referred to the juvenile justice system.
Most of the others arrested were issued criminal citations and released, according to Portland Police. The citations included charges for unlawful possession of a weapon, disorderly conduct, resisting arrest, interference with a police officer. At least one person identified as an "independent journalist" was among those cited.
Two protesters were taken to jail. Tara Walker, 34, was charged with carrying a concealed weapon, unlawful possession of a firearm, possession of a loaded firearm in a public place, and resisting arrest. Cody Connell, 35, was charged with interfering with a peace officer, resisting arrest, and disorderly conduct in the second degree.
Police said they found various items such as a crowbar, hammers, bear spray, and knives left behind the kettle area. Some of those detained were wearing body armor and helmets.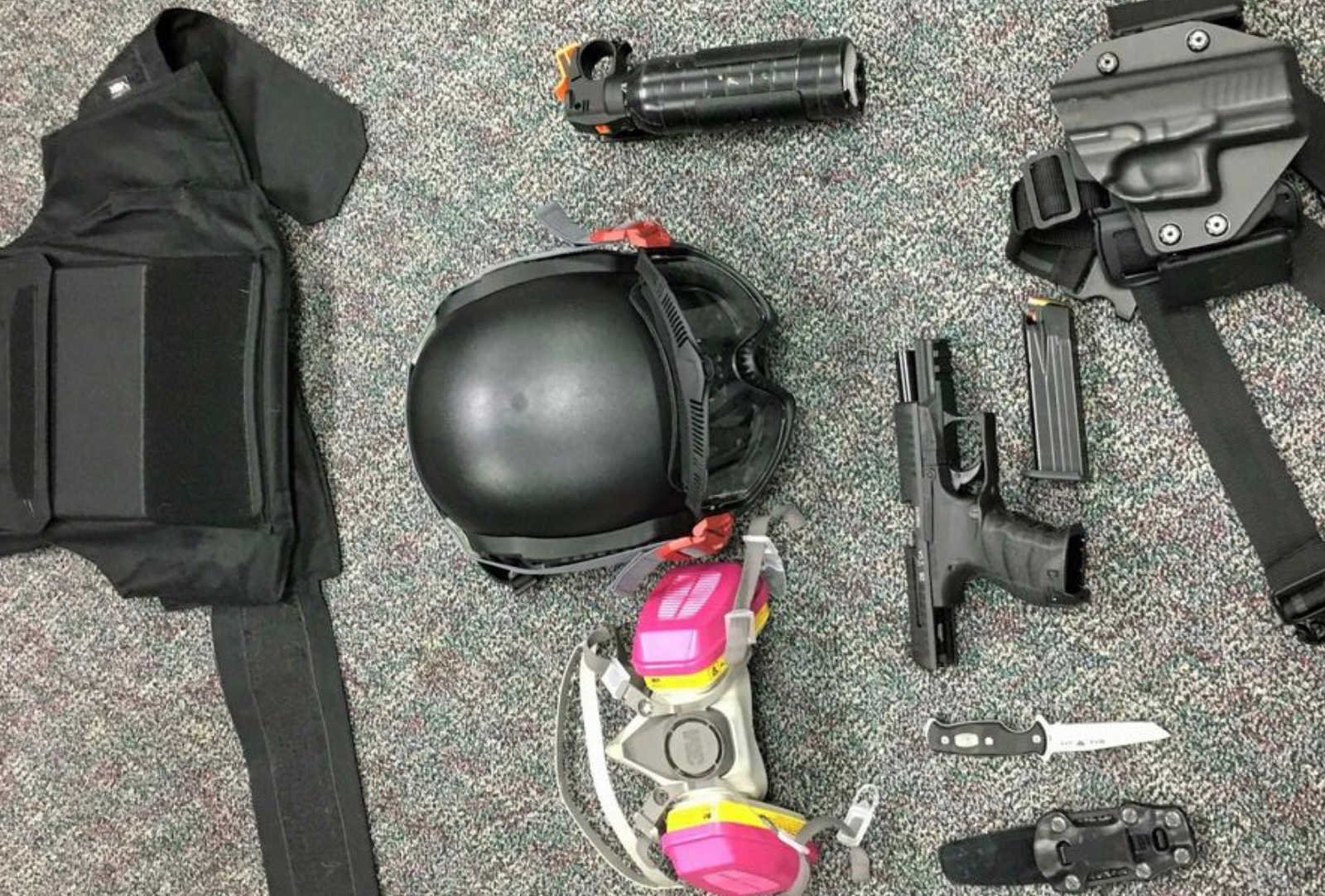 On Thursday night, protesters tangled with federal law enforcement at the Mark O Hatfield Federal Courthouse a few blocks away from the Pearl District in downtown Portland, according to the Oregonian. That protest was reportedly an extension of protests earlier in the day opposing a new oil pipeline planned to run from the Canadian province of Alberta to Superior, Wisconsin, instead of cleaning up and repairing an old, existing pipeline.
Dozens of demonstrators smashed windows and lit fires at the courthouse, the Oregonian reported, while federal officers drove them away from the building, using impact munitions, tear gas, flash-bang grenades, and smoke bombs. At least one person was detained.
The downtown Portland area has been a frequent site of protests, which swelled to a nightly occurrence last summer in the wake of the death of George Floyd, a Black man who died while a white police officer knelt on his neck for more than nine minutes. Jury selection has begun in Minneapolis for the trial of that now-fired officer, Derek Chauvin, who was charged with murder and manslaughter in Floyd's death.
Another protest in the Pearl District late last month angered residents of the fashionable district. On February 28, demonstrators swept through the district, reportedly angered by the Biden administration's immigration policy, breaking business windows and tagging buildings with anti-racism messages. Businesses damaged included a Chipotle, a Starbucks, an Urban Pantry, and an Umpqua Bank.
Pearl District resident Jane Orlowski told KOIN that she and other residents were "very angry" about the protest.
"We don't know why they're in our neighborhood, what their point is," Orlowski said. "We see shops being boarded up again after they've just unboarded recently. And these small little businesses, they can't afford this."
The demonstration, the first in the area in several weeks, was known about for some time. Pearl District Neighborhood Association President Stan Penkin said he is "disappointed" about the city's response.
"We're doing everything we can," he said. "It's certainly a frightening and frustrating time not just for our neighborhood but I think for the entire city."
Portland police said two shootings elsewhere in the city limited their ability to police the Pearl District protest. One business owner, Jim Rice of The Field Bar and Grill, told KOIN he boarded up his restaurant ahead of time.
"We knew that we were going to have a violent protest last night," he said. "We knew about it early in the week. We've been talking with local police, local government for support to ensure that we were going to be safe — and ultimately they didn't have the resources to deal with this group that came through."
Police said two people were arrested during that protest.
For the latest true crime and justice news, subscribe to the 'Crime Stories with Nancy Grace' podcast:
[Featured image: Portland Bureau of Police via AP]