A shoplifting suspect shot a Nebraska police officer in the face and fled, eventually leading state police on a 20-mile, high speed chase before exiting a freeway and getting stuck on railroad tracks, according to the Omaha Police Department.
Officer Jeffrey Wittstruck was struck in the face and top of the head and was transported to Nebraska Medical Center in critical condition; on Saturday, he was reported to be in stable condition and recovering.
The suspect, identified as Kenya Lamont Jenkins Jr, 21, has been charged with attempted murder and use of a weapon to commit a felony.
The incident began at about 3:30 p.m. on Friday when Wittstruck responded to a JC Penney store in west Omaha after store security detained a man they said put a pack of t-shirts in his backpack and left without paying. As seen on Wittstruck's body camera, the officer spoke with Jenkins, who was sitting in a chair, still wearing the backpack, in the security office. When Jenkins "was not forthcoming or cooperative," Wittstruck told him to remove the backpack. Jenkins stood up and put his right hand into his sweatshirt pocket.
Wittstruck repeatedly asked Jenkins to show his hands, but each time the suspect refused. He pushed the officer away when Wittstruck told him he was under arrest and tried to handcuff him. After a brief struggle, the officer pulled out his taser, while Jenkins again ignored him and put his hand back into his pocket.
The officer fired the taser, to no effect, and the two again struggled while Wittstruck tried to arrest the suspect. During that struggle, "Jenkins pulled a gun out of his sweatshirt pocket and fired 4 shots at Officer Wittstruck, striking him in the face and the top of his head," police said.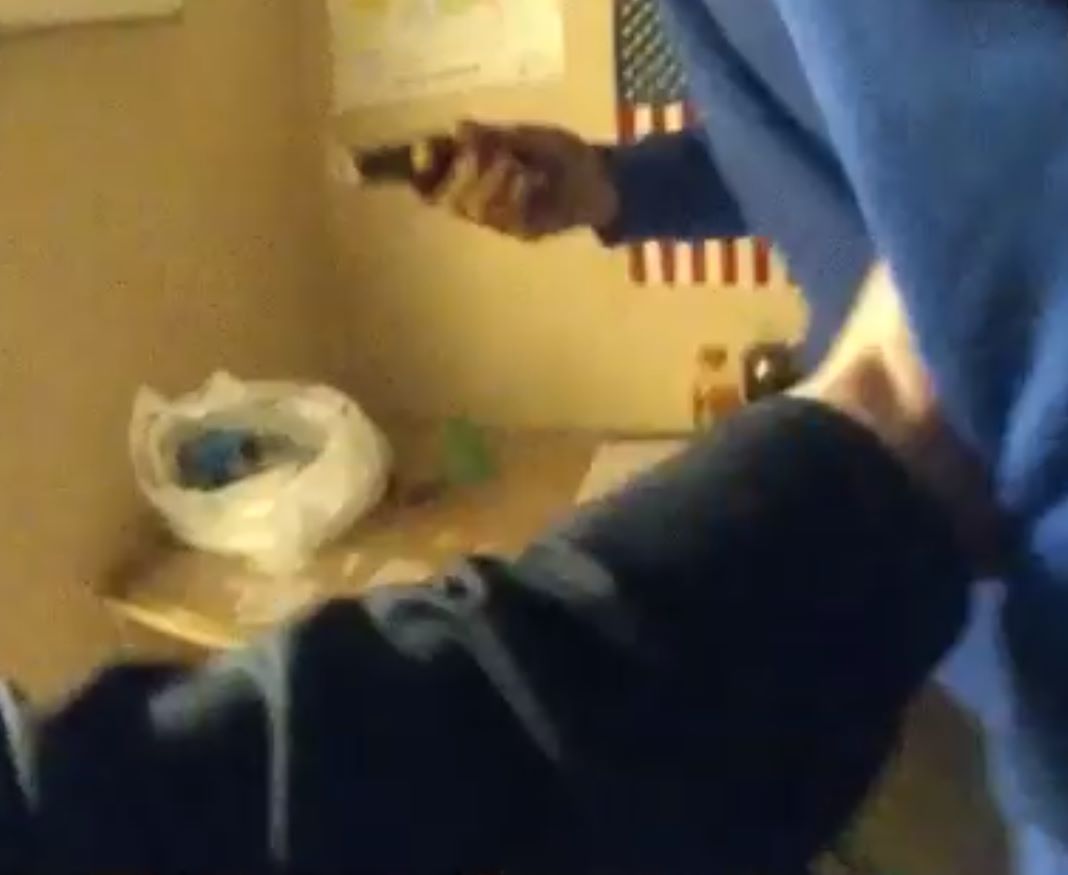 As Wittstruck fell to the floor, Jenkins fled. Security cameras outside captured him driving away in a white BMW S30I. Multiple law enforcement agencies launched a search for Jenkins while Omaha Fire paramedics arrived to assist the fallen officer.
About two hours later, a Nebraska State Patrol trooper spotted Jenkins's vehicle some 20 miles away near a gas station at an Interstate 80 exit for Gretna. The trooper tried to pull the vehicle over, but Jenkins again fled, heading westbound on the interstate and driving recklessly. Police said the pursuit reached speeds in excess of 140 mph until troopers ahead of him deployed stop sticks near the exit for Waverly. Jenkins took the exit for Highway 6, where he subsequently got stuck on the railroad tracks that run parallel to the highway.
Troopers took him into custody and found a Taurus .380 handgun in his possession; they transported him to Omaha police headquarters, where he complained of a leg injury. Paramedics treated his injury at police headquarters.
"Our prayers are with Officer Wittstruck and his family for a full recovery," Omaha Police Chief Todd Schmaderer said. "On behalf of all Omaha Police Officers, thank you for the showing of support and concern. Omaha Police Officers answer 911 calls over and over again throughout the day to keep Omaha safe. It is important to remember the dangers officers put themselves in on each and every call; calls that must be answered because someone was in need. "
Wittstruck has been with the Omaha Police Department since September 2016, he said.
Jenkins is being held without bond in the Douglas County Jail, according to jail records.
For the latest true crime and justice news, subscribe to the 'Crime Stories with Nancy Grace' podcast:
[Featured image: Jeffrey Wittstruck/Omaha Police Department]