The husband of a missing Colorado woman has been arrested and charged with murder a year after Suzanne Morphew disappeared.
Court documents obtained by Fox 21 news show that Barry Morphew has been charged with first-degree murder, tampering with evidence, and attempting to influence a public servant. The court records, below, indicate the charges are in connection to the death of Suzanne Morphew, who went missing on Mother's Day weekend in 2020.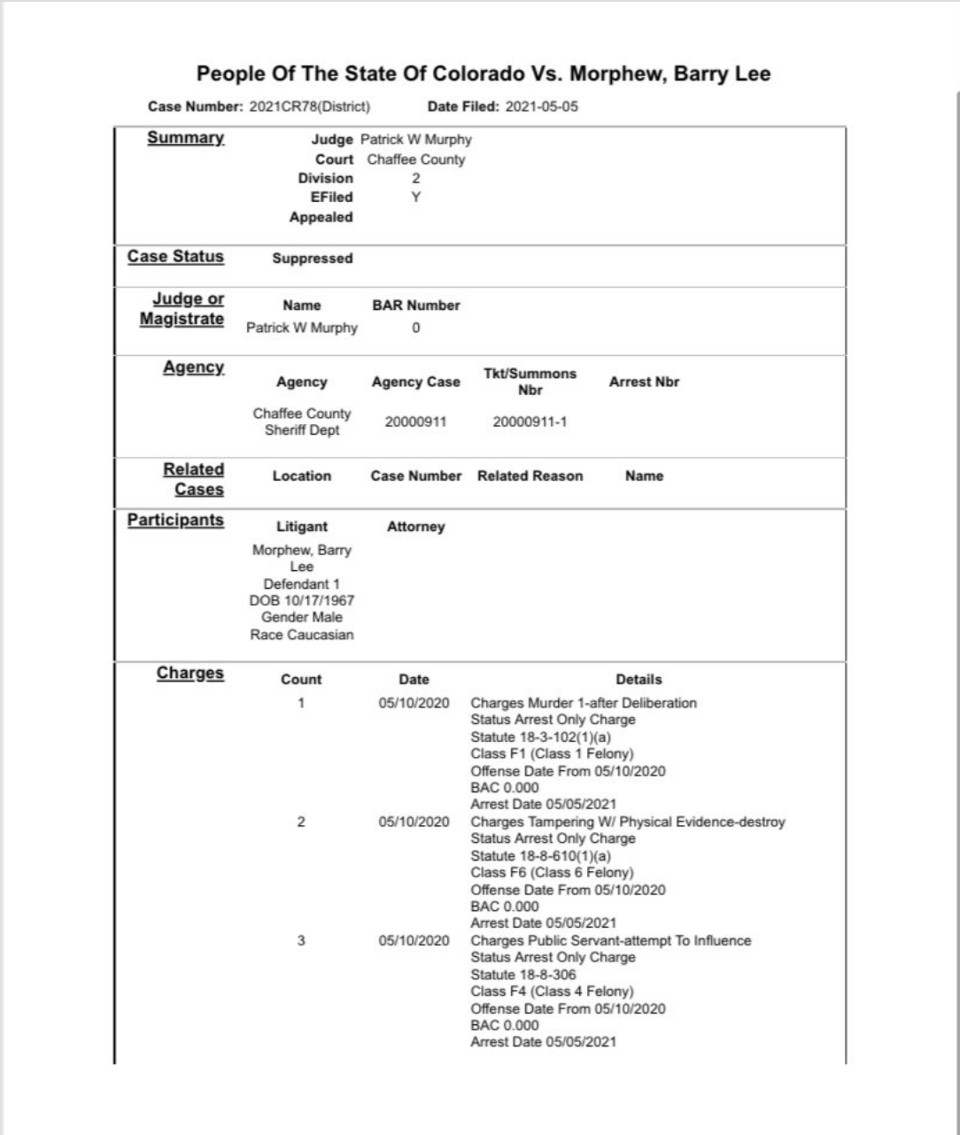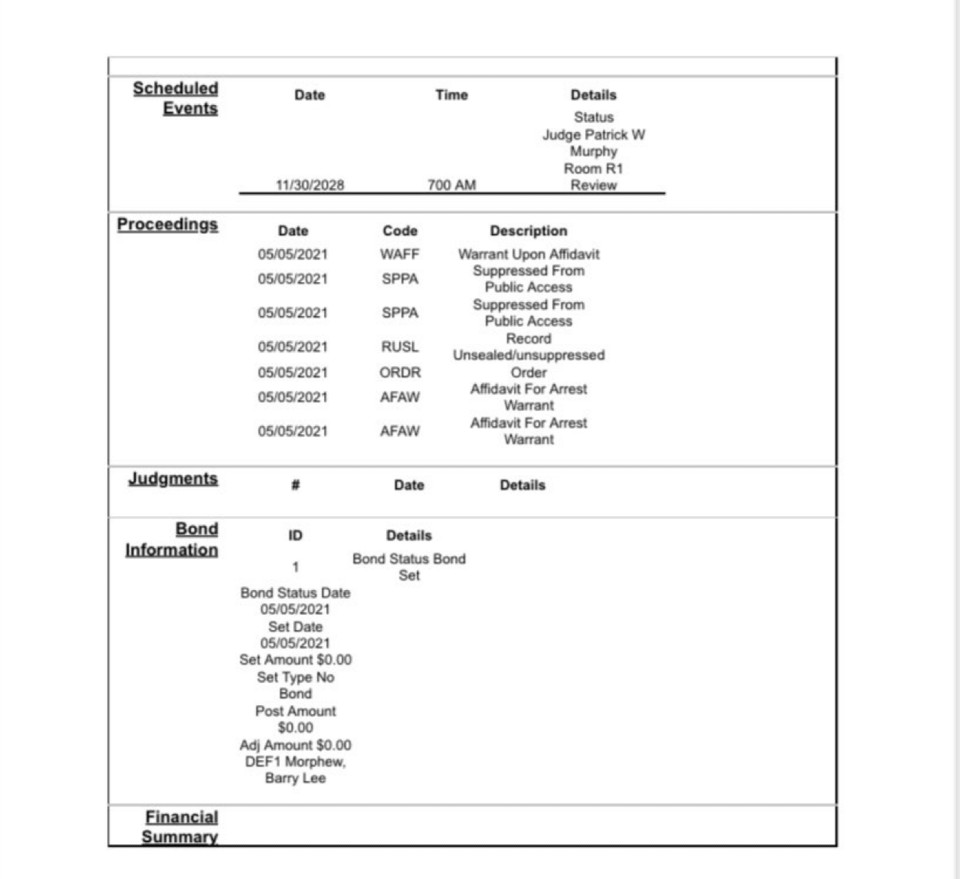 Barry Morphew had maintained his innocence during the nearly yearlong investigation and claimed he was cooperating with police. Last May, he offered a $100,000 reward for information leading to Suzanne's return, an amount that was matched by a family friend.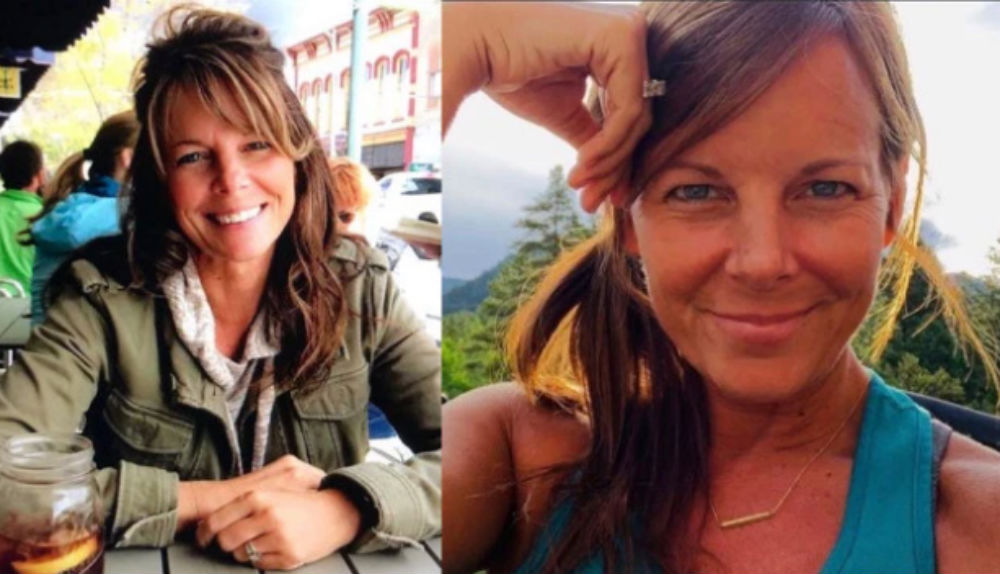 The arrest records indicate police believe Suzanne Morphew was killed on May 10, 2020, the day she was first reported missing after her daughters–who were out of town for the weekend–were unable to reach her on the phone. Initial reports indicated that Suzanne had gone for a bike ride, and her bike was later found not far from the family home in Maysville. As the investigation continued, police did not confirm that Morphew ever went for a bike ride on the morning of May 10, which was Mother's Day. She and Barry were reportedly last seen in nearby Salida on the Saturday afternoon or early that evening.
Barry Morphew traveled to Broomfield, about a three-hour drive from Maysville, in the early morning hours of May 10 for what he said was a construction job. Upon hearing the news of his wife's disappearance, Barry Morphew drove back to Maysville that Sunday before the job had begun. In the fall, a Fox 21 News reporter discovered that Barry Morphew had been contracted for the job by a company in Indiana–where he and Suzanne both grew up and lived until 2018–owned by a longtime friend.
"None of the public documents I dug up for this job ever mention Barry Morphew," the reporter, Lauren Scharf, said in a YouTube video posted in October.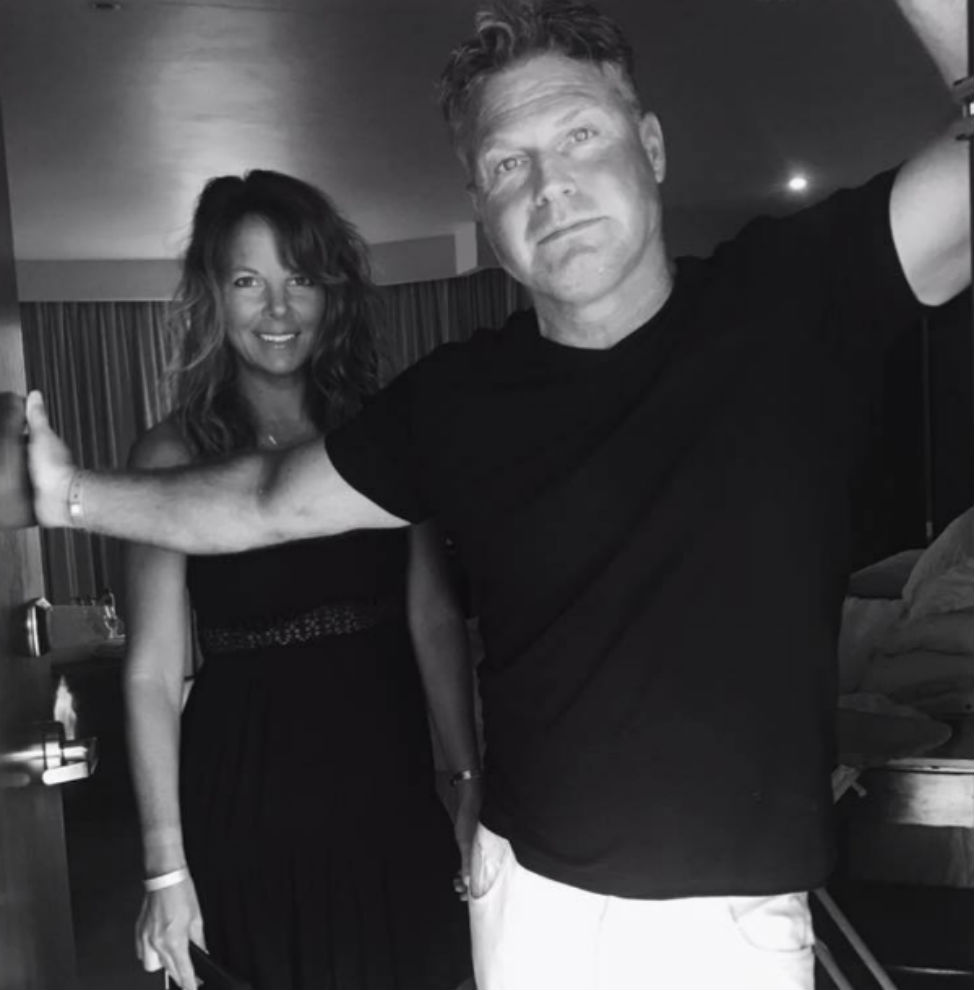 Police never confirmed Barry Morphew's alibi, though they had not named him a person of interest or a suspect until Wednesday's arrest.
Earlier this fall, Suzanne Morphew's brother Andrew Moormon led a volunteer search party in Chaffee County; Barry Morphew did not participate. In media interviews, Moorman was critical of his brother-in-law, and suggested that data connected to Barry's vehicle did not correspond with his stated alibi. Moorman also said that he believed investigators were building a case against his sister's husband.
Suzanne and Barry Morphew's two daughters, a teen and a young adult, have not publicly commented on the investigation.
Authorities in Chaffee County are scheduled to hold a news conference at 3 p.m. Mountain Time on Wednesday.
This is a developing story. CrimeOnline will provide further updates when more information is available.
Read more of CrimeOnline's extensive coverage of the Suzanne Morphew case here.
For the latest true crime and justice news, subscribe to the 'Crime Stories with Nancy Grace' podcast.