An Indiana man in jail for attempted murder on a child was apparently given a beatdown inside his cell Wednesday.
Journal & Courier reports that James Brian Chadwell II, 42, lost a fight at the Tippecanoe County jail to another inmate, identified as Quentin Jackson Jr., 25. According to the Tippecanoe County Sheriff's Office, Chadwell was treated for facial injuries. The case has been sent to the Tippecanoe County Prosecutor's Office for possible charges.
As CrimeOnline previously reported, Chadwell was arrested April 19 after Lafayette authorities received a report about a missing child on Park Avenue. The child's parents called for help after their 9-year-old had been missing for around 30 minutes, after 7 p.m.
While questioning neighbors, several of them told officers that the child's next-door neighbor, Chadwell, said he saw the girl after she disappeared. When the officers arrived at Chadwell's house, he denied knowing the victim's whereabouts but said she'd been by his home earlier and left.
Chadwell gave the officers permission to search his home. Authorities searched throughout the home, including the basement, which had a chain lock on the door. Officers got the door open and heard a child crying from the bottom of the basement stairs.
A little girl, locked up at the bottom of the stairs, told the officers that Chadwell tried to kill her. She reportedly had bruises all over her body, strangulation marks on her neck, and dog bites on her leg.
Prosecutors charged Chadwell with attempted murder, along with charges of:
Child molesting
Attempted child molesting
Battery resulting in serious bodily injury
Criminal confinement
Strangulation
Prosecutors filed a sentence-enhancing charge of the suspect being a habitual offender, which could add up to 20 years to Chadwell's sentence if he's convicted.
According to court documents, Chadwell lured the little girl inside his home by offering to let her pet his dogs. During his first court hearing, Chadwell asked who he could speak to about a mental evaluation.
Family Speaks Out
In an interview with Inside Edition, the suspect's brother, Ashley, said he believes Chadwell has an evil streak and is "absolutely" capable of harming children.
"Do I think that he's capable of that kind of crime? Absolutely, absolutely. He's shown numerous times not only to his friends but his family as well that he has that kind of evil streak to him."
Chadwell's stepfather reportedly added that he thinks his stepson could be responsible for the deaths of two teens in 2017, at the Monon High Bridge in Delphi.
"Is he capable? Probably. And you know, should they let him back out on the street? Not ever. Throw away the key this time," the stepfather said.
The Journal & Courier reports that Carroll County Sheriff Tobe Leazenby confirmed that authorities are looking into Chadwell as a possible connection to the Delphi murders, but he has not been named a suspect at this time.
"The information has obviously been shared with us, and our investigators are looking into him," Leazenby said.
Delphi Murders
On February 14, 2017, approximately 20 miles from Lafayette, Indiana, in Delphi, two girls were found murdered near the Monon High Bridge. Libby German, 14, and Abby Williams, 13, took a hiking trip at the abandoned bridge the previous day; the outing was only meant to be for a few hours.
The girls took photos while strolling across the bridge, but as time passed and their family didn't hear from them, they became worried and called authorities for assistance.
Police found the girls' lifeless bodies a short distance from the bridge.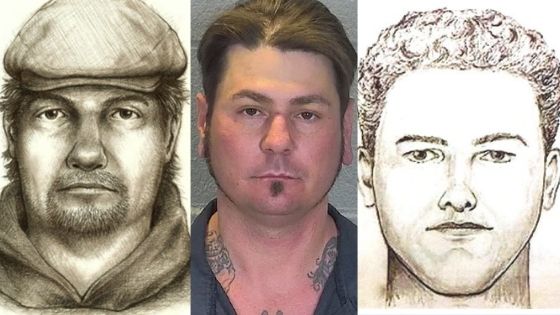 After their deaths, the incident was nicknamed the "Snapchat Murders" after Abby took a photo of Libby at around 2:17 p.m. and put it on social media. Detectives said that after the photo was taken, a man approached the girls and apparently told them to "go down the hill."
One of the girls, likely sensing danger, recorded the man's voice on her cellphone. She also managed to take a photo and record a small clip of the suspect. Although his face isn't clear in the picture, it was enough to give authorities a general description. Since then, they've been poring through thousands of tips.
Anyone with information about the Delphi murders should call the Delphi Homicide Investigation Tip Line at 844-459-5786; the Indiana State Police at 800-382-7537; or the Carroll County Sheriff's Department at 765-564-2413. 
For the latest true crime and justice news, subscribe to the 'Crime Stories with Nancy Grace' podcast. Listen below to Nancy's latest take on the case. 
Join Nancy Grace for her new online video series designed to help you protect what you love most – your children.
[Feature Photo: Police Handout]