A Texas man's Bumble match turned him in to federal authorities after he whined about being pepper sprayed while "just standing there" during the riot at the US Capitol on January 6.
The FBI investigated and found out otherwise: Andrew Taake, 32, was seen in publicly posted photos and videos and police body camera footage pepper spraying police officers and striking them with what appears to be a metal whip used for self-defense. He was also seen on surveillance footage carrying the whip-like weapon inside the Capitol.
Taake was arrested in Houston on July 23 and charged with obstruction of an official proceeding; assaulting, resisting, or impeding certain officers; obstruction of law enforcement during civil disorder; entering or remaining, disorderly conduct, and engaging in physical violence in a restricted building or grounds; disorderly conduct in a Capitol building, impeding passage through an act of physical violence on Capitol grounds or buildings; and parading, demonstrating, or picketing in a Capitol building.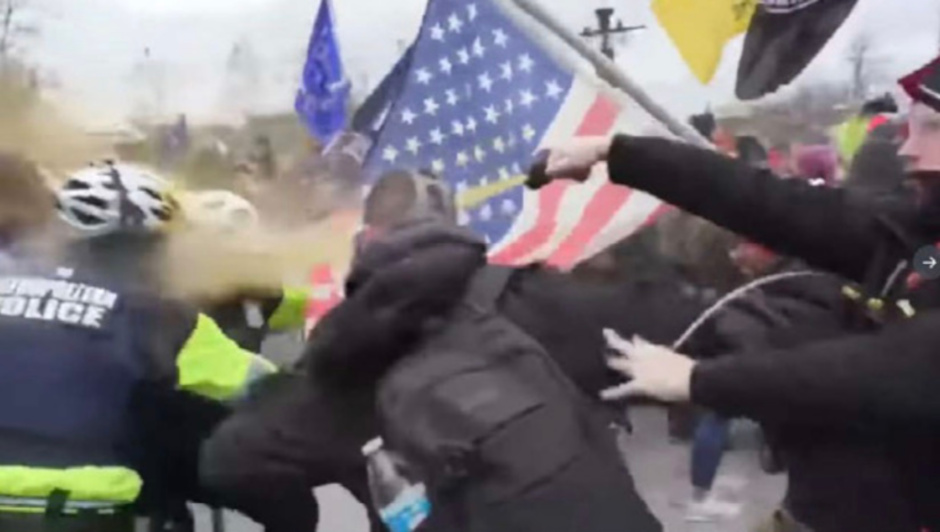 What's more, Taake apparently made the dating app match while he was still in Washington, D.C. According to the charging documents, his match turned him in on January 9, just three days after the violent insurrection mounted by supporters of then-President Donald Trump who sought to stop the counting of electoral votes and certification of Joe Biden as the winner of November's election.
Taake's match, who did not meet in person with him, provided authorities with screenshots of the chat, in which Taake said that he was pepper sprayed by police "while just standing there."
"Safe to say I was the very first person to be sprayed that day," he wrote.
He also sent a photo of himself wearing a gaiter mask, saying it was after he was pepper sprayed. The match, identified only as "Witness 1," also provided the FBI with screenshots and location data from the Bumble app that showed Taake in Alexandria, Virginia, early on January 6.
The FBI found that Taake had flown to Washington on January 5 and returned on January 8. After that came months of reviewing thousands of images from that day and finally cell phone records that placed Taake on the Capitol grounds and inside the building.
For the latest true crime and justice news, subscribe to the 'Crime Stories with Nancy Grace' podcast:
[Featured image: Andrew Taake (circled in red) wielding metal whip/US Department of Justice]