An arrest has been made in connection with the alleged shooting of prominent South Carolina lawyer, Alex Murdaugh.
FITS News reports that police arrested Curtis Edward "Eddie" Smith, 61, in connection with the shooting. FITS News cites several sources claiming Smith is known to the family patriarch, Alex Murdaugh, with one source telling the outlet that Smith is Alex Murdaugh's "personal drug dealer." The outlet also reports that Murdaugh acted as Smith's attorney in a 2010 personal injury lawsuit.
According to a press release released by SLED late Tuesday, Curtis Edward Smith was charged with "assisted suicide, assault and battery of a high aggravated nature, pointing and presenting a firearm, insurance fraud, and conspiracy to commit insurance fraud."
Smith has also been charged with distribution of methamphetamine and possession of marijuana.
According to the affidavits released by SLED, on September 4, 2021, Alex Murdaugh provided Curtis Smith with a firearm and instructed Smith to kill him by shooting him in the head. Murdaugh admitted to the plot on September 13, and told SLED he planned to have Smith kill him "for the purpose of his son collecting a life insurance policy valued at approximately ten million dollars."
Smith admitted to being at the scene when the gun was fired and disposing of the firearm afterwards, according to the affidavit.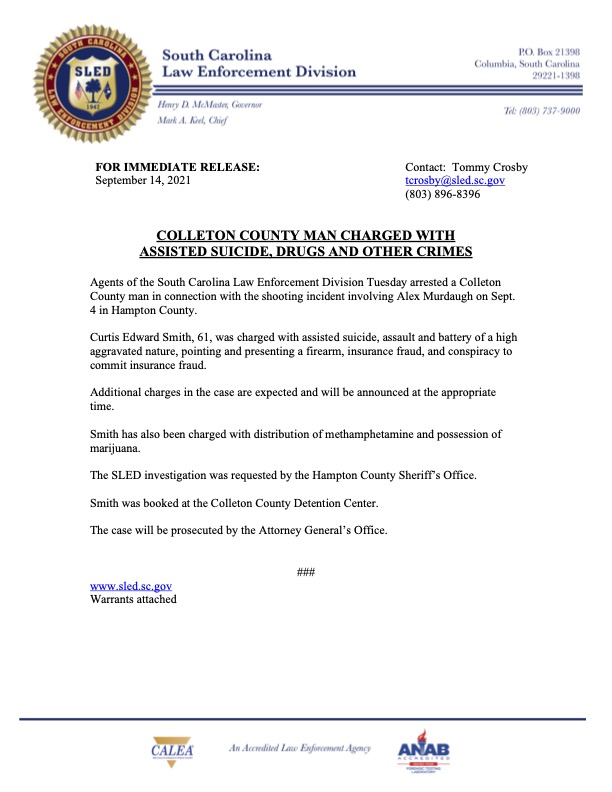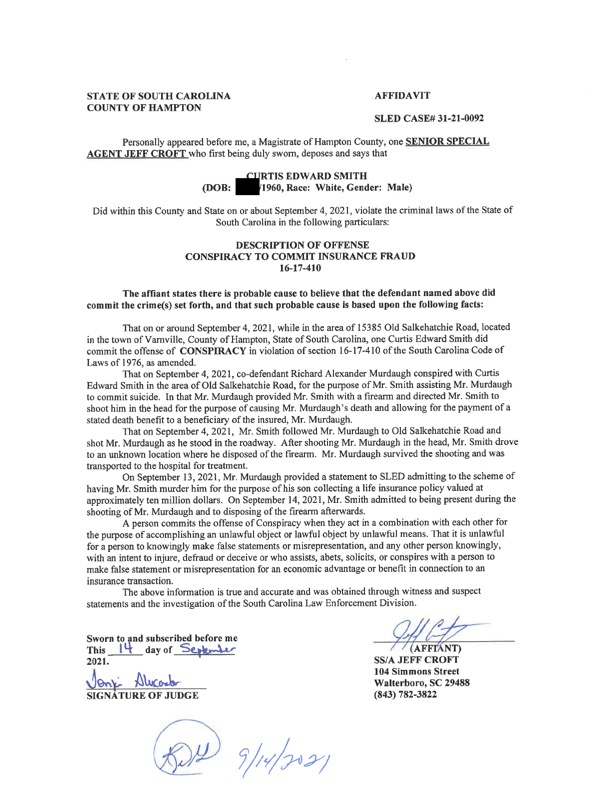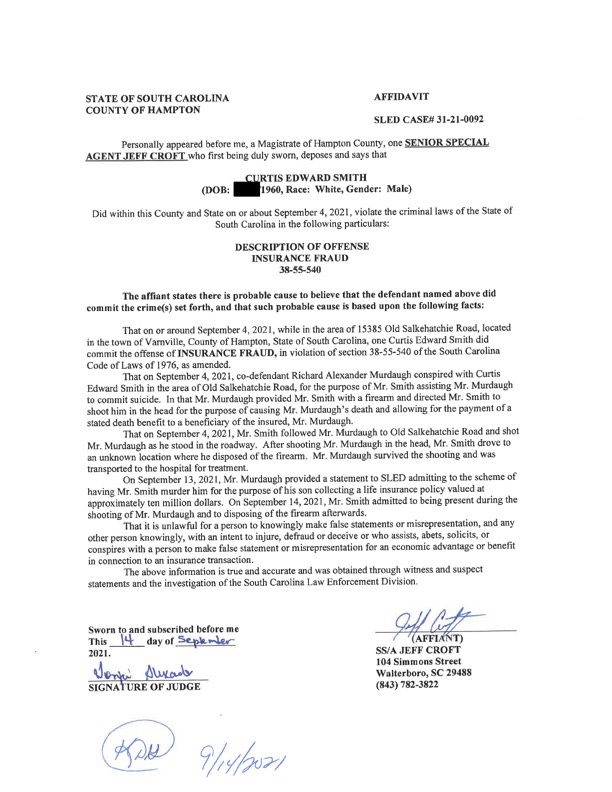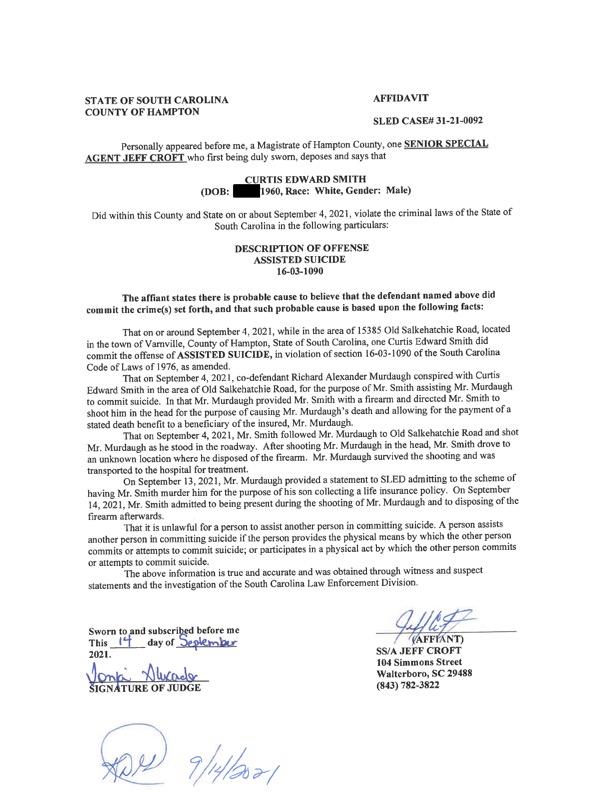 According to SLED, additional charges in the case are expected. The case will be prosecuted by the Attorney General's Office.
Murdaugh was reportedly shot in the head while changing his tire earlier this month on a desolate road. The alleged shooting happened in the aftermath of Alex Murdaugh's wife and son being shot to death.
As CrimeOnline previously reported, Maggie Murdaugh, 52, and Paul Murdaugh, 22, were found fatally shot on the family's hunting property in Colleton County, South Carolina, on June 7. Alex Murdaugh first discovered the bodies that night, reportedly after returning home from visiting his ailing father in the hospital. His father, Randolph Murdaugh III, died later that week of natural causes.
Shortly after Alex Murdaugh's alleged shooting, he was airlifted to a hospital for treatment, but it was later revealed that he had only received a superficial wound. A knife reportedly used to slash Murdaugh's tires was found near the scene but a source claimed the knife was traced back to Murdaugh.
Police did not confirm or deny whether the knife belonged to Murdaugh.
Check back for updates.
For the latest true crime and justice news, subscribe to the 'Crime Stories with Nancy Grace' podcast. 
[Feature Photo: Murdaugh Family/Facebook]