The boy whose skeletal remains were found in a Texas home this week was kicked to death nearly a year ago, according to a criminal complaint.
As CrimeOnline previously reported, a 15-year-old boy called police in Harris County on Sunday, saying that his dead younger brother was inside the apartment unit. Responding officers found the teen, two younger siblings, and the skeletal remains of an 8-year-old boy, who the teen boy said had been dead for about a year. There were no adults in the home and the Harris County Sheriff said in a press conference that the children had been left alone for an "extended" period of time.
On Tuesday, the children's mother, 35-year-old Gloria Y. Williams, and the mother's boyfriend Brian W. Coulter were arrested in connection to the death and abandonment. Coulter, 31, was charged with the murder of Kendrick Lee. Williams has been charged with injury to a child by omission, failure to provide adequate supervision, and failure to provide medical care.
CrimeOnline obtained a criminal complaint against Coulter, showing that investigators believe the suspect hit and kicked the boy, causing his death. Kendrick is believed to have died on or around November 20, 2020.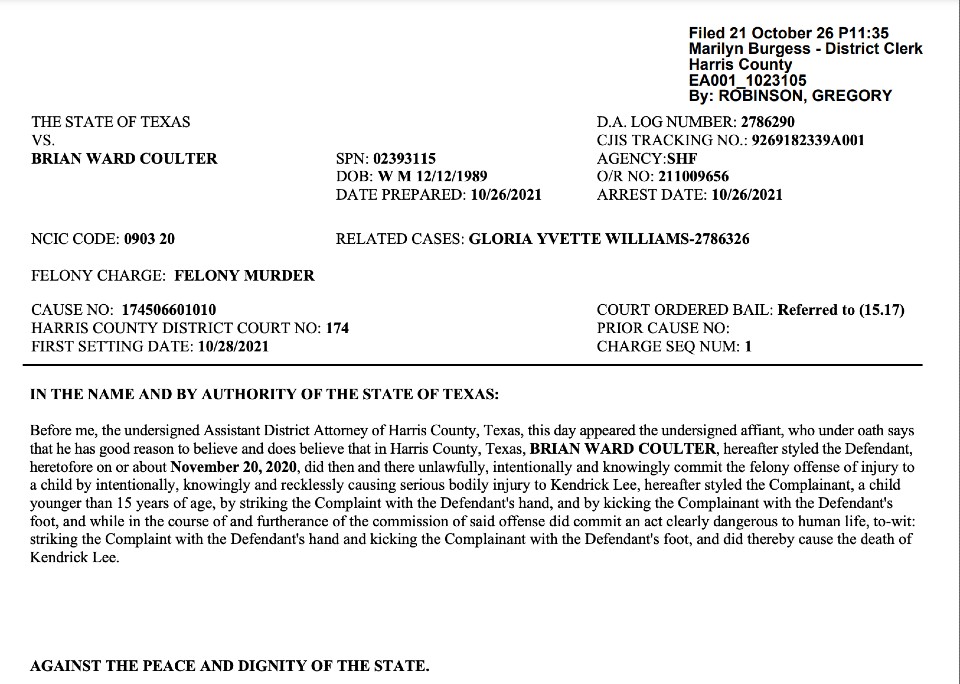 It is unclear exactly how long or how consistently the children were left alone with their brother's body, but neighbors at the apartment complex told local media that they helped the 15-year-old boy with food, reportedly not realizing there were other children in the home.
Coulter maintained an Instagram account, and one video posted in February shows the suspect eating a steak dinner with wine for one, while a woman who resembles Williams and a child appear in the kitchen. Neither are seen eating. Other instagram photos and videos show Coulter showing off clothes and jewelry and using racial slurs.
The Harris County Sheriff's office indicated that more charges could be expected in the disturbing case. The three surviving boys are in the custody of Child Protective Services.