The wife of the infamous drug kingpin, Joaquin "El Chapo" Guzmán, was sentenced Tuesday to three years in federal prison.
NBC News reports that Emma Coronel Aispuro, 32, pleaded guilty to federal offenses earlier this year, after making a plea deal with prosecutors. Her charges included:
Conspiring to distribute numerous hard drugs, including meth, cocaine, and heroin
Money-laundering conspiracy
Making transactions with a foreign narcotics trafficker
U.S. District Judge Rudolph Contreras also submitted a forfeiture money judgment against Coronel for almost  $1.5 million, according to the U.S. Department of Justice. The money came from the proceeds and property she obtained through illegal activities.
"Court documents indicate that beginning in or about 2011 and continuing to at least Jan. 19, 2017, Coronel Aispuro was a co-conspirator in the activities of the Sinaloa Cartel, an organization which was led by her husband, Guzmán Loera," the Department of Justice wrote.
As CrimeOnline previously reported, Coronel, who holds dual US/Mexican citizenship, is also alleged to have helped her husband escape from Altiplano prison in Mexico in 2015 and to have been planning another escape after his rearrest and before he was extradited to the United States in 2017, according to the complaint filed against her.
Guzmán, also known as El Chapo, was sentenced in 2019 to life in prison, plus 30 years, for drug trafficking.
Coronel told the judge she was remorseful for what she did, had "true regrets," and begged for a light sentence.
"Perhaps because of this, there is reason for you to be harder on me," Coronel said. "But I pray that you do not do that."
Federal prosecutor Anthony Nardozzi pushed for a 4-year sentence earlier this month, admitting that Coronel "quickly accepted responsibility for her criminal conduct."
Contreras ultimately wished the defendant good luck, in hopes she'll bring her two daughters up "in a different environment than you've experienced today."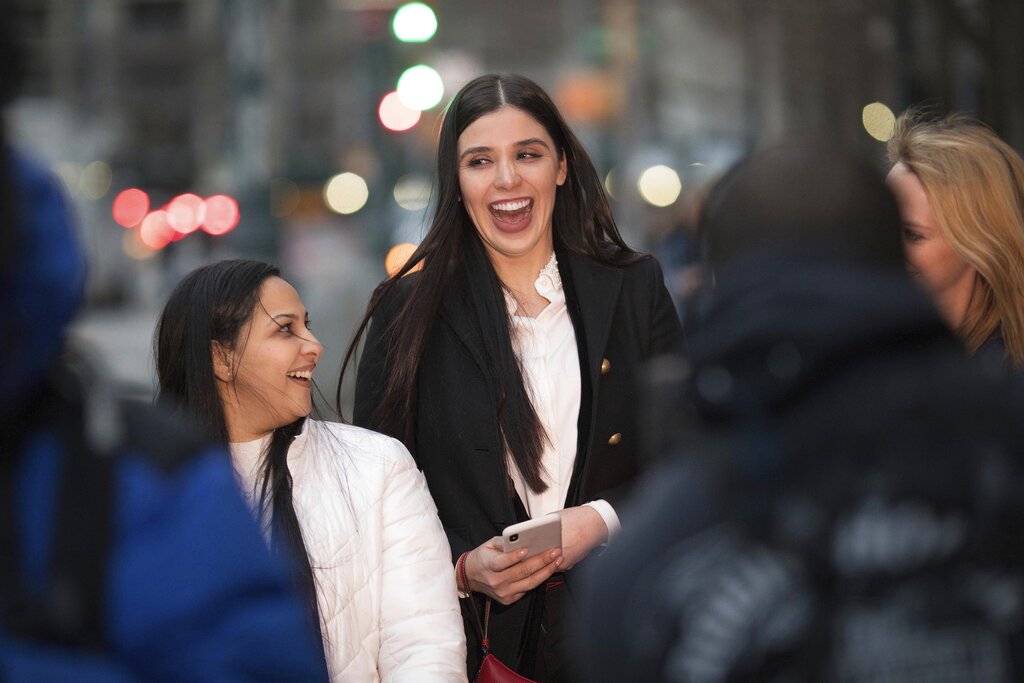 Coronel, who was often called Guzmán's "beauty queen wife," was voted Coffee and Guava Queen in Canelas, Mexico, in 2007 after hundreds of gunmen on motorcycles flooded the town of Durango, followed by Guzman himself.
Guzman then hosted a lavish party and announced his intention to marry her, according to the Daily Beast. Her father was a rancher and Guzman deputy who was sanctioned by the Department of the Treasury in 2013 under the Foreign Narcotics Kingpin designation.
Check back for updates.
Join Nancy Grace for her new online video series designed to help you protect what you love most — your children.
[Feature Image: FILE – In this Feb. 12, 2019 file photo, Emma Coronel Aispuro, center, wife of Joaquin "El Chapo" Guzman, leaves federal court in New York. The wife of Mexican drug kingpin and escape artist Joaquin "El Chapo" Guzman has been arrested on international drug trafficking charges at an airport in Virginia. The Justice Department says 31-year-old Emma Coronel Aispuro, who is a dual citizen of the U.S. and Mexico, was arrested at Dulles International Airport on Monday and is expected to appear in federal court in Washington on Tuesday. (AP Photo/Seth Wenig)]