A Michigan prosecutor said Thursday she expects a decision "in the next 24 hours" on whether to charge Ethan Crumbley's parents in relation to the deadly school shooting at Oxford High School earlier this week.
Three students were killed at the school and a fourth died the day after the shooting from his injuries. A teacher and six other students were wounded.
Crumbley, 15 is charged with four counts of first-degree murder, one count of terrorism causing death, seven counts of assault with intent to murder, and 12 counts of possession of a firearm in the commission of a felony in Tuesday's shooting. Oakland County Prosecutor Karen McDonald said Wednesday Crumbley would be tried as an adult because "mountains" of digital evidence showed that it was premeditated, as CrimeOnline previously reported.
McDonald said Wednesday in an interview with WDIV that there was "an additional piece of evidence that we haven't released yet," which she described as "troubling" and "disturbing." "And unfortunately, he was allowed to go back to class," she said.
Asked about those comments Thursday on radio Channel 955's Mojo in the Morning, McDonald said she believes Oxford High staff did the best they could to protect the students, given the information they had.
"The only people who knew that there was a threat and an access to a gun did not work at that school," she said.
A law enforcement witness referenced a video during Crumbley's arraignment on Wednesday that the teen reportedly made the night before the massacre in which he allegedly "talked about shooting and killing students the next day at Oxford High School," CrimeOnline reported. Oakland County Sheriff's Lt. Tim Willis also said investigators found a journal in Crumbley's backpack "detailing his desire to shoot up a school to include murdering students."
It wasn't clear, however, if McDonald was talking about that particular video or the journal.
Oakland County Sheriff Michael Bouchard said Thursday that one of Crumbley's parents legally bought the 9 mm Sig Sauer SP2022 pistol, allegedly used in the shooting, at a "local shop" on Black Friday, although he didn't say if the weapon had a sale price on that day, WDIV reported.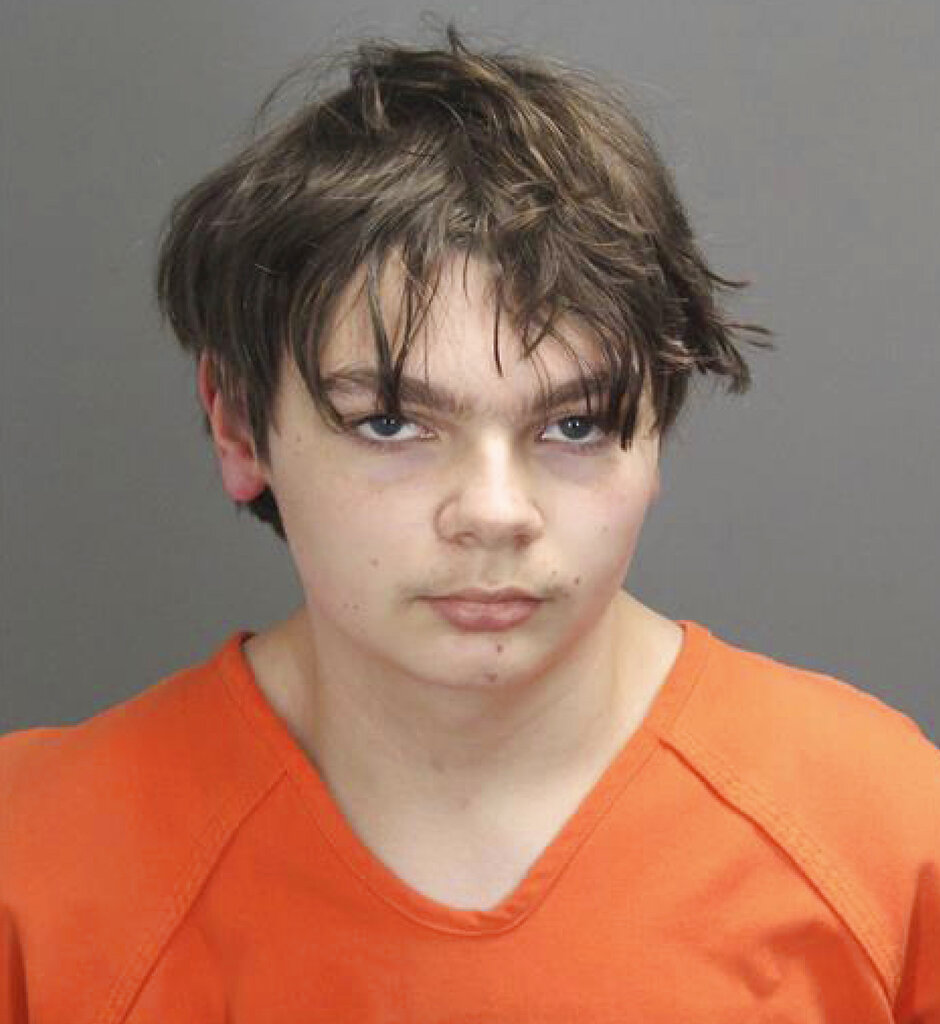 McDonald wouldn't elaborate on what charges Crumbley's parents might face, but said the decision was coming soon.
"We're reviewing potential charges and hope to have an announcement about that in the next 24 hours," she said.
Bouchard also said that investigators have uncovered no evidence that anyone else was involved in the shooting or that Crumbley was bullied or had a history of disturbing behavior.
Bouchard said there's no evidence to suggest anyone else was involved in the shooting at the high school, nor that the Oxford shooting is linked to planned attacks elsewhere.
"It's my understanding that this individual did not come on the school's radar at all for either bullying or problem behavior or questionable behavior until the day before (the shooting)," the sheriff said.
Bouchard and McDonald also addressed what they called a "rash" of copycat threats against schools since the shooting. On Thursday alone, such threats forced closures in more than a dozen school districts in the area, according to WXYZ.
The sheriff said the threats come in two flavors: "One, they think it's funny. It is not. Two, they think it's a way to get out of school. It is not. It's a crime," he said.
"If you're making threats, we're going to find you," said Bouchard.
McDonald said a false threat of terrorism is a felony carrying up to 20 years in prison. "We will charge it and we will hold people accountable," she said.
MLive reported that a 17-year-old Flint Southwestern Classical Academy student in Genesee County was arrested Thursday and charged with making a false threat of terrorism and using a computer to commit a crime, both 20-year felonies. The Genesee County Prosecutor's Office said that the student recorded a "rap style message" while on her way to school by school bus in which she threatened to shoot up the school "like Oxford." She posted the video on social media, and someone alerted an assistant principal at the school to the video. The assistant principal alerted police.
Genesee County Prosecutor David Leyton said he's made it clear throughout his career that a copycat threat "is not a joke, it is a crime, and it will be treated as such."
"I'm not going to try to figure out whether this incident in Flint today was intended to be a joke or whether it was a credible threat, the bottom line is that it's a crime," Leyton said. "Michigan law specifically states that it is not a defense if the person did not have the intent or capability of following through on the threat."
For the latest true crime and justice news, subscribe to the 'Crime Stories with Nancy Grace' podcast
[Featured image: Wreaths with black bows adorn a fence at Oxford High School. (AP Photo/Paul Sancya)]